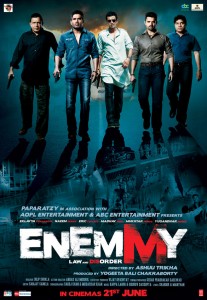 Coming up on Friday is Enemmy a drama thriller starring Mithun Chakraborty, Suniel Shetty, Kay Kay Menon, Johny Lever and Mahaakshay directed by Ashu Trikha. The film is about law and order and the battle between the Mumbai mafia and police. For the music of the film, the director along with star Mithun Chakraborty worked with Gourov Dasgupta to create four songs for the film. The rockin' music composer once again sits down with his fab music producer Roshan Balu at the mixing board. Joining in the fun are Manthan on lyrics and singers Keshav and Torsha to hit the notes both hard and soft for the sound of the film. Also on the OST is the fabulous Bappi Lahiri in one song, who is joined by the ever-wonderful Mamta Sharma.
Check out what we thought of the music of Enemmy!
The composer Gourov Dasgupta takes to the mike for the first time ever as a lead singer on a Hindi film OST for the Enemmy Title track (Hindi). He has a rough hewed voice, very heavy metal, deep in tone and delivery but also very smooth and strong on the pure singing sections. He is brilliant. The title track starts off with a simple piano and builds with the addition of Gourov's vocals. There is a contrast between his rock essence and the lighter music in the beginning and it mixes very well. Love the slowed down section with just the piano and the cool whispery echo effect added to his vocals. He always seems to mesh the electro and the rock to make something unique and Enemmy shows that off! Love the 'Within – Without' hook. But, of course, then the rocker comes out to play and we know that Gourov not only sings the song but also does the jamming guitar solo! Great song!
There is also an English version of the Enemmy Title Track, which also sees Gourov take the mike. This one is more full on hard-core rock jam in music and vocals and it is wicked! Gourov kills it, inflection, feeling, notes, passion, delivery, are just well …forgive me he totally kicks ass! He must sing more! Of the two, I prefer this one musically. We hear once again that killer guitar riff he lays down, brill! Now if you have read my music reviews you know I am a bit of a rock chick so this one hits all the right notes for me but I think it will all the right notes for you too! Love this rocked out song and have it on my favorite song playlist.
Hit The Lights is very electro synth in its beats with a very cool groove in the beginning. Add in the rock-flavored vocals of Gourov, it makes a fab contrast to the more dancey type beats. Torsha joins in to add the female vocal, which is a nice layer to add to the song… except for that rap part. I really liked the first part of this song and the Hit the Light refrain was interesting in sound. But then it goes off and sounds like a different song. There is a lot to this section – I think too much. It is a good song but I felt like it needed something in the main section of the song while other parts needed less. I think in context of the film it may play better. Serious props to Gourov's vocals.
New singer Keshav is heard on the lovely soulful ballad Bheege Naina and he is fabulous. I love this song; it is very haunting in mood and music. It is one to get lost in, the music, the vocals, the feel, one of the best songs Gourov has done! Keshav sings with passion, and so much feeling in every note, I loved his vocal on this song. The melodious refrain of 'Bheege Naina' takes you away. This is a song that you can't wait to hear again before it is even over! I have had it on serious repeat since I first heard it. This track is one to add to you Bollyfavorite song list!
We also have Bappi Lahiri's Katrina Ko Kareena Ko sung by Mamta Sharma and Bappi Lahiri. Very Indian in beats and vocals, it is a peppy, full of percussion song, which you will know what I mean when you hear it, which you should. It also has some extra layers of modern beats and vocals that appear every now and then which seem out of place. Of course, Mamta Sharma is fabulous and sings with the spicy flavor the lyrics and music needed. Bappi Lahiri is of course great. The song is a bit of a mix in parts but over all I really liked it and it will be interesting to see what it accompanies in the film. Give it a spin!
Not only does Gourov manage to surprise us with his awesome rock flavored tracks for the film, he totally blew us away with his killer vocals. Add in the brilliant 'Bheege Naina' with Keshav and Bappi Lahiri doing what he does best you have a great OST. Though maybe not what you would expect for a film like Enemmy, I think that is what makes it so cool is that the track are something unique and totally rockin! Def one to check out!
Stay tuned we will have an interview with composer coming up soon!