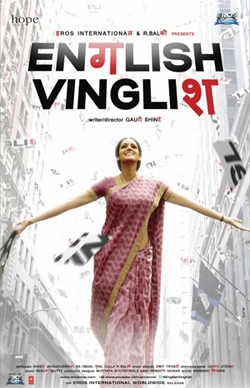 2012 has unconsciously become the year of comebacks, what with Karishma Kapoor's Dangerous Ishq and Preity Zinta's Ishq in Paris. However, Sri Devi's English Vinglish is undisputedly the most awaited one of the three, if not the most awaited comeback in Indian Cinema history.
Sri has to be given props for opting to re-enter the arena sans glamour, drama and theatrics. Promos showcase a very grass root level film with universal appeal, that of a non-English speaking Indian housewife making the most
of her relocation from India to USA. Amit Trivedi and Swanad Kirkire have been tasked with music and lyrics respectively. The soundtrack comprises of 6 tracks, devoid of needless remixes, and features the vocal talents of Shilpa Rao, Sunidhi Chauhan, Clinton Cerejo as well as Amit and Swanand themselves.
The soundtrack kicks of with Badla Nazara, title track sung by Shilpa and Amit. It has your morning coffee's vibrant zing, is infectiously catchy and oddly peppy. Trivedi's strings interludes put more of a spring in the track's step. It is essentially a lyrical chronology of the title characters typical day and her musings about this exciting new change in her lifestyle. Kirkire's lyrics are the track's lifeline, as he aesthetically weaves in English and Hindi to create a song that encapsulates the premise of the film. Shilpa and Amit are a formidable combo if you go by Ek La (Aamir) and Ahatein (Ek Main Aur Ek Tu) and Badla Nazara is no exception. Musically, it is essentially a contemporary number, but like all Trivedi compositions, it is hard to coerce a genre or category upon it. Badla Nazara also has a male version sung by Amit himself. It is hard not be partial to latter version. Amit just has this charming, seemingly conversational way of rendering a song that so addictive. If you fell hopelessly in love with Aisha's title track, look no further than Amit's version of Badla Nazara.
Next is Dhak Dhuk, a sweet desi folk song of sorts sung by Amit about the anxiety and excitement experienced by a newlywed bride, in particular one that is about it leave everything behind to follow in the footsteps of her husband to a new country. You would think that such a number would be better in the hands of female vocalist, but Amit's beautiful rendition would change your mind in a fraction of a second. He aptly captures the emotions in Kirkire's well penned lyrics, and gives an effortless performance. Musically, the sedate mixture of flutes and strings go beautifully with Amit's soft vocals.
Manhattan is easily the album's most unremarkable track, but having said that, it is still entirely listenable. Clinton and Bianca Gomes are at the helm of the track, documenting the wonders of Manhattan, New York. Music is an off-shot of what we heard in Ek Main Aur Ek Tu's title track, techno interlaced with what sounds like synch-generated flute. Lyrics simply glorify the obvious glamorous elements about the city, the fast life, the skyscrapers, designer brands and stores. In short, the track is mostly situational in nature, one that will work well on screen.
Gustakh Dil emphasises why Shilpa and Amit make a great pair. Shilpa's vocals brilliantly encompass Kirkire's lyrics, the crux of the track. Musically, Trivedi excels in infusing a little rock to this relatively sedate track. If you liked Ahatein (Ek Main Aur Ek Tu) and Leherein (Aisha) you will love Gustakh Dil.
Navrai Mahji, upon researching, is apparently a derivative of a Marathi folk song sung during weddings. It is a cute celebratory number sung by Sunidhi Chauhan, Swanand and his mother Neelambari Kirkire, with a nice cameo from Natalie D'Luccio. Amit gives the track a contemporary treatment while maintaining its folksy arrangements and the result is a sweet and lively number that is instantly likable.
In summary, English Vinglish will undoubtedly be compared with Trivedi's Ishqzaade and Ek Main Aur Ek Tu. It is neither as edgy as Ishqzaade nor as unremarkable as Ek Main Aur Ek Tu. Regardless, it is a wholesome soundtrack from start to finish and paints a favourable representation of what to expect on the silver screen. Badla Nazara is undoubtedly set to be the crowd favourite but Dhak Dhuk is the diamond in the rough. Gustakh Dil and Navrai Majhi are close seconds while Manhattan fails to make an impact. In any event, English Vinglish is definitely one of the must have soundtracks of 2012.