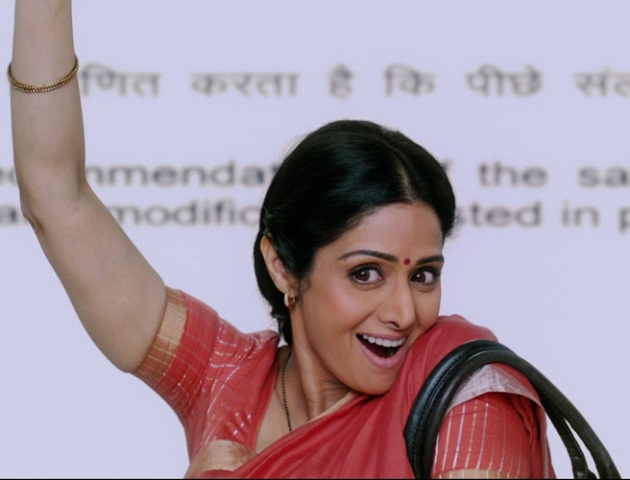 Eros International Media Ltd.(Eros International), a leading global company in the Indian film entertainment industry has announced a promising opening weekend of Rs. 27 crore gross worldwide for English Vinglish, the directorial debut of Gauri Shinde.
Produced by Eros International in association with R. Balki, the film released across more than 1,000 screens worldwide on 5th October 2012.
Hailed as Sridevi's comeback movie, English Vinglish is the story of a middle-class woman who is skilled at many things but not the English language and is often the butt of jokes not only within her family but also in the outside world. It is a feel-good slice of life film that takes us on a journey with Shashi Godbole played by Sridevi, who not only wins the heart of New York where the film is set but millions of people around the world. Receiving a standing ovation at the Toronto film festival recently, English Vinglish and debutante director Gauri Shinde have already made their mark.
In the opening weekend, English Vinglish grossed Rs. 17.25 crore in India (Net collection: Rs. 13.25 crore) and Rs. 9.75 crore overseas. It continues the successful trend of "women-hero" relatively smaller budget films at the box-office.
Speaking on the film's opening, Nandu Ahuja, Sr. VP, Distribution, Eros International Media Ltd. "Eros had backed English Vinglish with big push in marketing and publicity and the film has received a unanimous thumbs up from critics as well as audiences. The film opened to modest collections on Friday but  with favorable reviews combined  with superb word of mouth, the film grew in business over Saturday and Sunday, especially at the multiplexes and we hope that trend continues through the run of the film".
Pranab Kapadia, President – Marketing & Distribution, Eros International plc added, "English Vinglish was instantly embraced by the overseas audiences as it tells the story of many an Indian woman living abroad in an English world. It has opened bigger than some of the hero-centric big budget films of recent times which shows audience tastes are changing and that good cinema  does exceedingly well at the box office".
One of the highly anticipated films of this year, marking the return of Sridevi after a 14-year sabbatical, English Vinglish also features French actor Mehdi Nebbou, Adil Hussain, Rajeev Ravindranathan, Sulabha Deshpande, Priya Anand, and Sujata Kumar along with a memorable cameo by Amitabh Bachchan. The musical score by Amit Trivedi adds to the mood of the film with various tracks.