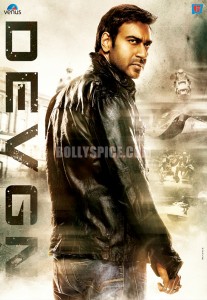 Eros International Media Ltd (EIML), a leading global company in the Indian film entertainment industry has acquired the international distribution rights of the forthcoming action thriller Tezz. The film releases worldwide on April 27, 2012.
Produced by Venus Films and directed by Priyadarshan, Tezz features an ensemble cast of Mohanlal, Anil Kapoor, Ajay Devgan, Boman Irani, Kangna Ranaut, Sameera Reddy and Zayed Khan in main roles.
Commenting on the acquisition, Pranab Kapadia, President Marketing & Sales, Eros International plc said, "With its stylish look, great action and catchy music, there is a positive buzz and anticipation around Tezz overseas and we are looking forward to an exciting film by Priyadarshan".
The story: One man is out to get back what was unjustly taken away from him… the other is willing to do whatever it takes to stop him in order to serve justice; both are pitted against each other…and both are pitted against time. Lives have already been destroyed and more lives are about to be devastated as a train speeding from Glasgow to London holds the fate of AakashRana (Ajay Devgn) and Counter Terrorism Command ArjunKhanna(Anil Kapoor), and only one of them will succeed.
Stylishly shot across England with action sequences like none other, Tezz also features KangnaRanaut, BomanIrani, Zayed Khan, Sameera Reddy and Mohanlal.
The action has been directed by Gareth Milne and Peter Pedrero who have been involved in the stunts for films like Harry Potter and the Deathly Hollows, Quantum of Solace andThe Bourne Identitywhile the music has been scored by the hit duo Sajid-Wajid.
Producer Ratan Jain, who has changed the way thrillers have been seen in Hindi cinema with films like Khiladi and Baazigarthis time joins hands with director Priyadarshan, for 2012's biggest action thriller, Tezz, a Venus Worldwide Entertainment Presentation set to release on April 27. The countdown begins..