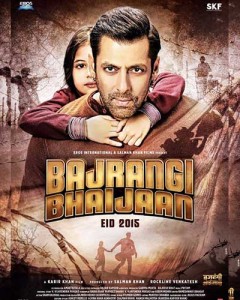 Eros International Media Ltd, a leading global company in the Indian film entertainment space and Producers Salman Khan Films have announced that Bajrangi Bhaijaan added yet another milestone to its dream run, crossing the coveted Rs. 300 crore mark on Wednesday, August 5, at the Indian Box Office, taking the worldwide gross to over Rs. 500 crore. 
The film is now the highest box office grosser of 2015.
The Salman Khan starrer, directed by Kabir Khan that released on July 17th had a thunderous start at the box office with the fastest Rs.100 crore in the opening weekend itself. The film also earned the highest single day collections for a film at Rs. 38.75 crore on Sunday in the opening weekend. The film then crossed the Rs. 150 crores milestone within five days of release in India and went on to collect the highest second weekend ever of Rs. 56.10 crore.
Bajrangi Bhaijaan has been doing phenomenal business in the overseas markets too with the film garnering Rs. 155 crore (USD 24.3 million) till Wednesday. The film has broken all previous overseas records of Salman Khan films and is in Top 10 in the UK. It crossed Rs. 50 crores (29 million Dirhams) in UAE and GCC regions to become the highest grosser for any Hindi film in the region.
Commenting on the success of their first film Amar Butala, COO, Salman Khan Films and Co-Producer of Bajrangi Bhaijaan said, "It's a matter of pride for Salman Khan Films that our first film as Producers continues to set new box office benchmarks both in India and worldwide and has found both box office success and critical acclaim. We are overwhelmed with the love and appreciation the audience is showering on the film across the globe". 
Nandu Ahuja, Sr. VP, India Theatrical, Eros International Media Ltd added, "We are so delighted that our first collaboration with SKF has garnered such an unprecedented response and we hope for many more to follow. Bajrangi Bhaijaan has created box office history; Salman mania persists amongst his fans and audiences and records continue to shatter as there is no stopping the film".
Commenting on the overseas success, Pranab Kapadia, President – Marketing and Distribution, Eros International Plc, said,"Bajrangi Bhaijaan's performance in the overseas markets has amazed trade pundits with unheard of numbers. The movie has surpassed the overseas collections of Salman's previous blockbusters and has gone on to become the highest grossing Salman Khan movie ever."
Bajrangi Bhaijaan is directed by Kabir Khan, Produced by Salman Khan and Rockline Venkatesh and distributed worldwide by Eros International.