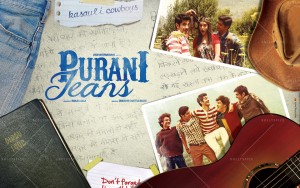 Eros International who gave us superhit films like Cocktail and Ram Leela, is all set to give the audience a vibrant and fresh youth film Purani Jeans this year on 1st May, 2014!!
Purani Jeans is a fun filled, coming of age saga, that will bring to the big screen an intense journey depicting the agony and ecstasy of youth; the story beautifully shows a memorable time in young lives when one forms enviable bonds of friendship, trust & love.
Set in the mid-90s, the film has a cool retro vibe and promises to take you back to relive those youthful days once again & eventually make you believe that friendship is indeed like Purani Jeans, waiting at the back of your closet to be rediscovered!!
Cinematically stunning, the film is set entirely in a small town in picturesque Himachal Pradesh and has visuals that have the freshness and fragrance of mountain air! It's a one of a kind youth film, a bittersweet tale that unravels the 'wonder years' of life.
Purani Jeans stars Tanuj Virwani, Aditya Seal and Isabelle Liete and is directed by young award-winning ad film-maker Tanushri Chattrji Bassu.
Produced by Manju Lulla of Eros International and music by Ram Sampat, the film is a feel good take on youth where in eventually one goes away with the thought that Friendship is indeed like a pair of old jeans …the older it gets the better it becomes!
Catch Purani Jeans in theatres on 1st May 2014!