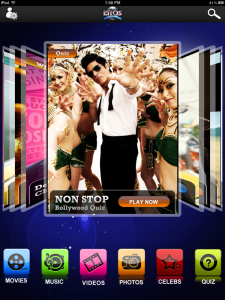 Eros International has launched Bollywood's first iPad App and already it is a huge hit! One of the free apps you can get in the iTunes store, the app is full of exclusive content from Eros films and all things Bollywood! Within the first 48 hours of its soft launch, the Eros Entertainment IOS Application for iPad hit the No.1 position in the entertainment category for Free Apps in India (Apple Store).
The application is a first in of its kind in that it is designed for those who love films and want to access content anytime and anywhere all over the globe. With a cool look and a great interface the Eros app has exclusive EROS movie trailers, photos, special behind the scenes exclusives, events, movie stills and much more. The first version of the application has some fun and cool features such as an interactive film quiz as well as the ability to create a custom-made Bollywood movie poster, you can customize your front-page and of course see previews of all new EROS movies too. Plus while you are playing on the app you can listen to hit Bollywood songs! Right now it is only available on iPad but other platforms and devices will be released with even more cool features added.
"We have been highly successful in reaching the world through theatrical and cable homes etc. It is now time to reach the consumer on their terms and digital platforms, specifically mobile and tablets are fast becoming a way of life. We have to stay connected with all audiences through different platforms," said Mr. Kishore Lulla, Chairman& CEO of Eros International plc.
Mr. Ricky Ghai, Chief Executive Officer, Eros Digital said, "Bollywood is almost a religion for millions of fans around the world and despite the fact that a cinema experience is still the richest way to truly enjoy a film experience, the digital fans are growing worldwide and are heavily mobile."
Ghai adds, "This application and also our future plans in digital media are all about creating accessibility to premium and entertaining content. Devices are getting better, consumers are becoming mobile and with tablets shipping more units than PC's we can now take the content directly to these rich media platforms and devices. Success comes from creating quality content that is relevant to the consumer and appropriate for the device or platform. All these attributes are catered for in our first release".
If you have an iPad you must check this app out, we did and did not want to stop playing with it to write this story! Full of fun, with cool content it brings Bollywood to the iPad and we are loving it! Let us know your thoughts on the app in our comment section!