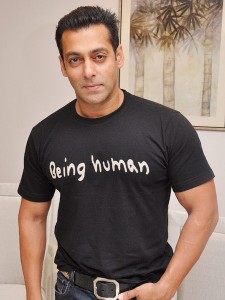 It's common for talks of records breaking to follow a film once it has released however, perhaps for the first time the media is able to report a record breaking figure for a film prior to release.
Salman Khan's upcoming January release, Jai Ho, has been picked up Eros International for domestic and overseas distribution. The team at EROS sat down for a screening of the film to decide on the distribution details including the final figure. However so impressed with the film they cut discussions short within 1 hour of watching the film and struck a deal of 110 crores for the distributions rights. Making the film a member of the 100 cr club much prior to the release! Made on a reported budget of 130 crores Jai Ho is safely on its way of making its investors more than happy. Incidentally this is said to be the biggest budget a Salman Khan film has had.
The film has been through many trials and tribulations in its making. Major delays were faced due to Salman's health, scripting issues and actress Sana Khan's kidnapping case. Originally anticipated for a late 2013 release the film is now slated for January 2014, perfect timing as it now stands far away from what could have been its biggest competition, Dhoom 3.
Sohail Khan takes up direction after over 10 years, his last directorial was his own debut film as an actor, Maine Dil Tujko Diya. His debut directorial was Auzaar in 1997 (starring Sanjay Kapoor, Salman Khan and Shilpa Shetty). But it wasn't till Pyar Kiya To Darna Khan in 1998 that he got critical acknowledge for his work as the film got him a Filmfare nomination as Best Director. Later on he directed Hello Brother in 1999.
South actress Daisy Shah makes her debut with the film as done Bigg Boss 6 contestant, Sana Khan. Mukul Dev and Tabu are also said to be playing pivotal roles in the film. Sajid-Wajid have composed the soundtrack. Jai Ho is an adaptation of A R Murgadoss's (Ghajini) Telugu film, Stalin which had originally starred Chiranjeevi, Trisha and Prakash Raj. The story is centred around a ex-war hero who now makes it his mission to help those in need in the society.
Having missed out on a Salman release in 2013 all eyes were already on Jai Ho much prior to this record breaking deal with Eros however now the film has truly made heads turn as everyone anticipates to witness what was it about the film that made Eros say 'Jai Ho!'