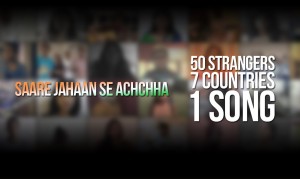 This Independence Day, quite a few viewers were up for a surprise when they came across a new version of 'Saare Jahan Se Achchha' online. A video featuring dozens of artists, all of them being new to the world of professional singing, from across the globe, this was a one of its kind initiatives where entire concept, execution and actualization was done remotely with no physical presence required in putting it all together.
Says Vaibhav Vishal, Creative Head at Eros International, "At Eros Now, the ongoing attempt; and a strong underlying philosophy, if I may add; is to talk 'to' our audiences and not talk 'at' them. The lines between the media houses and their viewers have blurred, and constant one-on-one with the audiences is not just a smart tool, but is now a mandate. Our idea is to create a relatable and identifiable brand, thereby getting loyal viewers that eventually become our evangelists. This indeed is what 'Saare Jahan Se Achchha' had started off with. We wanted to give the ownership of our brand to our viewers, and therefore, we thought of creating what may just be India's first authentic crowd sourced music video."
No wonder, the video comes with an apt tagline – '50 strangers, 7 countries, 1 song!'
There was quite some work that went into taking the concept to reality.
"We used our social media handles on Facebook and Twitter to invite the entries, and the response was overwhelming, to say the least. More so, considering we weren't just asking the viewers to give answer to a multiple choice question. This required a lot of involvement and it amazed us to see responses coming from places far and wide, from London to Lucknow, from Berlin to Benaras and everywhere in between! The end result was not just satisfying but also overwhelming," he says.
We agree!