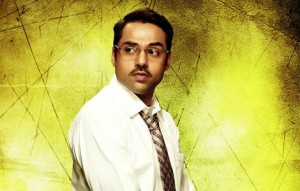 Shanghai has been mounting up expectations and the cast/crew is well aware and making sure they get things right. Already the portrayal of Emraan Hashmi has got people curious as he went all out and packed the pounds on for his character.
However, Abhay Deol is not far behind as he plays a Tamil IAS officer but beyond the accent factor, the actor who debut in lover boyish roles like Socha Na Tha, required to stay fit, as per directors orders. ".. I concentrated on my martial arts, yoga and running. Anyway Krishnan is not a lazy guy. He plays badminton and is very athletic. It's just that he doesn't sport six packs." says the actor when speaking to Times of India. Fair enough. But coming back to the accent what about his cousin Esha Deol, who has openly stated the language spoken at home is mostly Tamil. The Dev.D actor confirms she was the first that comes to and say "I even told her that I was preparing to play a Tamilian and asked her if she could teach me the language. However, we didn't go around to doing it because she was busy with her shoot when I was filming Shanghai."
Looking at the trailer there is clearly a lot more to Shanghai than body weight and pronunciations so here's hoping the best.
httpvh://www.youtube.com/watch?v=xxYhOES9mao