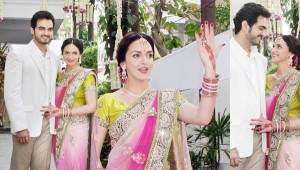 The Deol's prove that if you truly are committed to keeping something out of the media's eye than it can really happen. Last Sunday Esha Deol got engaged to businessman Bharat Takhtani and the larger part of the media only realised long after it had all concluded.
Hema spoke to the media about the event after it had all concluded and confessed that it had been decided after Tell Me O Khudda that Esha would settle down.
Speaking to TOI the soon to be mother-in-law gushed about her darling damaad. "I love his simplicity. He seems unfazed by the fact that we're a big Bollywood family. He interacts with everyone so well with no inhabitions and especially the way he interact with Dharamji goes to speak volumes about him. Above all that, he loves my daughter!"
However what about the soon to be protective father-in-law. Surely this is an emotional time for the protective Dharamji who initially didn't even like the idea of Esha joining the film business. "When we went to Bharat's house after it all had been finalised as expected Dharamji got quite emotional however held himself together quite well," she candidly shared with the media.
Esha didn't opt for any fancy designer attire for the engagement as that all will be reserved for the wedding. The wedding date is yet to be finalised but Bollyspice will surely keep you updated.