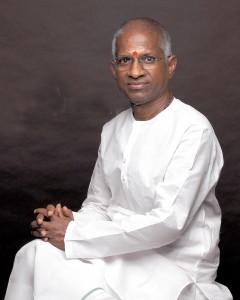 The O2 is happy to announce that Ilayaraja, one of India's finest music composers, also a top billed instrumentalist, conductor, singer and songwriter who performs at The O2 on Saturday 24 August 2013 for the first time in his illustrious career.
Tickets can be purchased from AXS.com or via the booking line 08448 24 48 24.
Ilayaraja has nearly hit the 1000 film mark, in his 37 year career and has composed nearly 5000 songs, in more than 10 regional languages in India, from Tamil and Hindi, to Kannada and Malayalam. He has provided intricate film scores for more than 950 Indian films in various languages in a career spanning more than 37 years.
He holds a gold medal in guitar from Trinity College, London and is renowned for his lightening speed in composing music, his complex orchestral arrangements and his work with the Budapest Symphony Orchestra. He has also juxtaposed Western Classical music with Eastern traditions, in albums like Nothing but wind and How to name it.
In the 2000s, he composed a variety of non-film music, including religious and devotional songs, an oratorio and world music, while shifting his focus to Malayalam films. He is usually referred to by the title Isaignani (English: Musical Genius), or as The Maestro. His is a multiple award winner, from various organisations in India and around the world, and is also the recipient of the prestigious Padma Bhushan Award from the Government of India.
Ilayaraja wants to present many songs in this show, that he has not performed at his other concerts across the world. He elucidates about this grand orchestral event: "I'd like to say that The O2 stage will be showered with musical rain on the evening, as this is my first ever London concert and I am delighted to be interacting with the diaspora audiences."
Also joining this historic event is one of India's most revered film stars, the multi-talented Kamal Haasan is taking time off the sets of the film Vishwaroopam 2, the sequel to it's controversial part 1, to be at the show, after incurring an injury on set: "I believe that this wound on my face will be healed when I come to London. Ilayaraja's music can heal any wound. I do not know what magic it wields, but his music can do wonders, for me – see you there, on August 24th, The O2, you and me, as fans of Ilayaraja." Haasan is also a close associate of The Lord of the Rings film franchise producer, Barrie M Osborne.
Top singer SP Balasubrahmanyam, who has rendered over 40,000 songs in various Indian languages and is a winner of one of the highest civilian honours India bestows, the Padma Bhushan, shares: "The Raja the Raja (Rajathiraja) concert is going to be quite spectacular and I hope to see the success on stage at The O2."
In 2003, according to a BBC international poll, people from 155 countries voted Ilayaraja's composition "Rakkamma Kaiya Thattu" from the 1991 film Thalapathi, fourth in the world's top 10 most popular songs of all time. His music was also a pivotal part of the film Nayagan by Mani Ratnam, which was listed in TIME magazine, as one of the world's top 100 movies.