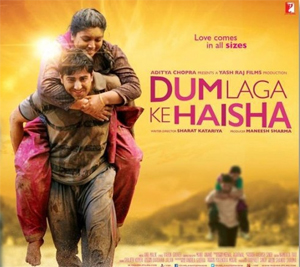 The European premiere of the movie Dum Laga Ke Haisha will take place in the Netherlands, in The Hague, this weekend during the Bollywood Boulevard Festival.
In recent years we have seen the country warming up to the concept of Bollywood and each year we see a growing number of events where India and Bollywood are the main attraction point. There is also an increase in the number of films playing at Dutch Theaters and Indian films are more than often selected for a screening at the International Film Festival of Rotterdam.
This year, a new event called Bollywood Boulevard Festival has been introduced. The festival encourages and promotes Bollywood at it's best! "A festival like Bollywood Boulevard enhances the appeal of the city by contributing to the cultural enrichment. We hope, in our own small way, to create togetherness and bring the inhabitants of The Hague even closer together", says organizer Soedesh Kienno.
The 1st edition of the festival starts off on Friday with the Dutch premiere of the film Piku and ends on the 21st with the European Premiere of the critically acclaimed movie Dum Laga Ke Haisha. In this weekend the festival will show other successful films as Kabhi Kabhi, Silsila, Jab Tak Hai Jaan, Dhoom:3 and the longest running film in the history of Indian Cinema, Dilwale Dulhaniya Le Jayenge.
www.youtube.com/watch?v=HLV1vWieofo