Eve-Yasmine
, the singer, songwriter, model, and actress from London, is making her debut in Bollywood with the hilarious comedy Mister Mummy, now streaming on Netflix. Shot in Yorkshire in the UK, the Shaad Ali directed film features Riteish Deshmukh, Genelia Deshmukh, and Mahesh Manjrekar.
In this special Q&A, the wonderful Eve-Yasmine gives us insight into her journey in the performing arts, which film inspired her dancing, and especially talks about getting the role and working on Mister Mummy. Plus, so much more!

Was dancing, acting, and singing something you always wanted to do?
100%, and it was all three simultaneously; I love performing and expressing myself through different art forms. I remember being in my local swimming pool at ten years old and saying to my Mum I want to act professionally and go all the way. I always knew I wanted to fulfil my potential and pursue this dream of mine.
So, were Bollywood films something you always had on your list, and especially why?
Definitely. I fell into Bollywood dancing after my friend from high school took me to the Shri Academy Of Dance; she didn't end up joining, but I did, and this was where my love for Bollywood began. Bollywood combines my love of acting, dance, and music in such a beautiful way. It's incredibly uplifting.
I'd go home after each dance class and look up the songs we were learning choreography on Youtube. The very first time I watched Aaja Nachle, I was completely inspired and knew I wanted to dance in Bollywood films one day. The acting roles that have happened in the past year have been a huge blessing. I'm enjoying every minute.
Tell us about landing the part in Mister Mummy and what you thought when you learned you would be in the comedy.
I do believe things are meant to be, and listen to this! On Friday, I was performing a play, 'Allah's Own Country', playing a character growing up in Bradford. It was a one-off performance at Rich Mix – I had never been to that part of Yorkshire, by the way.
The Sunday of the same weekend, I receive a call from Sahil at NM Bollywood Castings, he informed me one of the actresses had caught COVID, and they urgently needed an actress to replace her for Mister Mummy. He asked if I could get up to Bradford, there was one last train I could get in time that would get me there, and I managed to get it! I was messaging my theatre team saying I am going to see Bradford and the 'moors of West Yorkshire' for the first time as I had just got a new role filming up there!
I was so excited. I had filmed one Bollywood movie before, but my sides were cut. This time the dialogue was definite, and this was truly going to be my Bollywood debut. I had met Naila from NM Bollywood Castings as a little teenager doing Bollywood dancing, and now I finally got to see her all these years later on set.
I've randomly fallen into comedic roles, and they are such a laugh to do. Needless to say, it was so much fun to experience!
So being in a film with Mr. Riteish Deshmukh, what was that like?
Awesome! Riteish and Genelia are such a cool couple and really humble. Ritiesh is excellent to act alongside; super comedic timing. I really enjoyed doing the dialogues with him. It was also fantastic to watch these talents in action on set.
From the trailer, we see you are a mummy; tell us about your character and how you became her.
I play Mike's Mother, she's posh, hysterical and hate's Mike's teacher, played by Ritiesh. However, once she realises he is bizarrely experiencing the same symptoms as her, she takes pity on him. She was a really fun character to play.
What was it like on set?
I loved every second of being on set. I love the fact I'm in a Hindi speaking environment; it challenges me to look at body language and follow everything in new ways. This was a big set, a large crew, lots of camera gear, and lights. I truly love it all! You learn something new every time on set. I was in my element.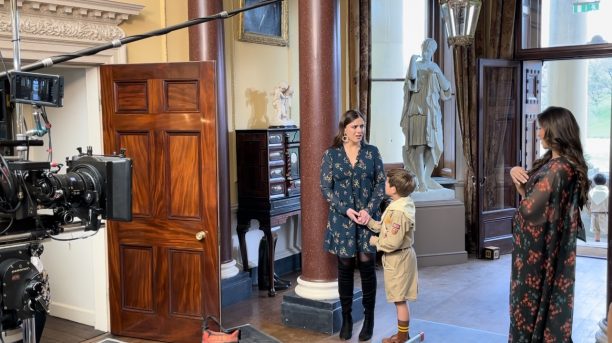 Were you nervous on the first day?
Yes, but because it was such a last minute call, it all happened so fast that I had to just be present in the moment and fly with it. A sink or swim moment, and I swam, haha!
This is a Netflix release, which will be seen worldwide, thoughts?
This is my first-ever Netflix project, so I am really hyped for this! I'm really happy that it will enable my friends all over the world to have access to the film so they can share the experience.
What is the most challenging aspect of acting?
Not letting any negative energy or obstacles throw you off your performance so you can stay in character and not forget your lines, either! But once you have complete control over your zone, you possess something so special and exciting. Acting is magical.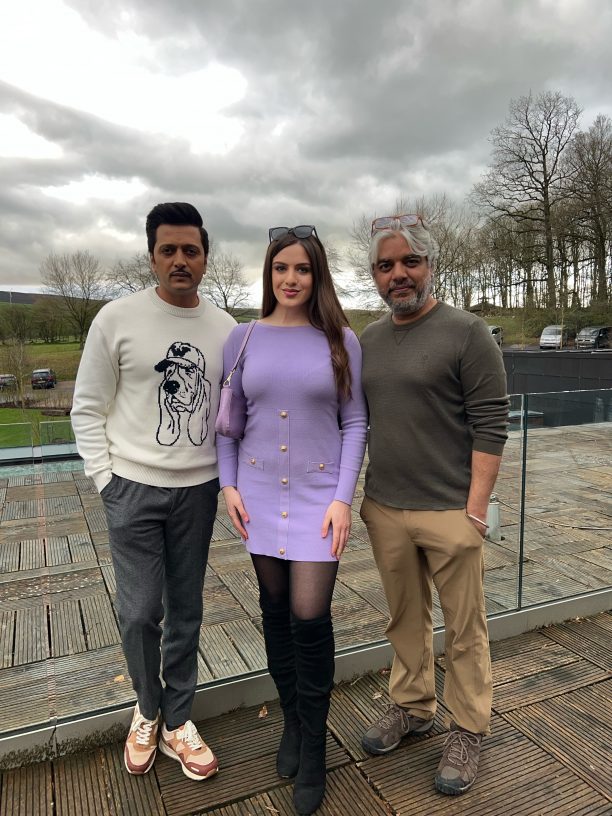 I know you danced with Tiger Shroff for Ganapath; what was that experience like?
These rehearsals were so much fun and took place at Danceworks in London. I loved getting back into dancing roles and igniting that passion for dance again. Tiger is a true pro and very calm.
When we set this up, you said you were dubbing, so tell us about that aspect of the job.
Dubbing is harder than it looks, especially when you don't have access to a fully equipped ADR studio. It's a good challenge, though, and suits someone with patience and perfectionism!
Which do you love the most, singing, dancing, or acting?
So difficult to answer! I feel like singing/songwriting is from my soul. It's so personal; acting takes me into a fantasy world, and dancing makes me release energy into the world. They are such different feelings. I love them all; I can't choose!
So, who is on your wishlist of co-stars for your starring role in a Bollywood film?
Madhuri Dixit and Sharukh Khan, it would be an honour to learn from the greats!
What's next for you?
Ganapath releases this December. I have also been filming other projects, such as Pushkar Jog's Marathi film Baap Maanus. Next year I will be exploring new territories. Stay tuned.