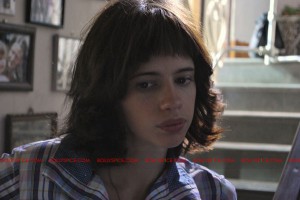 We all know that Emraan & Abhay, both were asked to change their look for Shanghai by director Dibakar Banerjee. What many don't know is that, Dibakar had even asked Kalki to look different for Shalini's character in the movie. The director wanted her to look 'ugly' but cute. This was very difficult for the actress to understand initially.
Kalki's character in the movie is of someone who is an outsider and the locals treat her like an alien who does not belong there. Dibakar convinced her with examples of Emraan and Abhay who had agreed to change their look for Shanghai. Kalki was convinced and did not hesitate for a non glamorous or pretty look which she flaunted in the movie prior to this.
Get ready to watch Kalki Koechlin in an avatar which no one has ever seen before. The trailer, songs, music videos, etc of Shanghai have been released and has created a huge buzz all over India. The movie is all set to release on the 8th of June, 2012.