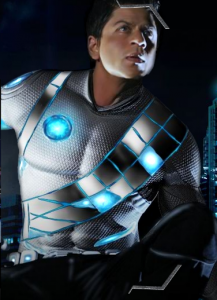 It cannot be denied that the Shah Rukh Khan starrer Ra.One is a one of its kind movie that the industry is looking at for breaking new ground and even more importantly, fans cannot wait to see. The film is innovative not only in concept, story and FX but also in its promotional ties, marketing and digital spaces.
The movie is setting its own records and is breaking the bar on ALL levels and has a lot of FIRSTS to its credit. The movie has experimented on all kinds of mediums to get their fans to feel at home and connected to the movie. The movie has achieved remarkable success prior to its release with still just about a month to go.
Ra.One has been the first movie website in the Bollywood Industry to hit the highest Alexa India Rankings. The movie is in the first 5000 most visited websites. (Precisely: 3,588) and is Globally ranked at 76,662 as on 23rd September, 2011. The website is innovative and is easily the love of any SRK fan who has so much to offer to them apart from the movie. From videos, to story lines, character sketches and even learning more about the super G.One it will get you throughly immersed in the Ra.One world.
One of the other innovations on the totally cool Ra.One website is the eStore where you can get official Ra.One merchandise. A total of 64 products created with the fabulous Ra.One style and art. You can get toys, clothes, accessories, G.One skins to bling your phone and even a Ra.One tricked out computer. The items are available to ship in 149 countries: http://www.raonemovie.com/store/.
The movie is the first one to experiment with a Graphic novel, which you can read on the Ra.One site. Title G.One the Journey begins, the weekly strip will hold you over until you can get to see the live action of G.One. http://www.raonemovie.com/comic/
But it doesn't stop there. If you see the YouTube Page: http://www.youtube.com/raonemovie, Ra.One has managed to create 'one of its kind' content on the channel with exclusive videos & movie promos. This is, by far, the most unusual & successful campaign in the Digital Media. The Youtube platform alone has +2,45,000 views!
The movie has started a fad of people creating Name Alphabet(dot) one pages on Facebook eg A.one,B.One. The most anticipated movie related is the G.one Squad. The concept relates to the character of the Khan of Bollywood who with his good deeds teaches something about the other.
The movie has also linked their digital work to ticket booking and bringing direct ROI into the campaign which makes a lot of sense as at least 10-12 % of ticket booking is now being done online. (A mind working on 1000 things is baseless if not achieved success to monies, believes the agency behind Ra.One who is putting their heart and soul to make it one of a kind of a campaign)
If movies get THIS digital savvy then it won't be too long before Digital becomes as important if not more than OOH and Print in movie campaigns and provide independent channels for smaller movies to release with a BANG and out of the box thinking will become a norm and not an exception.
Digital and Merchandising Alliances Head Shailja, Red Chillies Entertainment says: "The world is moving fast and for SRK, we had to be a step ahead than the rest of Bollywood. What Redchillies and Everymedia have achieved together for Ra.One is going to create a benchmark for Bollywood. Wait and see how the movie marketing strategies are going to be built around the digital world in the time to come!"
Looks like we still have more cool stuff to come so get ready for Ra.One!
Ra.One starring Shah Rukh Khan, Kareena Kapoor and Arjun Rampal hits theaters on October 26th!