The highly, highly anticipated first song from the eagerly awaited epic Brahmāstra has dropped, and it is everything it promised to be and more. Fans first heard a snippet in the song teaser and completely loved it! Then we were treated to a few more notes in the trailer, and everyone has been clamoring to see and hear this lovely song. Director Ayan Mukerji had planned a different song to release first, but with the fans' eagerness to hear this song, he decided to treat them to 'Kesariya'.
Composed by Pritam, it is a song of love, sung by the ever brilliant Arijit Singh with lyrics by Amitabh Bhattacharya.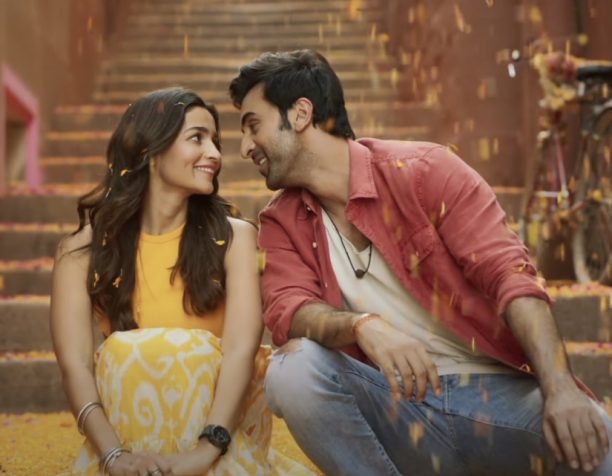 Ayan wrote on Instagram: "Pritam / Dada – was one of the first collaborators to take on the Brahmāstra journey, and we have spent years – of sleepless nights, making songs, rejecting songs, stressing on timelines, cups of tea, thinking discussing working creating – on Brahmāstra!
I think – that relationship is the highest level of creative collaboration I have on this movie, and his work, more than anyone's, gives Soul to this Vision.
To be honest, I always imagined that we would launch a song which was just about SHIVA, as the first song of Brahmāstra…
But there was SO much warmth for the Kesariya Teaser, that we decided we had to put it out first (or, everyone would kill us)!
And now, I can't imagine it being any other way… because Kesariya is about Shiva and ISHA… and their Love, which, is the Core of Brahmāstra…!
Hope you guys enjoy the song, enjoy its beauty and simplicity, and that it adds some joy to your lives !! "
In just the first listen, it is everything that makes music sublime. The power of love!
Have a look and listen to Ranbir and Alia's and Shiva and Isha's song 'Kesariya', full of love and light!
Produced by Star Studios, Dharma Productions, Prime Focus, and Starlight Pictures the magnum opus will release theatrically on September 9th, in 5 Indian languages – Hindi, Tamil, Telugu, Malayalam and Kannada with a stellar ensemble cast of Amitabh Bachchan, Ranbir Kapoor, Alia Bhatt, Mouni Roy and Nagarjuna Akkineni.
BRAHMĀSTRA – the Trilogy, is a 3-part film franchise and the beginning of India's first original universe The Astraverse. It is a new original cinematic universe inspired by deeply rooted concepts and tales from Indian history but set in the modern world, with epic storytelling of fantasy, adventure, good vs evil, love and hope; all told using cutting edge technology and never-seen-before visual spectacles.
BRAHMĀSTRA: PART ONE, is the story of SHIVA – a young man and our protagonist, who is on the brink of an epic love, with a girl named… Isha. But their world is turned upside down, because Shiva learns that he has a mysterious connection to the Brahmāstra… and a great power within him that he doesn't understand just yet – the power of Fire.
In this movie, we experience Shiva's adventures as he journeys into the world of Astras and in turn, discovers his destiny as the DIVINE HERO of the universe.
Watch this space for more!