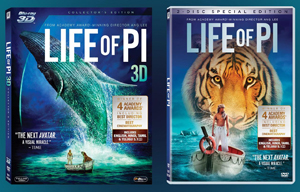 Oscar Winning movie Life of Pi will be launched on DVD, Blu-Ray & 3D Blu-Ray in India by leading home entertainment company, Excel Home Entertainment. The movie is an adventure drama film based on Yann Martel's novel of the same name; directed by Oscar winning Director Ang Lee starring Irfan Khan, Tabu and debutant Suraj Sharma in the lead role. The movie has won 4 Academy awards: Best Director, Best Cinematography, Best Visual effects and best Original score.
Muslim Kapasi, MD, Excel Home Entertainment, says, "Other than a great plot, the movie has some outstanding performances. The fact that the movie has an Indian connect with an international touch makes it a huge hit among the Indian audience. Ang Lee's cinematic brilliance – Life of Pi has many Indians longing for a copy of the DVD and Blu-Ray. We are also offering the 3D version of the Blu-Ray. We are planning a huge release in terms of the numbers as well as a fitting launch spectacle."
The storyline of the movie revolves around a 16-year old Indian boy named Piscine Molitor "Pi" Patel, who survives a shipwreck in which his family dies, and is stranded in the Pacific Ocean on a lifeboat with a Bengal tiger named Richard Parker. Here on starts his epic journey of adventure and discovery where he forms an amazing and unexpected connection with the tiger.
As part of the launch activities, movie buffs are invited to participate in an unique contest called "Found God!" wherein they can share their personal story on experiences with God. The winners have a chance to win a paid trip to Pondicherry & a day tour in Oscar Winning VFX Studio Rhythm & Hues.
Bonus Features include: Remarkable Vision (An in-depth look at Director Ang Lee's collaboration with Visual-Effects Studio Rhythm & Hues), Becoming PI (A short clip on Suraj Sharma's life changing journey), Epic Journey (The making of Yann Martel's Literary Epic to Ang Lee's artistic vision; this feature includes the pre & post production work done on the Oscar Winning movie), Tiger, Tiger Burning Bright (A 5 minute visual effects documentary on Pi & Richard Parker's compelling scenes), Ship Sinking Progression (An exclusive documentary on the monumental scene & its making).
Life of Pi will be available on DVD at Rs. 599, 2D Blu-Ray (2 Disc Edition with DVD at Rs. 999), 3D Blu-Ray (2 Disc Special Edition with DVD at Rs. 1499) & Steel Book Blu-Ray (2 Disc Special Edition at Rs. 1999) at all leading stores across the country. It is also available in four different languages – English, Hindi, Tamil & Telugu in 5.1 Surround Sound (DVD) & in 7.1 Surround Sound (Blu-Ray).