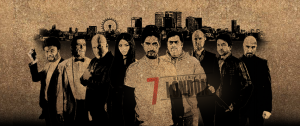 In the upcoming 7 Welcome to London, film noir meets Bollywood in this 'on the edge of your seat' romantic thriller, which stars Asad Shan, Sabeeka Imam, Tim Hibberd, Aliakbar Campwala. The film, directed by Asad Shan, tells the story of Jai, a hard-working young Punjabi man from Delhi who arrives in London, leaving behind his debt-ridden family, to fulfill his dream of a better future. Initially, luck shines on Jai. While discovering London, he forms an unlikely friendship on a ghetto estate, and furthermore his life is injected with a rainbow when unexpectedly he finds love on the underground. But Jai's happiness is short-lived, and he is completely unprepared for what lies ahead. One phone call changes everything. Jai is left trapped in a dark and dangerous existence where only a jungle law exists. The hunt is on and he is running on quicksand…"
Talking about the project Shan said in his director's notes: "As artists, as some of you may relate, we go through a multitude of thoughts and concepts in the blink of an eye. It was one of these concepts that grabbed my sense and didn't allow me to do anything else except set upon the vision for this beautiful project. 7 Welcome to London is that beautiful project. This film-making journey has made me go through every emotion possible, but I am glad it has pushed me to maximise my potential and give you all 7 Welcome to London. This film is an outright entertainer. You will laugh, you will be moved, you will cry and you will be frequently left on the edge of your seats."
We have shown you the trailer of this very intriguing film but now we have a special promo cut just for BollySpice.com! The film touches on many things but this viral promo focuses the lens on the issue of immigration!
httpvh://youtu.be/zC4f0W75pxA
7 Welcome to London opens on March 9th all over the UK!