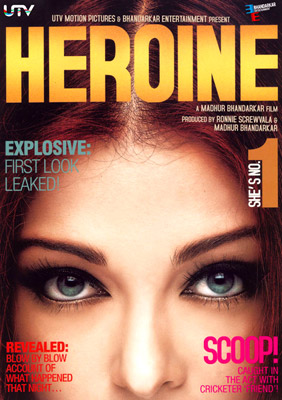 Madhur Bhandarkar's highly anticipated film Heroine starring Aishwarya Rai Bachchan is currently in production. Based on the life and times of Mahi, a Bollywood superstar, the film is a behind the scenes account of the reality behind the world of glitz and glamour that is the life of a Bollywood star.  It will give audiences a chance to go beyond the gorgeous smiles and politically correct quotes to see what really happens in the lives of India's stars: the sniping and the politics, the secrets and the lies, and the incredible highs of fame and the lonely depths of failure.  Calling it his magnum opus, director Bhandarkar said, "Heroine is an extremely glamorous yet bold story of the internal journey of a star. Aishwarya was a perfect choice for the film – no one could have essayed the role better."
It is a challenging role because the story of the film goes through several periods of Mahi's life, and sources tells us that Aishwarya is really working hard to get inside the character and make her believable. She not only is concentrating on getting the character perfect, she is also changing her looks to suit certain scenes in the film.  Of course, it is easy to believe Aishwarya as the beautiful superstar, but there are also moments in this story that are lows, and Aishwarya has been asked by the director to put on weight for some of the scenes of the film. 
A source close to the set told BollySpice exclusively,  "Her character in the film has various phases. There is a phase where she is very insecure about her position in the industry. She takes to alcohol. Obviously, when you start drinking you start to puff up and gain weight, so she has been asked to put on weight for the film."
Adding, "It is because of the role that she has gained weight. It is Aishwarya's hard work and dedication to make the character look believable."
Call us intrigued; we can't wait to hear more about this film! We will be sure to bring you more exclusives from the set of Heroine so watch this space for much more!