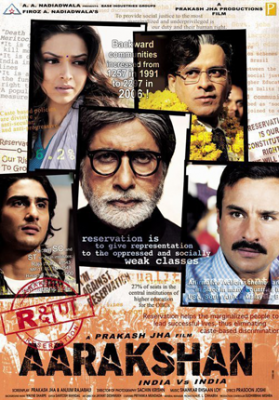 Directed by the critically acclaimed Prakash Jha, the socio-political drama Aarakshan opens in theaters on August 12th. Based on one of the most contentious Indian government policies of caste-based reservations in government jobs and educational institutions, the film boasts a cast of some of the best in the industry including Amitabh Bachchan, Saif Ali Khan, Manoj Bajpayee, Deepika Padukone and Prateik.
Shankar-Eshaan-Loy have composed the fabulous music for Aarakshan's soundtrack with Prasoon Joshi adding in some of the best the lyrics heard in Indian cinema. The soundtrack features the vocal talents of Mohit Chauhan, Shreya Ghosal, Mahalaxmi Iyer, Raman Mahadevan, Shankar Mahadevan and classical singer Pandit Channulal Mishra. We loved the soundtrack, in fact our reviewer called it "a brilliant soundtrack with an astounding lyrical quality" and now we have a special treat just for BollySpice readers!
We have all six tracks available for you to listen to from the Aarakshan OST!
Accha Lagta Hai: Mohit Chauhan and Shreya Ghosal
[audio:http://bollyspice.com/media/aarakshan/01%20ACHHA%20LAGTA%20HAI.mp3]
Mauka: Raman Mahadevan, Mahalaxmi Iyer, Gaurav Gupta, Tarun Sagar and Rehan
[audio:http://bollyspice.com/media/aarakshan/02%20MAUKA.mp3]
Kaun Si Dor: Pandit Misra, Shreya Ghosal
[audio:http://bollyspice.com/media/aarakshan/03%20KAUN%20SI%20DOR.mp3]
Roshanee: Shankar Mahadevan
[audio:http://bollyspice.com/media/aarakshan/04%20ROSHANEE.mp3]
Saans Albeli: Pandit Chhannulal Mishra
[audio:http://bollyspice.com/media/aarakshan/05%20SAANS%20ALBELI.mp3]
Mauka (Remix) by Abhijit Vagnani
[audio:http://bollyspice.com/media/aarakshan/06%20MAUKA%20REMIX.mp3]