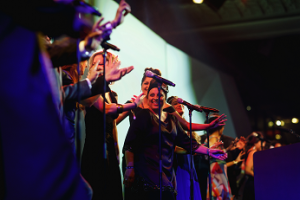 The cast of upcoming West End musical Bend It like Beckhamgave a rousing performance of the show's opening number 'UB2' to a star studded audience at last Friday's Asian Awards.  The evening, hosted by Gok Wan, was attended by icons of the stage and screen including the legendary Shah Rukh Khan, former one direction member Zayn Malik, national treasures Sanjeev Bhasker and Meera Syal.
Adapted by Gurinder Chadha and Paul Mayeda Berges from the 2002 smash hit film of the same name, Bend it Like Beckham: The Musical follows Jess, a talented young football player torn between following in the footsteps of her hero David Beckham, or living up to family expectations of university, career and marriage.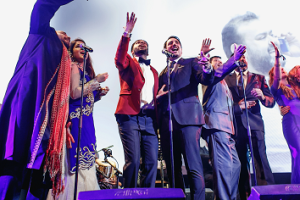 Scored by Howard Goodall (Love Story, The Hired Man) with the collaboration of pioneer of the British Bhangra sound, composer and performer Kuljit Bhamra and lyrics by Charles Hart (Phantom of the Opera, Aspects of Love, Love Never Dies), the music of Bend It Like Beckham is an East-West fusion of Bhangra and soaring joyous melodies. Gurinder Chadha once again takes the helm as director, with choreography and musical staging by Aletta Collins (Anna Nicole).
The diverse and talented cast of the musical includes Natalie Dew as football crazy Jess withLauren Samuels as Jules, a player with the Harriers, a local women's football team, and Jamie Campbell Bower as their coach Joe. Sophie-Louise Dann plays Paula, Jules's Mum, withJamal Andréas as Jess' good friend Tony.  Preeya Kalidas plays Pinky, Jess' sister, with Tony Jayawardena and Natasha Jayetileke as Jess' parents, Mr and Mrs Bhamra.
Bend it like Beckham kicks off at the Phoenix Theatre on 24 June 2015, London with previews for the show starting on 15th May 2015.