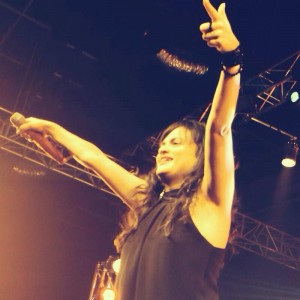 She is one of the most popular singers in the industry today and has numerous hits to her belt. BollySpice caught up with the wonderful Aditi Singh Sharma who is famed for hits like 'Raabta,' 'Offo,' 'Dhoom Machale Dhoom' and 'Main Heroine Hoon.' The 28 year old playback singer spoke about all things music, Bollywood, as well as about her recent gigs, which included a special appearance during Arijit Singh's debut concert in the UK in August. Aditi had some great things to say which we think you will be intrigued by. Enjoy!
Firstly, congratulations on a truly impressive performance during Arijit Singh's UK tour back in August! How were you feeling on the night?
Thank you so much, I was feeling amazing that night. I had just finished a 6 city USA/Canada tour opening for Arijit Singh a week ago and this was the first concert of the UK tour. I was very excited to get on that stage & I guess that excitement translated to my performance on stage.
Does it come naturally for you to interact well with such a huge audience? Or do you feel nervous at all?
I always look forward to getting on stage to interact with the audience. I have always loved that part since the first time I got on stage.
How do you prepare for a concert?
I usually like to be by myself backstage or in my room before a concert and I relax with a mug of tea or listen to music while I get ready.
What was your favourite part of the London concert?
The insane love the audience showed. As you were at the concert you would remember the insane energy that night, even though I was alone on stage, I had a blast.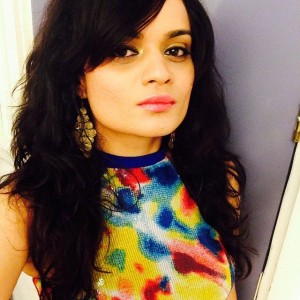 Tell us about your experience of recording songs in Bollywood.
I love recording. Some of my favourite studios, music directors, musicians and technicians – it's amazing to be a part of the song making process. We have so much fun while working with the food, chat sessions, jokes, stories, fun, and ideas. I always look forward to going back to the studio.
What are your thoughts about Bollywood music today?
It's amazing to see the music reach this stage where the sound is changing rapidly and so many new things are happening. Our listeners are ready to accept anything new as well.
Whose voice would you love to be?
A while ago I was asked the same question and I had said Kareena Kapoor, Katrina Kaif & Priyanka Chopra. Out of these I have sung big songs for Kareena and Katrina, but I am yet to sing for Priyanka and I'd love to sing for Deepika as well.
Would you ever consider acting and singing in a film?
Absolutely.
What do you love about singing?
I love everything about it. It's really a part of me now, when I'm on stage or in the studio I feel like it's my extra dose of oxygen intake.
What will we hear from you next?
I don't really talk about my work before it releases =) but I have gigs lined up that I'm excited to perform at.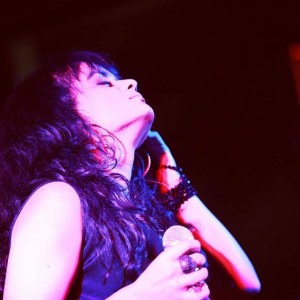 Out of all the songs you have sung so far, which one is your absolute favourite?
That's always a tough one! Honestly, I love them all. I have been very lucky to have recorded super slamming songs with all the super heroes in the music industry. Amit Trivedi with 'Dilli Dilli', 'Yehi Meri Zindagi' & 'Aali Re'. Ram Sampath with 'Luv Ka The End', 'Freak Out' & the Airtel jingle. Shankar-Ehsaan-Loy with 'Kaun Hai Ajnabi', 'Pinacolada' & 'OFFO'. Pritam with 'Raabta', 'I'll Do The Talking', 'Dhoom Machale' & 'Blame The Night'. Himesh Reshammiya with 'Madhushala' & 'Mango'. Raghu Dixit with 'Dheaon Dheaon' & 'Gulcharrey'. Salim-Sulaiman with 'Heroine'. Sohail Sen with 'Choomantar'. Phewww!! Such a crazy awesome list. Even the listeners have trouble choosing their favourite song & I definitely cannot!!!
Which music director you enjoy working with most and why?
I've worked with Pritam, Shankar-Ehsaan-Loy, Salim Sulaiman, Amit Trivedi, Ram Sampath, Raghu Dixit, Himesh Reshammiya more than once and it's more comfortable and amazing each time. If I think about it, I've worked most with Pritam. So much to learn from them and so much gratitude to all of them.
Do you face a lot of competition among your fellow colleagues? Or do you share a good rapport with them?
Of course there is competition, there always will be in the field that we work in. I share an amazing rapport with most of my fellow singers. If I start naming them we will be through with almost the entire fraternity. If you look at my photos or posts on a daily basis, I hang with all my singer friends backstage at gigs, at home, in the studio or at events. I like to believe we are a supportive bunch.
Finally any message for your fans?
All I can is thank you so much for the immense love and support!! I love you all.
BollySpice would like to sincerely thank Aditi Singh Sharma for graciously taking the time out of her busy schedule to speak with us!