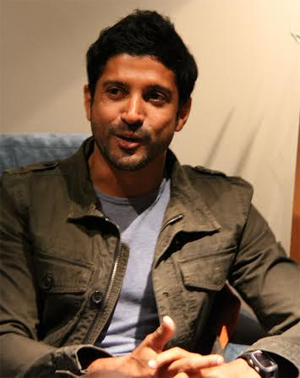 A BollySpice exclusive with filmmaker Farhan Akhtar, as part of the London Indian Film Festival (LIFF) 2014 and ahead of his public 'Screen Talk'.
Farhan shares his views on American television series, 3D cinema, budget filmmaking and more…
Have you had a chance to catch any of the films showing at the LIFF and are there any stand out films for you?
The one film I have seen, in Mumbai actually, which is part of the film festival, is Sulemani Keeda. That's one film that I liked very much. I believe the filmmakers are in London as well, so hopefully we will get to meet them.
How about in the last 9-12 months, particularly in the world cinema range, anything which particularly stood out for you?
Gosh, I wish I was more prepared! Really have to jog my memory on that one!
No worries at all. Lets talk about television: there's a big movement towards television series in America, by big Hollywood actors and filmmakers. Is that something which interests you and that you would consider doing?
I would definitely consider doing it! What's currently happening is series like 24 are now being made in Hindi, which Anil Kapoor is doing. I feel content is going to be very key, for any actor to decide whether he or she wants to be part of a TV show or a TV mini-series. As long as the content is something which is very exciting, by all means why not.
Production values need to be to a certain level also. The writing which happens for television, be it Game of Thrones, True Detective, House of Cards or Boardwalk Empire – these are some great shows from a writing perspective. If that could happen in India, then I think all actors would want to work in them.
Expanding on this idea of good content, what do you feel is the state of (Mumbai based) Indian cinema today – the good, the bad, the ugly?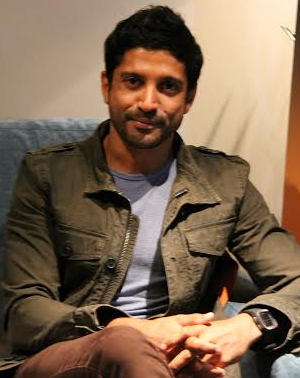 THE GOOD: What is happening with the Mumbai film industry today is that the horizons are definitely getting broader. The kind of stories that we are telling, the issues that we are wanting to talk about are getting more diverse, which is a healthy thing.
THE BAD: On the other hand I also feel that there is a strange kind of censorship that is creeping in, in terms of 'dos' and 'don'ts'. A lot of these at times can be self-inflicted, for fear of what may happen to your film once it's out there. If we have our films put through a process, where they go through a censor board, where the board gives it a certificate and deems it fit for the wider public, beyond that I feel that the filmmaker needs to be protected by that administration and there has to be a machinery that stands up for the filmmaker, once the process it through. In India, you're currently left pretty much to your own devices.
THE UGLY: Nobody wants their theatre to get broken, or their family to get threatened, or a threat to their lives. it's a human instinct. With that I feel that there is a certain protection that filmmakers need, which they aren't currently getting. If the Ministry of Information passes your film, I don't think a non-Governmental agency, or random people should be able to stop you from releasing your film. So if you can empower me to feel safe in sharing my ideas in the way that I would like to, then I feel you will see even more diverse subjects being made. Until that happens, there will always be a fine line of how far a filmmaker is willing to go.
You've talked about the process of getting a film made, so of all the hats you wear: director, actor, writer, producer – which role do you find most creatively satisfying?
All of them actually! There is a slightly more wholesome fulfilment from when you direct a film, because you have seen something from inception all the way till it's out there, which you don't as an actor or as a writer. As a director it's more fulfilling, especially when your work gets appreciated. Saying that, of course when you work in anything and people say good things about it, for example Bhaag Milkha Bhaag, you feel good about it too. As long as I feel good about doing something, whether it works or it doesn't work, if my conscience feels good, then I'm satisfied.
Focussing on Farhan the director, what would your advice be to a budding filmmaker, given the accessibility and technology available today: go out and make a film on a shoestring budget, or learn the ropes under a director?
I've seen many people make films with not much in terms of production back up or set up. A great example of this was a talent who was taken away from us too early, Manish Acharya, who made the Loins of Punjab. It was made on a really tiny budget, but was such a powerfully written film and very fresh. I feel what he did with that film, is a great example for budding filmmakers.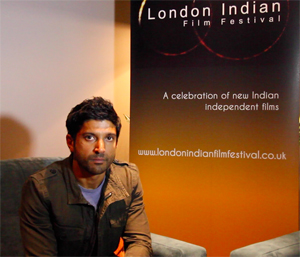 It eventually comes down to good content, whether you shoot it on film, or on digital. If you have the biggest star in India, or just a capable actor, what will connect with people is how interested they are in the story. Is it engaging them? Is it entertaining them? Or is it boring them? You'll see some of the biggest budget movies, with the biggest actors and you'll think within fifteen minutes, I need to leave!
So as a budding filmmaker, just be true to making what you want to make and don't feel bad if you don't have something somebody else has. Focus on the positives and any opportunity you have to make your film. Finally just go and make it to the best of your ability.
Finally, from low budget filmmaking to big budgets: 3D cinema is a big part of the Hollywood machine today. Do you see a place for 3D in Indian cinema?
For the audience 3D is pretty popular. With 3D, there are certain films which somehow work better than other, personally the one that worked for me was Life of Pi. I know it had a lot of SFX, but it's not one I would have associated with 3D. It worked amazingly well for that movie.
More often than not, 3D requires a certain budget, to make a good film and in order to make it well. Indian films don't really have huge budgets and also the certain technology to make films which look world class. I think we focus on what it is we do well and what it is that sets our film culture apart from other cultures making films.
So 3D, as amazing as it is, I don't think it's the first thing that people think of when they're setting out to make a film in India. It is an expensive process and we have a long way to go to start making films on that level.