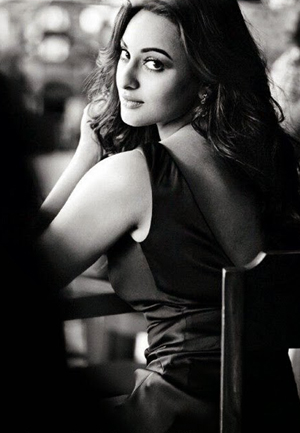 We have a very special treat for you all! BollySpice caught up with the beautiful and talented Sonakshi Sinha to discuss her upcoming concert Bollywood Showstoppers. Taking place at The O2 Arena on Sunday 3 August, the 27 year old actress will be headlining the show, along with Shahid Kapoor, Jacqueline Fernandez, Ali Zafar and Mika Singh. Bollywood Showstoppers has been produced by Naz Choudhary and Flex FX Productions and promises to be an unforgettable night of music, dance and lots of masti (mischief)!
Sonakshi spoke to us in an exclusive interview about how she felt when she was first offered this project, how rehearsals went for the show, as well as talking about her upcoming film and why she loves being an actress!
So tell us how excited are you to be performing at this year's Bollywood Showstoppers?
Honestly it's great because it's my first time performing in the UK. It's going to be a great show because I think it's very well put together and we've got a good mix of Indian artists. It's very, very exciting for me to be a part of it!
What was your first reaction when you were approached for this project?
My first reaction was 'I really wanted to do it' because it's in London, which happens to be one of my favourite cities. And I wanted to be a part of something which I had never really done before. Other than performing at award functions, which is more of a solo act, I have never really done something like this before. So I really wanted to do it and made sure that I got the time for it, made some dates available as quickly as I could and started rehearsing as well. So yes I really wanted to be a part of it!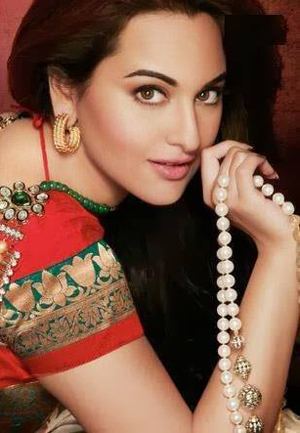 You're also one of two women to be headlining this year's show. Do you think you can have an impact on the audience?
Of course! I think everyone who is performing at the show has something different to offer to the audiences. I mean they all love us for our individuality and who we are. I think everybody who is going to be there will be coming for their favourites as well. So I think we all have something different to offer.
If you had to choose one song which you're looking forward to performing the most, which would it be?
That's difficult because I love all my songs (laughs). They are all very upbeat and very energetic and I love performing on stage. So I think the one song would be 'Saree Ke Fall Sa,' or (even) 'Dhadang Dhang' from Rowdy Rathore. And of course there's 'Sawar Loon' as well from Lootera. So I'm looking forward to performing all my acts because they've turned out really well and I'm really excited!
And how did the rehearsals go?
It went really well! I think Leena and her team were here for about three days and we put together the tracks and she did the choreography. In fact I learnt my Indian act in one day and the Western act took me two days. So in three days I was done with rehearsals. She was very impressed and didn't believe that I picked it up so quickly (laughs). Everybody was happy and I really liked what they've put together for me and I think it's going to look very good on stage. It's going to be very energetic and something which I would like to do on stage. So yeah looking forward to going all out!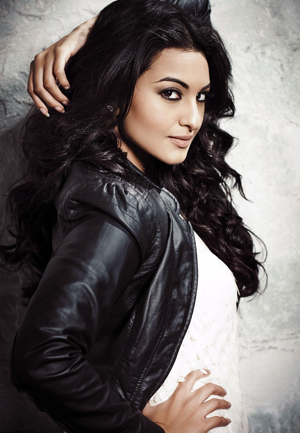 That now leads me to my next question. What do you think makes you such a great dancer?
I think it's because I dance like nobody is watching me. And I think that's what people appreciate about me. When you think too much about things like 'what's going to come next?' and 'I have to get it perfect,' that's when I think I would go wrong. So I dance just like it's a flow from my body. And I enjoy dancing and I make sure that I enjoy it when I'm doing it on stage.
You're currently shooting for Tevar with Arjun Kapoor. So how has that been going?
Well it's been going great and it's our last schedule. We're done with the film and we've got another week to go. It's turned out very well from what little shots I've seen. And Arjun and me share a very, very good rapport. We get along really well and we work well together. So I think it's going to be something different and nice for the audiences to see a new pairing as well.
You've been in Bollywood for around four years now. What is it about the industry that makes you want to get up in the morning and go to work? What's the appeal to it?
I don't know. I just like being in front of the camera. I think when I'm not on camera; I'm completely the opposite of what an actress should be like. But once the camera comes on, I really switch on and turn in to something different. I turn in to the character and what it's supposed to be playing. And I really enjoy that you can be someone different every day. It's a lot of fun!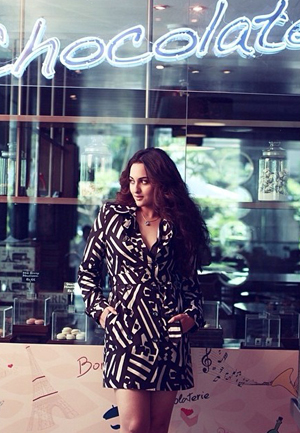 Finally any message for your fans?
Yes, go and buy your tickets and be there at the O2 when I come!
Why should they come and see the show?
Because it's going to be a crazy show and it's going to be a lot of fun! I promise them that. And I promise to entertain them thoroughly because they're going to love my acts. And I'm going to have them dancing in their seats so they better be there.
Also, will be you be performing alongside any of your co-stars on the night? Will you be doing any sort of duet with them?
This time no. We will all be doing our own individual performances and we'll all probably come together at the end of the show.
BollySpice would like to thank Sonakshi Sinha and the team behind Bollywood Showstoppers for their support!
Bollywood Showstoppers takes place at the O2 Arena in London on Sunday 3 August!
You can still book tickets by clicking on the links below!