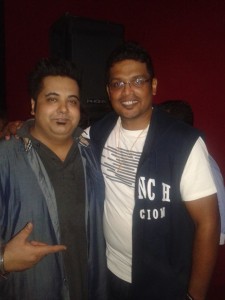 The recently released Ganesh Acharya movie Hey Bro has definitely been appreciated for its music by the audience. The songs 'Mera Gaana Baja De DJ', 'Birju' and 'Bulbul' are climbing their way up the charts as we speak. The song video for 'Birju' features many Bollywood greats such as Amitabh Bachchan, Ajay Devgn, Akshay Kumar, Hrithik Roshan and Ranveer Singh. BollySpice brings you an exclusive interview with the Music Directors of Hey Bro 'Nitz n Sony' aka Nitin Arora and Sony Chandy. Read on to find out how they conceived the music of the film and learn about their 'fairly' unusual background before they became Music Directors in the Bollywood industry!
Congratulations on the success of the music of Hey Bro! Please share with us your journey so far in the Bollywood music industry.
Both: Both of us are self taught (and still learning!) musicians with no formal training or family background in music. We are professionally qualified hoteliers turned music composers out of our passion for music. We know each other since 2001 and started composing music together since 2003. We both are Hotel Management Graduates from PUSA and have worked with 5-Star Hotels before getting into Music full-time.
Sony: I was a chef with Hotel Leela Mumbai when I met Nitz (Nitin). We used to stay together and have music jamming sessions before I finally quit my job and started working on our 1st project together.
Nitz: I was last running a 5-Star Resort in Shimla as a Resident Manager after having associated with Rajputana Sheraton Jaipur and JP Palace Agra before I decided to shift to Mumbai and pursue my Bollywood dream. So I came to Mumbai on 14th January 2001 and started off as an actor and this is when I met Sony. We shared a place with our common hotelier friends. While he worked with the Leela Kempinsky, I was pursuing acting. But we both wished to make music together. So after I played a lead negative character in Harry Baweja's Qayamat starring Ajay Devgn, I requested Harry ji to give us a chance to compose one song for one of his upcoming projects. Harry ji promised me that if he liked the song he would keep it for one of his films. We played him a song and he loved it! We got our 1st release in 2006 🙂 It was a song called 'Sharaabiyon' for the Film Teesri Aankh starring Sunny Deol and Amisha Patel. We recorded the song in the voice of Asha Bhosle ji in December 2005.
The lounge track was appreciated a lot, mostly in the international music community. It was the then "most played number" on world space radio, featured on BBC Charts and was also a part of a collection comprising of Asha ji's best life time renditions.
Sony: Yeah, the beautiful lyrics for the song were written by Nitz here himself, credited as Nitin "Nitz' Arora. Asha ji had complimented him for the lyrics too.
Nitz: Well, it was my 1st attempt at lyrics and I was worried that she might not like them, but then a compliment coming from her was a pleasant surprise. She loved the song and in fact called back the next day to say that she would love to work with us again. She is a legend and we were lucky to have our 1st release with her blessings 🙂
Both: Our 1st "soundtrack" for a film was for Swami, released 2007, starring Manoj Bajpai and Juhi Chawla It was an Original Soundtrack. There was one song and an entire Background Music Score comprising of themes for different situations. The film was critically very well appreciated and commands an IMDB Rating of 7.2 even after 7-8 years!!!
We got a lot of critical acclaim for the music of the film. The soundtrack of the film has been recommended by a French music critique to be inculcated in the curriculum of a film school!
Also, we are now sending the soundtrack for the Guinness Book of World Records as the "only soundtrack ever recorded before the film was shot". Yes, it was a first, as we had recorded the entire background score of the film before it even hit the shooting floor.
In fact, the film was shot on the background score like a song! It was a very fine and learning experience for us.
We worked on the music for a year and a half. It was a very luscious soundtrack, having all live instrumentation. Live solo percussions, string sections, male, female and even a kids chorus, flute, violin, viola, sitar, veena, A South Indian classical composition and the divine coices of K.S Chithra ji (The Nightingale of the South) and Sri Hariharan ji.
Both: Our 1st commercial film was Money Hai Toh Honey Hai released 2008, starring Govinda, Hansika Motwani, Aftab Shivdasani, Celina Jaitley, Manoj Bajpai, Upen Patel, etc.
It was a very elaborate music project and we got to work with a lot of genius musicians, technicians & singers on this one namely Daler Mehndi, Master Salim, Sunidhi Chauhan, Rekha Bhardwaj, Kunal Ganjawala, Adnan Sami, Shruti Pathak, Labh Jhanjua, Suraj Jagan, Harshdeep Kaur & Shaan.
Well, so the journey shall continue and we shall keep bringing you more and more good, original and path breaking music. Our strengths are "originality", thinking out of the box, experimenting with new sounds and music genres and trying to have international benchmarks in music production, orchestration while striving for technical brilliance. Whenever we compose, we choose the concepts, situations and hook lines of our songs from real life experiences and incidents.
The songs from Hey Bro are pretty unique and very 'out of the box'. Tell us the story behind the songs from the film.
We've had our rough days in our 12 year long journey, especially when we had financial problems. So one of those days, I was kind of worried as the pockets were going empty and I told Sony, "Bhai paise khatam honey waaley hain, kya karengey?" Now Sony was either in a funny mood, or I guess to lighten up my mood, he responded with "Naach Meri bulbul ke paisa milega" and I replied, "khaali fokat baithengey toy kaisa milega?" We laughed & the stress was busted, but yeah, the song was born. 'Birju' was conceived 7 years back while watching Mother India on TV.
In 'DJ' the hook line "Mera Gaana baja de DJ DJ" came from an incident when I was DJ'ing in Delhi on New Year's Eve 31 dec 2000 when a drunk sardarji said to me "Oye DJ mera gana baja de".
Similarly, 'Line Laga' was conceived in 2013 when I was in a never ending queue at Frankfurt airport.
We are trying to bring an international sound, music production style, benchmarks and technical brilliance into Bollywood while trying to incorporate fresh quirky ideas from real life which people can relate to. At the same time we look forward to promote new, original and fresh talent who are passionate for music (like we picked an underground rapper Naezy after we heard him on YouTube and featured him on 'Birju') and most importantly, we stand for original music and we shun plagiarism. We believe that the job of a music composer is to compose original tunes and not pick up tunes composed by someone else and reproduce them with different lyrics and production. It kills new talent and discourages aspiring talents.
Wow, there really is a story behind each song!  We are hearing Himesh sing with Shreya Ghoshal after quite a long time. They have sung many hit songs together ('Aashiq Banaya Aapne', 'Naina Re', 'Tera Mera Milna', etc). Was it a conscious decision to bring them back together for 'Bulbul'?

Both: We had decided Shreya ji for the song while composing the stanzas. She was a natural choice for the song and as expected she has done a superb job! The challenge was to match up to her singing prowess in the male vocal part and yet stand apart as the face of the song! We were looking for a very powerful, yet different male voice for the main mukhda and that is when the first name that came to our minds was Himesh Reshammiya. It was unanimous. So bringing them together was sub consciously conscious we guess!
It is very refreshing to meet Music Directors who have a very clear mind set and know exactly the kind of sound they wish to produce. What is your take on today's current music scene in Bollywood?
Nitz: The Music scene nowadays is very motivating and encouraging for new comers and fresh talent. Thanks to the TV revolution, followed by the digital revolution, internet, YouTube, other Social Media, etc. fresh talent nowadays stands a much better chance to showcase themselves and be noticed. Hence Bollywood too is keeping its eyes, ears and arms open for them.
Sony: Though the competition has increased, but it is healthy. As all the fresh talent gets a level playing field, at least on the social media, which helps the best man win 🙂
This is still a transitionary stage though, but there is a lot of hope. We feel positive.
The Hey Bro soundtrack features many established singers such as Shreya Ghoshal, Himesh Reshammiya and Sunidhi Chauhan (to name but a few), how easy/difficult is it to work with such established singers?
Both: They all are stalwarts and stars in their own right. They have all come up the hard way and have "earned" their current stature. Yet they are humble, supportive and very professional. It's very easy to work with them as they are very professional and know their job. They command massive experience and the translation of ideas is very smooth.
They can understand what we have in mind with ease and deliver more than our expectation.
Moreover they are very well rehearsed, knowledgeable and sharp. Hence, the results are astounding in minimum time and energy. Moreove,r it adds to our learning and experience. There is always something to learn from their vast experience, professionalism and wonderfully cultivated personalities.
We know that Hey Bro is not your debut music album (Nitz n Sony debuted with the song 'Sharabiyon' in Teesri Aankh (2006) and gave the full music to the Ganesh Acharyadirectorial Swami in 2007), how much changed have you noticed in the music industry since your debut?
Both: Well, there is a huge change in sound, technical standards, orchestration and also work ethics. There has been a lot of corporatisation since then, which has changed the working style of the industry. It's more professional, organised and comparatively punctual now.
The advent of TV, Internet and social media has opened the doors for fresh talent as well as opened windows for the audience to international content, which in turn on one hand, has led to competitiveness in production quality and on the other hand has led people to discourage plagiarism. Copyright has become stronger. People are trying to match up to international technical standards and production quality. They are producing original content now or taking rights through the correct channels so as to avoid copyright litigation, etc. Hence in a way, it is much better for people like us who believe in supporting fresh talent, original work and international quality, technical and production benchmarks.
How open are you both to working with and supporting new singers in the industry?
Both: Well we ourselves are pretty new and we understand the journey of a fresh talent. Wherein we have had the opportunity to work with the stalwart singers of the industry, we have also worked with fresh talent in our film Money Hai Toh Honey Hai, as well as in Hey Bro. Shruti Pathak of 'Mar Jaavaan', 'Payaliya' and 'Shubharambh' fame had sung her first song 'Awara Dil' with us in MHTHH with Adnan Sami. Also, Suraj Jagan and Harshdeep Kaur had just begun back then. They have all come a long way since and are celebrated & established singers now. Though they have achieved everything they are today, with their own efforts and hard work, it just makes us feel good, that our sense of judgement back then was right, and that motivates us to keep working with, and promoting fresh talent. In Hey Bro too, we have introduced a new rapper Naezy. We spotted him on YouTube. We feel that he is going to go a long way in the time to come.
Which Music Directors (out of your contemporaries) are your current favourites?
Both: Mr. AR Rehman 🙂
A huge thank you, to Nitz n Sony for this wonderful and informative interview. We look forward to hearing your future soundtracks!