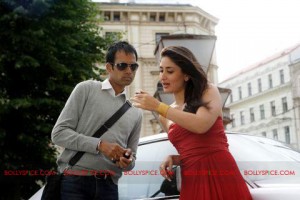 Did you ever wonder who was the person behind the scenes making the stars look so good? Well, now we can introduce you to one of the best who has styled some of the biggest A-list actors in Bollywood including Kareena Kapoor. Purshottam Hans, also known as Pompy amongst the members of the Indian Film Fraternity, is a well-known celebrity hair-stylist. Born in Amritsar, Punjab he started to work with Lakme and then went on to assist veteran hair and make-up stylist Cory Walia; that's when he entered the glamorous world of Bollywood and Indian fashion shows.
Pompy then went on to work independently after being recommended to film-makers and models by his Godfather Cory Walia and quickly made his name in the industry with his impressive work. Hans has worked on hundreds of advertisements, film posters, fashion shows and has also been hairstyling A-list actresses for movies, events and commercials.
Pompy has been working with Kareena Kapoor as her official hairstylist since the duo worked together in Kambhakt Ishq where 'Pomps' as he is called by 'Bebo', gave her the ultra-glam look.
Our London reporter Sunny Malik caught up with Pompy Hans and Kareena Kapoor at Pinewoods Studios where the climax scene of Reema Kagti's Talaash was being shot earlier this month. While we can't reveal anything about the film or the scene that was shot here, we are giving you this exclusive interview with the man who makes the stars look like a million bucks!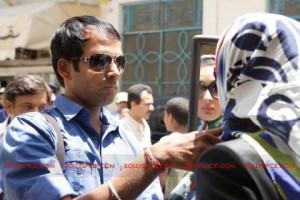 How did you enter in the industry?
I used to work with Lakme in Amritsar and I met Cory Walia who was the brand ambassador for Lakme at that time. After watching him work, I felt that I needed to learn more. I felt that what I knew is not enough. I am very passionate and even today I am passionate about learning new things for my work. I started to assist Cory Walia and learnt more about make-up and hair.
Speaking of Cory Walia, our readers would love to know which actors he has worked with.
He is a celebrity make-up artist and he has worked with almost everyone in Bollywood but he works more in fashion shows now.
Did you ever think that you would be working with top Bollywood actresses when you started out?
I did not. I never aimed at that either. I just wanted to learn more. I just wanted that all my clients should be satisfied when they ask me for new cuts, styles and make-up. I come from a smaller town compared to Mumbai, but for that area I was very well trained.
Who was the first person from Bollywood you worked with ?
She was a model and Lakme girl back then. I worked with Lisa Ray when she came to our branch for something.
Was it different for you to work with her as she was a Bollywood celebrity?
No, I am very confident about my work. She and the production team loved what I had done and that is what counts.
Who decides what hairstyle and makeup should go on? Do you decide what's best or does the actress asks you to do something particular?
It's a mutual thing. Maybe a client wants something like a Kareena Kapoor hairstyle but they don't have the similar style of hair or cut or length or a different face structure. I then have to suggest the client what suits her best and then we go from there. The main thing is to get whatever suits the person most.
Did you work on films only or have you done work in other area that require your expertise?
I worked on fashion shows, magazine shoots and TV commercials.
Which actresses have you worked with on TV commercials?
Of course Kareena Kapoor and I have also worked with Karishma Kapoor, Deepika Padukone and Konkona Sen Sharma. I have also worked with Kajol many times on commercials and with many others too.
Who has been the most professional actress you have worked with?
Personally, I think everyone these days is very professional and smart when it comes to their work. They know their job and they know that we are here to do our job as well.
Many years ago, hairstylists were not treated too well by actors. Is the same prevalent now?
It changed even before I entered the industry. It's a real pleasure to work with these people. I am very lucky that all the people I have worked with have appreciated my work.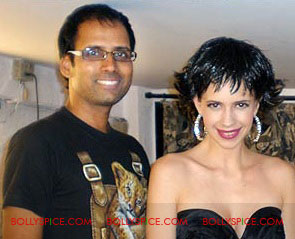 Which movies have you worked on?
My first individual project was Dev D with Kalki Koechlin. I was nominated for an IIFA award for my work. It means a lot to me just to be nominated for my first individual film as a hairstylist and make-up artist.  After Dev D, I worked as a hairstylist in Fashion for the models and Kangana Ranaut.
What was it like to work on Fashion?
It was like my real life. We had to do everything we would do backstage during fashion shows. It was like they were filming how we work on daily basis. I am in the backstage shots of the film and it was a lot of fun and I can't forget the experience.
Have you worked with any male actors?
I have worked with Bobby Doel on Dosti. Kareena is also in the film but we never really interacted during that film. It was fun to work with him. I worked with Fardeen Khan, Ranbir Kapoor and other actors for commercials. I have also worked on Pyaar Ke Side Effects with Rahul Bose.
Is that where you met Sophie Choudhry, as you have been working with her lately ?
No, I knew Sophie before that. We have become good friends now. I went to her house with Cory Walia to get her ready for an event.
Have you worked with her independently?
Yes, the movie has not been released yet. It's called Ali Baag and earlier on in Daddy Cool I did her make-up and hair. I have styled her for events and parties. I also came with Sophie to London for the UK Asian Music Awards last year.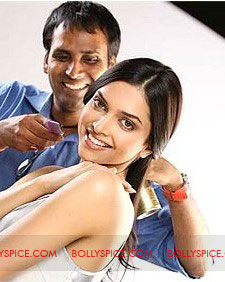 When did you start working with Kareena Kapoor?
We first worked together on Kambakht Ishq. I only did Kapoor's hair in the film although I am equally qualified for make-up too. A lot of people liked my hairstyling and they only needed me for Kareena's hair for this project. Mallika Bhatt, a well-known make-up artist, was doing her make-up in the film.
How was your experience working in Kambakht Ishq where you also worked with Hollywood actors?
Have you heard of the film Amritsar to LA ? That's what happened to me. I am from Amritsar and everyone started teasing me with that title as I came from Amritsar and joined Kareena there. My career has completely changed after I worked with Kareena on the film. It's a golden chance to be working with her and I am very lucky. She is such a lovely person and gorgeous from inside and outside.
Do you think it was a brave move on Kareena's part to choose you for her hairstyling in Kambakht Ishq as it was a big production?
Yeah, it was but I think she knew that I had it in me, as I had worked on Dev D and Fashion.
After Kambakht Ishq you started to work with Kareena regularly on her films, commercials and even for events. How did this come about?
It just happened. She liked my work and we now work as a team. I think she was comfortable to work with me and to get her hair done by me.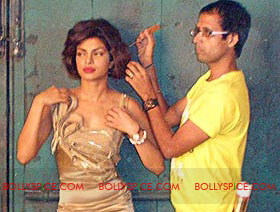 You hit the headlines when Priyanka Chopra wanted to work with you in Anjaana Anjaani about you chose to work with Kareena on We are Family. What happened?
It was some sort of controversy all over the internet and newspaper although nothing actually happened. I was committed to do We are Familybecause Kareena asked me during Kambakht Ishq and I said yes. In between, I used to work with Priyanka as well on ads and magazine shoots and she asked me to work with her on Anjaana Anjaani. I did not commit to doing it. The schedule of one film was pushed back a bit but my first commitment was to Kareena and as a professional I could not ditch her only because both the films were going to be shot simultaneously.
Is your rapport with Priyanka still the same?
Yes, she knows that it's not my fault. I just recently worked with her on a magazine shoot. She is a great actress and I like her.
Tell us about your daily routine of working with Kareena Kapoor.
If there is a shoot or something happening and we have a call time (the time Kareena is supposed to arrive) I have to be there half an hour before that. We sometimes decide beforehand on the phone what we will be doing for the look and I prepare for it then. Kareena is very professional. She does not mind me using products on her hair. She knows everything about style and fashion. We work well together as a team.

Do you have to be with her at all times when she is shooting?
I have to. That's my job. I have to check if the look is alright at all times and check the portions shot on camera as well.
What's her look in Talaash, the film you are shooting here?
Oh, you know that but I can't reveal anything about this film. But when you will see her on screen, you will be shocked on how good she is looking in the film.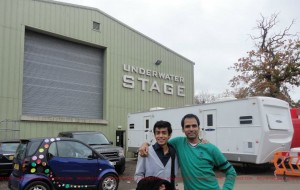 What did you have to do for the underwater sequence here at Pinewood Studios where she is shooting with Aamir Khan? 
I can't really talk about the film or her look but it's a glamorous role and it's also a very different role. We used long brown and blonde extensions for her in the film and during this scene, which I can't talk about but you know what the scene is, I just had to make sure that her extensions stay on and its very difficult for her as your hair get very heavy when its wet and I just had to keep my eyes on the monitor at all times.
Which other projects have you been working on?
Ek Main aur Ekk Tu and we will start Heroine soon.
While you might have seen Pompy's recent work in Ra.One, you will also see his work in Ek Main aur Ekk Tu and numerous commercials, advertisements, photoshoots etc. We at BollySpice wish him good luck for all his upcoming projects.