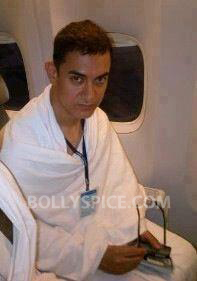 A few months ago we heard Aamir Khan was very keen to make his mother's long wish to perform Haj come true. He promised his mother that he would take her for the holy pilgramige once he returns from Chicago, where he was shooting for Dhoom 3.
The 47-year old returned three days ago for the music release of his next film Talaash. He finished all his commitments and is now on his way to Mecca apparentely accompanied by an entourage of 12 others. The rumour goes that there are 6 bodyguards who went with him to make sure Aamir and his group are protected, Still, one of his fans managed to click a picture on the plane.
We hope the actor and his mother have a safe and happy journey. The actor will return in the first week of November.