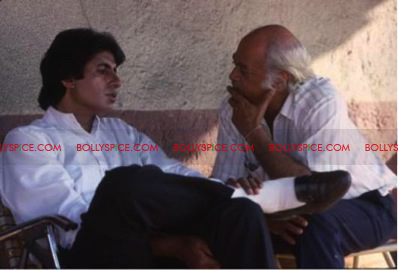 We have a cool treat just for BollySpice readers! Here's an exclusive image of the original 'Vijay Dinanath Chauhan' with the Bollywood maestro Late Yash Johar on the sets of Agneepath (1990). It has left such an impression that even after 22 years down the dialogues echo in our heads. And thanks to the remake, the movie is revived. The original Agneepath had Amitabh Bachchan as Vijay Deenanath Chavan, Alok Nath as Master, Danny Denzongpa as Kancha Cheena, Neelam Kothari as Siksha Chavan.
Plot
The film begins with a morally upright and honest Gandhian Schoolmaster, Deenanath Chauhan(Alok Nath), teaching his son, Vijay about a poem, 'Agneepath', which describes 'The Path of Fire' which a man must cross in his life. This theme becomes an integral part of the story. Master Deenanath is a well-loved person, who wishes to bring education to the Village, Mandwa. However, his wish is not shared by a corrupt jamindar, Dinkar Rao(Goga Kapoor).
One day, as Vijay and his friends play about near Rao's house, a man named Kancha Cheena(Danny Denzongpa) arrives at the house, and Rao hands over some papers to Cheena, which, Rao tells him, are the Title Deeds of all the Villagers' homes. Denzongpa's plans are revealed then: he wishes to make Mandwa a centre for his drugs trade, as he wishes to rule a place where the laws are lax and since it is not on the map of India. Dinkar Rao mentions that the schoolmaster is a huge hindrance to their plans, whereupon Cheena tells Rao that he must kill the schoolmaster, or Rao will suffer the consequences. With the aid of the owner of a brothel, Chandabai, Dinkar Rao lures the schoolmaster into the brothel. The villagers assume that the schoolmaster is an immoral hypocrite who solicits prostitution, and they beat him to death. The schoolmaster dies while cradling his son and reciting the poem, "Agneepath".
Vijay's Mother is devastated, and the image of the schoolmaster is so tarnished that 12-year old Vijay had to carry his corpse to the cemetery on a cart. The family leaves for Mumbai to begin life anew. There, Vijay does odd jobs to earn for his family. It is also there that he learns about the harsher truths of life. He burns down a Petrol Pump because the owner of the Pump tried to rape his Mother. Vijay is caught in the act by Inspector Gaitonde, who tries to redeem the boy. He is then hired by three of Kancha's enemies.
Then we see an older Vijay, 36 years old, now a gangster with a drawling, raspy voice and stylish gait, who works for three of Kancha Cheena's enemies. Vijay slowly eliminates his bosses and works his way up the echelons of crime, becoming a feared and reputed gangster in Mumbai. Then Vijay tries to cut a deal with Kancha, and gradually brings about his Empire's downfall. However, in an action-packed climax sequence, Kancha holds Vijay's wife, Mary, his sister and his mother hostage, and challenges him to a showdown, daring him to cross a rubble-laden, path of fire. In spite of being shot twice, Vijay kills Kancha. In an emotional sequence, Vijay drags his mother to the remains of their old house in the village, now a smoldering pile of brick, reciting "Agneepath". Vijay passes away, with his head on his Mother's lap, culminating in an emotional end, in which Vijay's mother remarks to the end, "My son is not a gangster…he is not a gangster, my son."