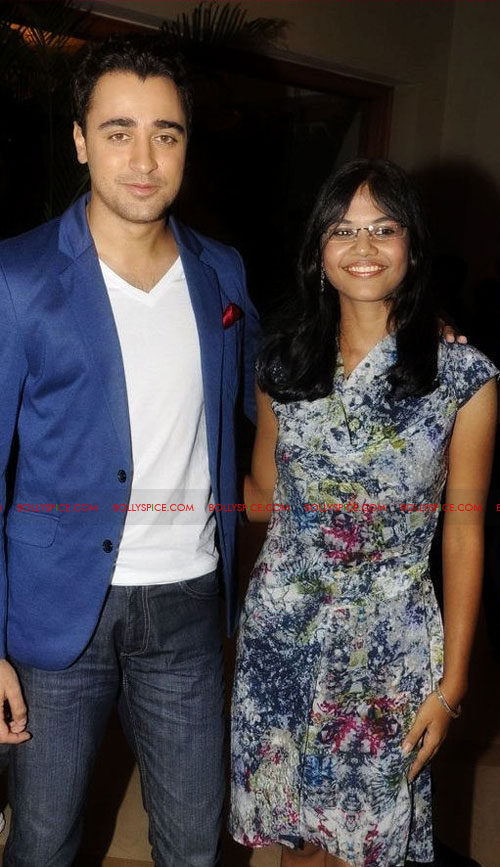 A new and exciting show on UTV Stars is letting fans live the life of their favorite stars. Chosen by the stars themselves, not only do the fans get to go to Mumbai and stay in a fancy hotel, but they also get to experience a day in the life of the star. The catch is they get filmed all day for the show appropriately titled Live my Life. The first episode of 13, which aired on August 21st, was with Imran Khan and his chosen fan Rhea. The actor gave Rhea a experience of a lifetime, but we will let her tell you all about her amazing day! We have the exclusive detailed report of what happened, what she did, who she met and how incredibly amazing Imran Khan is in Rhea's words! Check it out!
How it Happened
The producers of this TV show, Live My Life, approached Imran with this concept and had sent him some audition tapes from his fans and asked him to pick someone to meet him. Apparently he didn't even look at any of the tapes! He just said that he had someone in mind who he had interacted with a lot on Twitter and that she'd be good for the show. He picked me!
I got a message from him, but I did not read it until five days after he sent it. I was so scared I'd missed my chance! But then I called the person he told me to contact and she said that the spot was still open. Thank god! However, one of the downsides is that they told me I would not get to meet him but just experience a day in his life. Now this entire day was filmed, of course, for the show. Having cameras follow me was an interesting experience, but let's get to the details!
Part One: Hotel, breakfast, a letter and a call
I was flown to Bombay and put up in the Presidential Suite of an amazing hotel called Renaissance, all thanks to Imran. A beautiful black Mercedes came to pick me up and once I reached the hotel, I was given a proper Mumbaikar welcome at the entrance, with Lavani girls dancing and putting a garland and tikha on my forehead, then feeding me sweets. I was greeted by the anchor of the show, Shamoli, and she gave me a personally handwritten letter from Imran! He welcomed me to Bombay and told me that I had a long day ahead of me and that he hoped I would come to love the city as much as he did. His last words of wisdom were: "You're not allowed to feel tired; and even if you are, you're not allowed to show it!"
Then I was taken up to my suite, I was told that I'd get to eat Imran's favourite breakfast, which is eggs, toast, and muesli. I will be honest, it was kind of awkward eating while these huge lenses were pointed at my face, but just the fact that I was eating Imran's favourite breakfast powered me through the meal.
Shamoli and I then went and sat on a couch and chatted about myself, Imran, and how long I've been his fan. Her phone rang, and she handed it to me, saying that the call was for me. Guess who? It was Imran himself! As soon as he said "Hi Rhea", I think I started saying "Oh my God, are you kidding me?!" or something. My first ever phone conversation with him went smoothly, because honestly, he's the easiest guy to talk to! He's so down-to-earth and so normal that it didn't even feel like I was talking to a star. He asked me about my day so far, then he went on to tell me that the suite I was staying in was actually the same place where he shot a scene from I Hate Luv Storys and one from Mere Brother Ki Dulhan! I was so surprised… All that was going through my mind was, "Ahhh, I'm probably sitting in the same place he sat!"
Part Two: Hair and Make up and a surprise!
Then there was a whole session of hair and makeup, all of which was of course recorded on camera. The doorbell to the suite suddenly rang. You can imagine my shock when I opened the door and saw Punit Malhotra standing there! I had said earlier that IHLS was one of my favourite movies, so Imran had Punit come over to my suite to give me a surprise. Punit was so incredibly sweet, cute and funny. He told me some special tidbits about IHLS, for example the scene where Imran proposes to Sonam and gets dumped was shot in a garden at the Renaissance Hotel, when it was actually supposed to be in New Zealand. Then he took out the script of IHLS and made me read that scene with him! I'm sure I was pretty bad at reading the lines, but Punit and everyone else on set encouraged me to go on and I had a lot of fun! Punit even tried to get me to dance to the IHLS title track, but I totally couldn't because, 1) I suck at dancing, and 2) I'm a very introverted and shy person so can you actually expect me to dance while there are cameras pointed at me??
The whole Punit session was totally amazing and a lot of fun! I got an autograph from him before he left, and he wrote "Dearest Rhea, thanks for making my day!" Apparently I had made his day by saying that IHLS was my favourite. He didn't know that he pretty much made my life by showing up at my suite!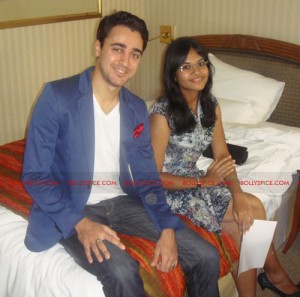 Part Three: Lunch, another call and special coffee company
After this, I was taken for lunch at Imran's favourite seafood restaurant, Gajalee. I ate all his favourite dishes – tandoor crab, Bombay duck, prawn biryani, and dal khichdi. Every single item was so incredibly delicious! Right before this, another call from Imran came and he said to eat all the items and enjoy them. I honestly don't remember much else of what we talked about because it was such a haze!
I also got to meet Imran's mother-in-law, Vandana Malik. She completely put me at ease as soon as I met her at a coffee shop in Bandra, and our whole conversation flowed so smoothly. You'll get to see what we talked about on the episode, so I won't go into much details here – just that I asked a lot of stuff about Imran, like his life before he became a star, then about him and Avantika, and she even asked stuff about my life. Overall, I really loved the meeting with her. She was very genuine, warm and very sweet. Before we parted ways, she gave me a gift that apparently all the girls who went to Avantika's mehendi ceremony received! It was a set of beautifully colourful bangles, along with a necklace, earrings, and this stone-setting tattoo that you put on the back of your hands, all packed in a beautiful box.
Part Four: Another letter and a press conference
If you can believe it, it gets better! Shamoli gave me another handwritten letter from Imran! The letter said that I seemed to be doing pretty well so far, and that he wanted me to experience the total glitz and glamour of his life, so he was inviting me to the press conference for MBKD! And guess where this press release was held? At Yash Raj Studios! I was so bowled over when I was taken to the YRF studio… it was like a dream come true. I was taken to this room called the "Rehearsal Room", and as soon as I walked in, I saw Katrina Kaif sitting there. I was pretty much shocked into silence! I remember shaking her hand and telling her that I totally hadn't expected her to be there, and she replied, "Yeah, I'm pretty much going to be where Imran is for the next month or so at least!"
Suddenly Imran strode into the room and I quite literally froze on the spot and my heart completely stopped beating! He was wearing a black t-shirt with dark blue jeans, and he looked amazing. I was dying to go talk to him, but he became super busy with shooting a promotional video for MBKD with Katrina, and then giving a lot of interviews with news channels and journalists, and I was told that I wouldn't be able to meet him. I was obviously heart-broken, because this was quite literally like a "so near, yet so far" type of situation, but I was convinced inside that I would get to meet him, even though everyone kept telling me that I wouldn't.
Part Five: Bartending!
Up next was something truly unique and well to be honest a bit embarrassing. We headed to the Velvet Lounge Bar of the hotel and there I learned how to be a bartender. The professional bartender taught me how to make an apple-cranberry mocktail. He also tried teaching me a few skills and tricks of bartending, but here is the embarrassing part because I kept dropping things while I was trying to do the cool tricks he was teaching me! The bartending training session was a lot of fun, and my mocktail actually turned out to be decent!
Part Six: I am Imran Khan
Once this was over, I was told that, for the next half an hour or so, I was supposed to be Imran Khan. Since Imran gives a LOT of interviews, he wanted me to experience how hectic it becomes when he has to give a lot of different interviews at once. Many times this requires him to rush and change his clothes before his next interview, so his personal stylist (and best friend), Neha, picked out a bunch of very pretty clothes for me to change into in between interviews. People from the crew of this show pretended to be reporters and they asked me questions based on Delhi Belly. The thing about this was that, with each interview, I was asked the exact same questions, and I was expected to come up with answers for them. I definitely didn't answer these questions as smoothly and eloquently as Imran does in his interviews, and also I was expected to speak in Hindi, when my spoken Hindi is actually pretty bad.
I sat down and had a chat with Shamoli and Neha about this "mock interview" experience. Then I was told that the gorgeous dress I was wearing was a gift from Imran!
Part Seven: Dinner and The best surprise ever
Finally, back to the hotel and dinner in my room, but once I walked into the suite, I saw Imran's personal hairstylist, Aisha, and his makeup man, Vicky, waiting for me. They said that apparently Imran had sent them to give me a makeover and make me feel better since he felt really bad about not being able to meet me. Aisha and Vicky are two of Imran's close friends and I had SO much of fun during the makeover! They were telling me stories from Imran's life, and about how he loves playing pranks, especially on Aisha. Aisha has been Avantika's best friend for a many years now, so she's known Imran from the beginning of his and Avantika's relationship. I got to know a lot about Imran during the makeover session. Also, both she and Vicky had asked me what type of makeover I wanted, and when I said that I wanted something that looked natural and simple, Aisha was like "Aw, that's exactly the type of style that Imran likes in a girl!"
Are you ready for the coolest part? The whole crew said goodbye to me and left the suite. Then the doorbell rang. I had kind of figured out by then that something was going on, so I curiously went and opened the door, and saw Imran just standing there with an adorable smile on his face. He was pushing a room service cart and when I opened the door, he said, "Room service!"
I was so shocked, overwhelmed, excited, and surprised that I just stood at the door, not being able to say anything other than "Oh my God!" Then Imran asked if he could come in, and when I let him in, he hugged me!
Once my initial shock wore off, we sat down and had a long talk about quite possibly everything under the sun. He was so nice to me! He made me feel completely at home, and there wasn't a moment of awkwardness in the conversation since he's really good at keeping the flow of a conversation going. Then came the exchanging of gifts with him! He gave me autographed music CDs of IHLS, Break Ke Baad, Delhi Belly, and MBKD; and then came the most amazing gift of them all. He gave me a personal t-shirt of his that he wore on the Koffee with Karan episode that was shot with him and Ranbir! I was so ecstatic that I would now actually own something that is from his personal collection! Then I gave him my gifts – a handmade card with a poem that I had written on him a long time back, and a box of his favourite Bengali sweets, Kheer Kadam.
We then went on to have dinner in the suite which consisted of chicken curry, tandoori roti, chawal, and a salmon preparation. Everything tasted amazing! But again, I was super conscious of eating while being filmed.
Part Eight: The promo and sadly the goodbye
Ohh and there is more! After dinner I went along with him downstairs where I got to stand behind the camera while he shot for the Live My Life promo. All the while, he kept explaining the technical aspects of a shoot and he was letting me experience every aspect of it. He also kept making sure that I was never left out from anything. He even let me sit in the driver's seat of his Porsche! And finally, it was time to say goodbye to him. He gave me yet another nice long hug and left.
Overall, I got to spend close to three hours with him! This seems like SUCH a dream! As I said before, it's all a complete haze and seems totally unreal.
Hope I didn't bore you guys with the minute-by-minute details of this experience. This whole experience has been so amazing that I think even when I'm old and turning senile, this will be the one thing I remember and recite to my grandkids over and over again!