Ra.One had a fabulous premiere in London on Tuesday night October 25th and of course, we were there! Not only did the stars walk the red carpet, but for the first time ever, the Cineworld cinema at The O2 hosted just one film on all of its eleven screens for the epic premiere of Ra.One. 
The UK Premiere was attended by thousands of fans who waited for hours to catch a glimpse of the leading actors Shah Rukh Khan, Kareena Kapoor and Arjun Rampal.The director Anubhav Sinha, actress Shahana Goswami, debutant Armaan Verma, Oscar award winning sound editor/mixer Resol Pookutty, art director Sabu Cyril, dialoge writer Kanikka Dhillon also walked down the red carpet posing for pictures, signing autographs and speaking to the press.
Check out our exclusive coverage of the red carpet with the cast and crew members below!
Armaan Verma: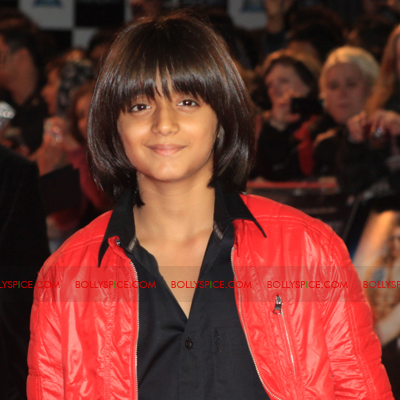 Armaan Verma plays the character of Prateek Subramanium aka Lucifer. The young actor has acted in a few commercials but this is his first major film role.
Speaking about his experience of working with Shah Rukh Khan and Kareena Kapoor the young actor said: "It was a great experience to shoot with Shah Rukh Khan. He is very kind and I could not have asked for anything else. Kareena is a very nice person and made me feel really comfortable on the sets."
Armaan also filmed some scenes in London and he described his feelings of being here at the premiere: "I love the atmosphere over here in London. It's awesome."
He also did some action in the film he revealed: "I did all the stunts myself. A body double was used only once for the car chasing sequence that we shot in London last year."
So who's his favourite superhero? "G.One, for now (laughs) but I prefer the villain, Ra.One!"
Sabu Cyril :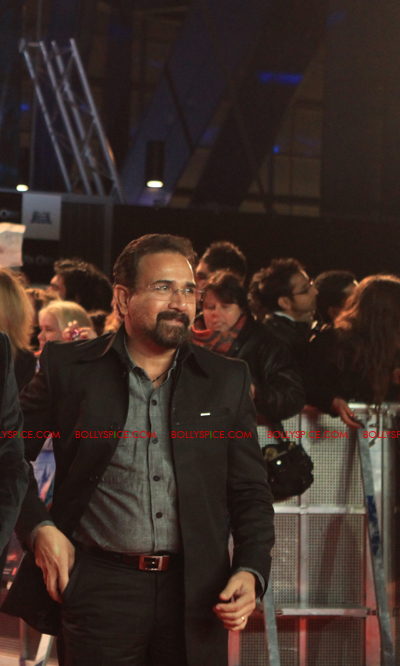 Sabu Cyril is very well-known and award winning art director in Hindi films. Cyril has previously worked in many Shah Rukh Khan films and his productions including Om Shanti Om and of course Ra.One. 
Talking about the film, he told us: "From the beginning till the end it was a big challenge. It's not a usual film. We don't go into social issues and everything had to be created for the film. I should not be explaining too much about the film but when you see it, you will know."
Adding, "I think Ra.One is a landmark film for Hindi cinema because Shah Rukh has promoted the film a lot and I don't think anyone else could have done this. I don't think anyone can realise how much effort went into the action scenes that we shot for the film."
Speaking about the effort that Khan has put into his most ambitious project he said: "Ra.One is Shah Rukh's baby. He has put his heart and soul into the film and I am sure that will be seen on screen. I think Ra.One is a landmark film for Hindi cinema because Shah Rukh has promoted the film a lot and I don't think anyone else could have done this."
He also talked about the amazing action sequences "I don't think anyone can realise how much effort went into the action scenes that we shot for the film. We had a fantastic experience working on the film and I hope the audience has an even better experience watching it."
Shahana Goswami: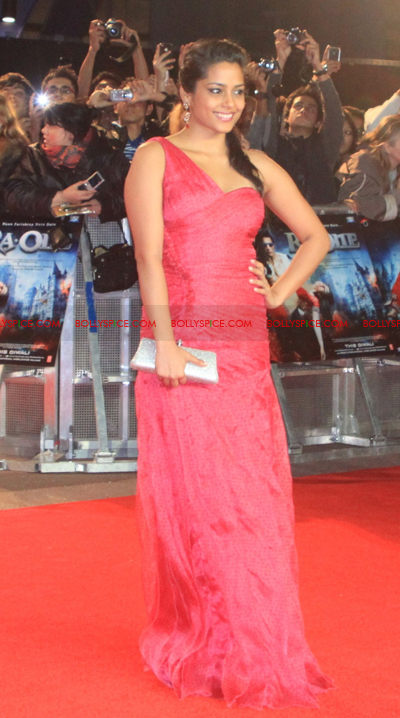 Shahana Goswami arrived in London after attending the World Premiere of Ra.One in Dubai along the cast and spoke about her experience of being in London so far: "It has been a very long day indeed but the adrenaline is kicking in so it's been good. It's fabulous being here. We knew from day one how big this film is going to get. We are excited to be here and show the film to an audience who are not just from India and it is good to see how universal the film is which we believe it is.
"We actually did not watch the whole film at the World Premiere in Dubai. We only watched the first half as we did not have the time unfortunately. Today will be a big experience as we will be watching the film in 3D for the first time. Ra.One is the kind of film that really works in 3D because of the special effects it has and makes it a richer visual experience."
The 25-year-old actress revealed details about her character in this sic-fi film and also told us about her experience of working with Khan: "I play Jenny Nair in Ra.One. She is the graphic designer, part of Shah Rukh's team who make the game in the movie. Besides that, she is also very close to his son and to Kareena. It's a nice character and the fact that I could be with Shah Rukh Khan in almost each and every frame was such a delightful thing."
Speaking about co-star Shah Rukh Khan, Goswami added: "Shah Rukh is very hardworking and sensitive, very energetic and very full of life. He always says that if it's not fun working on a film it's not worth doing it. He really makes it fun for everybody around him and pushes everyone to their limits in a good way to get the best out of them and himself."
When probed about Kareena Kapoor's thesis on Indian swear words in the film the actress laughed and said: "It's a nice little twist in her character. It's something all the women in the world have wondered about. Why is it always about your mother or sister, never about the father or brother? It gives Kareena's character a nice angle in the film."
Anubhav Sinha: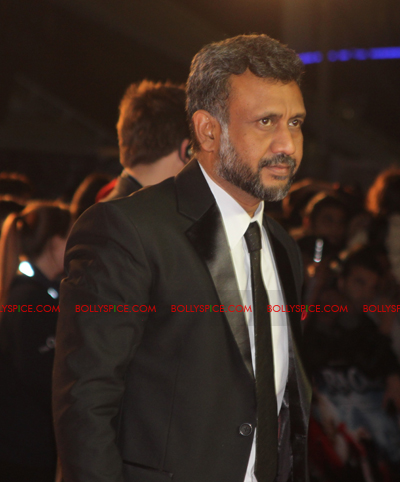 The director of Ra.One, Anubhav Sinha took out some time on the red carpet out to speak to BollySpice again and talked about the controversy that made headlines around the world recently: "Whenever a big movie releases, such lawsuits take place. There has been one such lawsuit on this film and the court has asked us and Shah Rukh Khan to pay some money for security. Once the case is decided, the court will decide what to do with that money."
The Dus director also spoke on the 3D effects and expectations of the film saying: "I am quite confident that people will like it in 3D. I have a feeling that a lot of people will watch it in 2D first and if they like it they will go to watch it in 3D. It is too early to claim that Ra.One will raise the bar for Hindi Cinema and change the perception."
Arjun Rampal: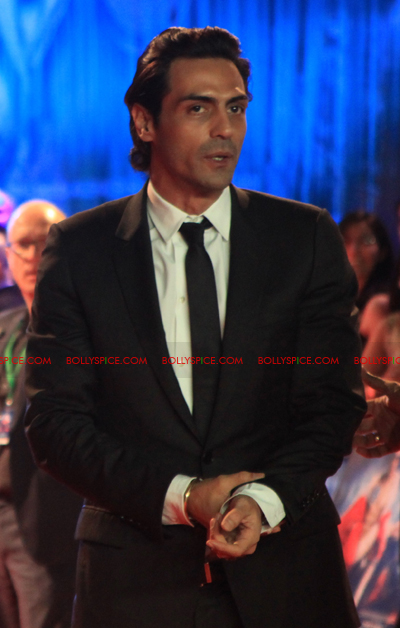 Rampal plays the bad guy in yet another Red Chillies production, the last one being Om Shanti Om. Speaking about the role, which because of its importance is also the title of the movie, he said: "I tried to bring as much fear I could to my role. I hope my fans tell me that it worked. Ra.One is a cool guy and I tried to bring coolness and a little bit of sexiness to the character." (Laughs)
"I love action and it was fun doing action as it is really easy for me. Ra.One was a huge challenge and we are pushing the envelope. I think, to be a part of that is really special," he added.
The 38-year-old actor remembered that Om Shanti Om also premiered in London: "The fans in London have always been very loving and outgoing. It's wonderful to be here again."
Kareena Kapoor: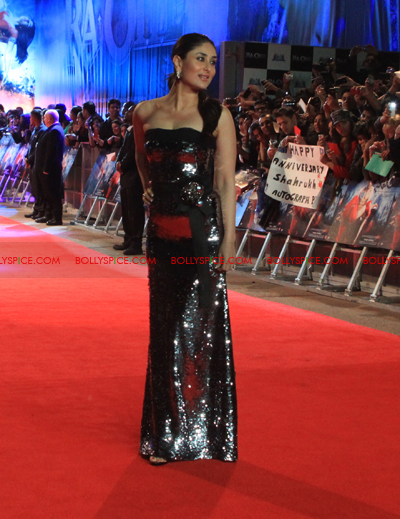 Kareena Kapoor plays the character of Sonia Subramanium who is an over the top feminist. Kareena considers it an honour that she was chosen to star in Khan's yet biggest venture: "Just the fact that it's India's biggest and most ambitious film and it had me in it, is an absolute honour. I have known Shah Rukh Khan and Gauri for years. They are very dear friends of mine. Just working with him is the most pleasurable experience."
While Kareena has played a step-mother on screen for We are Family, it is the first time that she is actually playing the mother of a child in a movie. She laughs and says: "In my last film I play a college student (laughs). I love acting. I live through it, this way or that way, I like to play every role."
London is a very special place to the Bodyguard actress and she expressed her feelings of meeting her fans here: "Being able to meet my fans here in London up close and personal and them just having a glimpse of me, just keeps me warm and connected."
While we knew that Saif was busy shooting for Agent Vinod, we could not miss an opportunity to ask her about his missing presence to which she replied: "He will come for his own movie." (Laughs)
Shah Rukh Khan: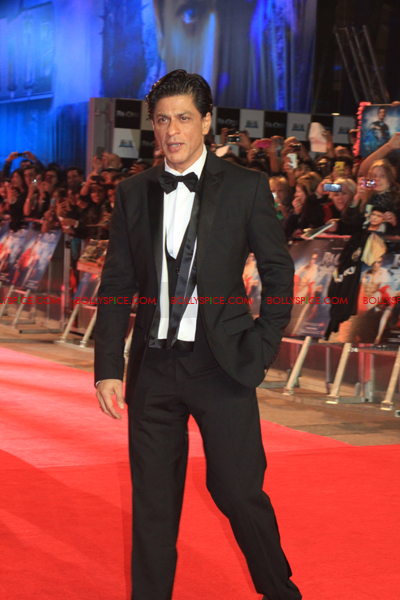 Shah Rukh not only played two characters, Shekhar Subramanium and G.ONE,
 in Ra.One, but also oversaw the entire film as a producer at all times. Khan spoke about his most expensive film saying: "We started the film about five years ago and the guts to actually make it were the hardest thing. I am glad we started the film because we have been able to achieve something quite special, even though I am saying that myself." (Laughs)
When asked about whether he thinks that his objectives of making the film have been achieved he said: "We have achieved what we wanted to do, I think considering the fact that we are here and everyone seems to like whatever we have done. The objective was really to bring new kind of technology, to create a new genre for other actors and directors to follow suit.
"I am also tired of hearing that Bollywood makes the same films and if I have been working here for over twenty years, it is my duty to try and change that perception. Inshallah, everyone especially the diaspora all over the world will be very proud of it."
Produced by Red Chillies Entertainment and Eros International, a Winford Production, Ra.One, which is the first Bollywood film released in the UK in 3D, is now out on general release in the UK.
Stay tuned because we have many more pictures coming from the red carpet, we also have another exclusive story… but more on that later!
Photo credit: Eleanor Halsall