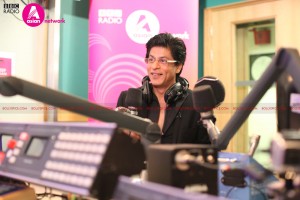 Can you believe that the great Shah Rukh Khan has been entertaining audiences the world over for 20 years?? Since his first appearance on the big screen in 1992's Deewana, SRK has gone on to star in more than 70 films. 70 films in 20 years!! When you think back to some of his performances and the many varied roles he has played in those films, it is quite easy to see why he is one of the biggest film stars in the world! The actor is currently in London with Katrina Kaif and Anushka Sharma shooting a yet-to-be-titled Yash Chopra film. While in London, Shak Rukh Kahn celebrated his 20 years in films by taking on a new role: that of DJ for the Shah Rukh Khan Show on BBC Asian Network. He thrilled fans with three hours of tunes, lots of inside scoop, and much masti. After hearing him on that show we certainly think he has a new career waiting for him if he ever decides to give up acting. Thankfully, he told us he can't imagine doing anything else but be in movies. Check out what else he told Stacey when he chatted with her right after the radio show. Yes, it is Shah Rukh Khan in conversation about DJing, and his 20 years in film. And, lucky us, he gave us a sneak peek into the world of the new Yash Chopra film!
So you just hosted your very first radio show, what was the experience like?
It felt very good. Everyone here at the BBC Asian Network was very kind. I have never done this before, but they were all very helpful. I hope I sounded good! They made it very easy. I really enjoyed it actually – I never thought it would be so much fun. It really was very nice!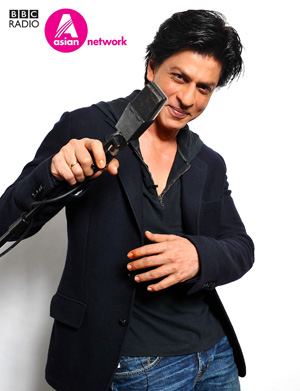 Were you nervous?
No, I wasn't really nervous. It is a BBC Asian program so I knew they would make sure the program is good. I didn't have much responsibility, it wasn't like a film that I have to go and act well. Halfway through I started to enjoy it a little more than I did when I started and then wished it had gone on longer.
The show was to celebrate your 20 years in the industry. Looking back over your career what would you say?
I was writing a book, which was called 20 years of a Decade, because it seemed to me that after working 10 years I have lived two life times! Suddenly it is 20 years, the book is still not out… I guess I will have to make it 40 years now. (Laughs) It feels like that. I've crammed so much work and so much life into these 20 years. I don't even know. You know, yesterday I was sitting with my family and it was like 2 in the morning. I had just come back and I had a bit of a headache because it was cold. They said, 'Do You like working so much?' and I said, 'Yes, I don't know what else to do because it doesn't seem like work to me. Whenever I go to work, I just go out and start acting or singing or dancing or being with people, and just making them happy. So it doesn't seem like work.' They pay me very well for it, I don't even have to ask, they are very kind to me. 20 years have just passed by like this. My son is 14-years-old, 15 this year and I didn't even realize it. It has been worth it all. I feel very happy that I have been able to do this. Very few of us get the chance to do what we wish to do and I am able to do that. I am thankful I have had this opportunity, and I am just thankful to everyone who has been responsible for it. In the beginning, I used to think I am responsible now I have become a little humble and I see that a lot of other people are responsible.
If you could give advice to yourself twenty years ago as an actor starting out what would you tell yourself?
You know when I started off I had lost a lot of things. My parents had just died. I had no money, just moved in from a new city. Got married. And you know, the movie business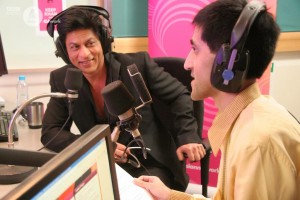 is not something you can depend on I suppose, which I didn't know then. I would say this to everyone that is young. It is all right to be young and stupid. Stupidity takes away, silliness takes away, a lot of discouragement, it all takes away fear actually and you are really fearless when you are stupid. I think that helped me that I was young. I didn't know all I could lose. When you don't have fear of losing, then you just go ahead and do. If I was to go back or if I were to tell my son anything or to my daughter, I would say the same thing: Just be silly. Just do what you feel like and things will work out. Finally at the end of life everything kind of turns out exactly the way you wish it, which may not be exactly what you wanted to do. I didn't know I would be an actor, but things do work out well. I would go back and say that to me. Even if I didn't I think I would just keep on working so and reach what I've reached in terms of happiness.
You have played such varied characters over your career. What goes into your decision of what roles you want to play?
I don't know actually. I am very instinctive. I don't know how to say it. Maybe it is the set of people. I can't tell stories. You know, when I am sitting with the younger actors and actresses now and they suddenly give me a script to read and say 'Shah Rukh will you read this and tell me should I do it?' I am like I can't tell a script at all. I feel a script. If somebody is telling me a story and there is maybe an instance of the film I like, which I come to realize later may have been the least important in the film or the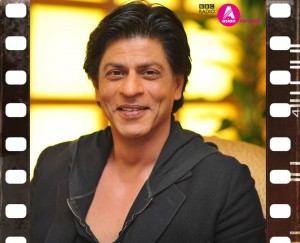 most important in the film. I don't know, I just liked it and so I say 'Okay'. I have to do two or three films a year, maybe two at most, so I am just going to go ahead and do this and try to be a little different from the last one I did. Go for it and give it the best shot I can. I remember I was doing Dilwale Dulhania Le Jayenge, which has been running for a long time now, and I just liked the one moment when he puts his hand out and takes the girl onto the train and that's it. The rest of the film was far more wonderful than even just that moment! Things just happen. Sometimes I choose films exactly the same way and they completely tank. (Laughs) I still don't know. When they tank they tell me the script wasn't good. When they do well they tell me, 'Oh you got lucky with this one'. I really don't know. I guess I just choose the people to work with. As long as I am in the zone where everybody is happy to have me working with them, As long as they are not too strict with me and they don't shout at me, they can make me give as many retakes as they want. I am like a kid… I tell my family and friends I'm like a kid. Treat me well on the set, which does not require too much, just a bit of black coffee. Just be nice to me while I am doing the scene; that is all. I don't want big cars, I don't want big hotel rooms. If I feel that kind of atmosphere when I am sitting with people then I want to work with them and if I see an atmosphere where people are going to be really strict and boring then I don't work with them. I choose my scripts according to the people, I guess!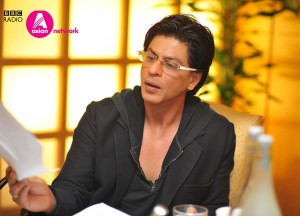 Can you give us any little hints about your role in Mr. Yash Chopra's film?
It is a love story. Normally in a love story it is always two girls who love me and I have to decide. (Laughs) I am always the guy who is deciding, who taking the girl away from their ex-lovers or husband. (Laughs) So yeah, it is a similar kind of role. It does span some time so I get to be a little different, because I think I have reached a stage and age in my life that just doing a typical love story is a little out of bounds for me. I feel odd now sometimes doing a love story. I have done 4-5 of them, big ones and more or less love stories are similar. You meet a girl, you fall in love, then you separate, then you come back together again. So this, for me, is also a chance to think of a different way to do it. I am very happy working with Mr. Yash Chopra, I find it very unique every time I work with him, more than any other director I have worked with. I enjoy that. You have sat down and discussed the scene with your co-actor and you are like, okay we are gong to do it like this, blah, blah, blah, and suddenly he comes up bringing this idea and says, you know what just look into her eyes and say you are very beautiful… that's it. I just want you to make her feel beautiful. Do you think she is beautiful? And I say yeah…then make her feel she is beautiful. Just do that, there is no other information I want. It just keeps it so simple and basic. I really enjoy that. It is the most pure, unique, simple and real way of being in love. That is what I am doing in this film. Of course, there are going to be intonations and characterizations and of course there are going to be costumes and crutches to make me look, different, nicer, better, sing a song which is by Rahman and Gulzar, but the bottom line that I enjoy most is the simplicity and the honesty and the earnestness with which you tell a girl that you love her.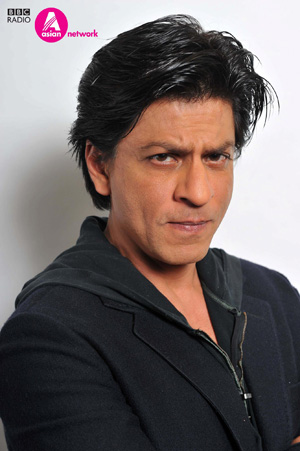 Hindi films are so much more known out in the world now and you have fans all over the world. I mean when we announced that you were going to be on BBC Asian live fans in Russia were tweeting about it. On the show you had people from UK, US, Malaysia, even Japan. How does it feel to know that you have fans everywhere?
(You can hear the smile)You know, I started out very small. I come from Delhi and I would have just been happy if I was given a chance and an opportunity to act, whether I became famous or I didn't become famous. I was just happy doing that. The first time I came to London was for a film of mine called Baazigar and when I went to the theater there were a lot of Asians, Indians, Pakistanis and Sri Lankans and they were really happy to see me. Maybe it has to do to the fact that you are far away from home working and you miss the culture back home. Then I went to Germany once and I had Germans liking me and it's quite outstanding. When I asked them why they like the films I work in or Indian films in general, some of them have this explanation that you know we have a button for everything, we have a switch for everything, driving a car, going up an escalator, but we don't have a switch for crying and you give us the switch for crying.(Laughs) That is one explanation. Our films are very warm and some people think they are over the top, but that is how life is. It is just not linear; it is not characterized. You meet all kinds of people, and you have all kinds of days all in one. Sometimes, if you sit down and you look at your whole life, you'd say, my life is more bizarre than any over the top movie that I have seen. Indian films somehow encapsulate that and present that to you, and they sing and dance too, so it is a celebration of life. I feel very happy that I've worked in the time that Indian films have been able to cross more boundaries than they did before. I happened to be at the right place at the right time. I'm extremely humbled. When I meet people who don't know my language, whether it is Morocco, Russia, Germany, Austria, London, America, South America, Malaysia, all over, I am like, Oh wow, these people watch my films. I am somehow able to transcend language or cultures. It really is extremely humbling. Also somehow, it makes you feel that you have done something extremely important in life. You know, you have done something without wanting or knowing how you did it, but you have done it. I feel blessed, very, very blessed.
If you missed it you can hear DJ SRK's full show by going to http://www.bbc.co.uk/asiannetwork/. Also on the site are some fabulous videos taken of Shah Rukh Khan behind the mike! I would like to thank BBC Asian Network and especially Mr. Khan for taking the time to speak with me after the show. It was once again an amazing experience to talk with him.