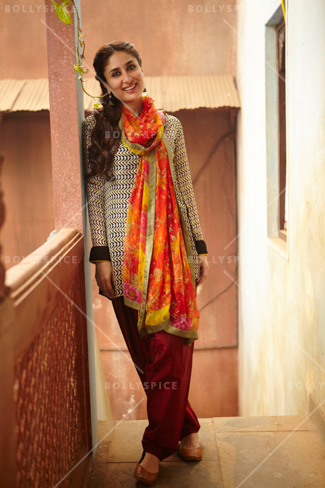 We have a spectacular treat for all our readers! BollySpice caught up with the beautiful and talented Kareena Kapoor Khan in London where we spoke to her about her upcoming film Bajrangi Bhaijaan. Pairing up again with none other than Mr Salman Khan; Bajrangi Bhaijaan is a much anticipated film about a young girl who befriends a noble man in India, who is then tasked with taking her back to her home in Pakistan.
We spoke with Kareena on Bajrangi Bhaijaan, her upcoming work, what it's like to be in Bollywood 15 years after making her debut, as well as her thoughts on Bollywood today! Enjoy!
Though we know what the synopsis says, what would you say the story of this film is about?
Well I think everybody is used to seeing Salman in these action/comedy kind of roles. I think after a long time, maybe over a decade, Salman has acted in a film where the actual hero of the film is the story. The story is what is going to crack the box office. It's real. There's drama, emotion and it's not just mindless action.
Bajrangi Bhaijaan looks radically different to when we last saw you and Salman together in Bodyguard. What can people expect from this film?
KK: You know Bodyguard was a commercial potboiler which had all the songs and the romance. Bajrangi Bhaijaan is a path-breaking story. So my character is actually relevant to the plot of the film. It's not going to be you know songs just happening because it's there. Even if there's a romantic song, which of course there is, it would be more real than just my hair flying (laughs).
Tell us about your character in the film?
Well in this film I play a school teacher from Chandni Chowk and who meets Pavan which is Salman's character. They bump into each other and have this relationship. They then meet this girl and she (Kareena's character) kind of reasons with him to help this girl out and take her back home to Pakistan.
You shot key portions of this film in Kashmir. What would you say you love the most about Kashmir?
Well I've been going to Kashmir since I was a child but it was always for holidays with my parents or uncles or my Grandad. But you know for the first time I think in so many years in my career, this is the first time I have shot for a film in Kashmir. So that makes it even more special to be shooting at a location where the entire Kapoor family have shot. So it was just a heart-wrenching kind of moment.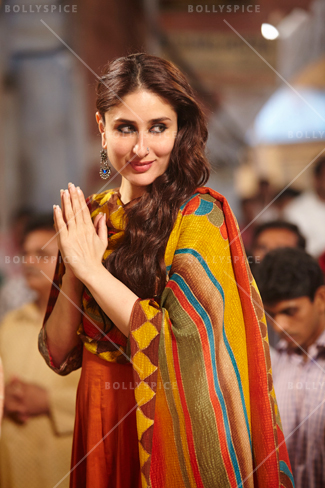 What was your favourite moment whilst shooting for the film?
Well I think the moments we shot in Kashmir just because it is so relevant to the plot. It was definitely emotional which will leave a tear to your eye and a smile to your face.
What do you love most about Salman Khan?
I think he is India's greatest and biggest superstar. And he never takes his success or failure too seriously. And that's what sets him apart from every Bollywood actor.
What do you think was the hardest thing about working with Salman Khan?
The hardest thing? That you're probably going to be shooting for a film 5 days before the release. That's the hardest thing (laughs).
What was it like working with Kabir Khan, with whom you are collaborating with for the first time?
You know I've worked with so many Bollywood directors and I've covered everybody. But Kabir was the only one who was left whom I hadn't worked with. And finally when he came to me with this film, which is so special, that was also one of the reasons which attracted me to the script. Because Kabir was directing it and you know wanting to work with new directors is on my list of things.
This is only your second film as a leading lady in the past two years. Why are you not doing as many films as you used to?
I think it's just in the last year I didn't do it because it was the time that I got married. So I wanted to do the big commercial films, but I also wanted to take that bit of time off to settle things at home and get used to my ways. And then once you're comfortable in that space, then you can be comfortable enough to work. And Saif was like 'now you can work and sign a couple of films.' So that's when I signed up for Udta Punjab and the Brothers song (Mera Naam Mary) and now I will be shooting for Balki's film with Arjun Kapoor. So I needed that time you know. After 15 years a little bit of time off is something which I think everybody needs.
You made your Bollywood debut exactly 15 years ago. How does it feel that you are still considered a superstar today?
Apart from the fact that God has been extremely kind and has always given me what I wanted. The fact is that I have worked hard and my fans have been too loyal (laughs). And that makes me feel nice and proud. And the fact is that it is about the way you look and feel. Things are changing and now a 20 year old might not necessarily be as successful as a 35 year old.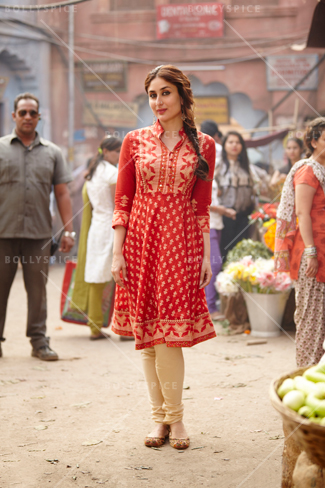 From your first film until now what would you say has changed in the industry and what has changed in you as an actress?
I think what's changed in me is that I keep enjoying my work more and more. I just love it more and more and I'm more passionate about it year after year. And people can see that on screen. And you know like I said I'm going to do continue doing the commercial blockbusters and balance it out with films like Heroine or Udta Punjab. I always try to balance things out as much as I can. And I think that's what keeps me going.
What is your favourite song from Bajrangi Bhaijaan?
I think everybody is talking about the Selfie (Le Le Re) song. Everybody is now obsessed with taking pictures and selfies (laughs). So I think that's the most popular song in the movie.
If you had to choose one Bollywood film you love, aside from ones which you have starred in, which one would it be?
I love all of Aamir Khan's movies. I'm a huge Aamir fan and he always does something so spectacular and special. But yes from recent films I haven't seen any but there's so many old Hindi movies which I don't think they can remake it. Like you know Amar Prem or even older than that like Jagte Raho. The kind of stories they had were so ahead of its times that what we have now.
You're a publicly branded shopaholic and I know you love shopping in London a lot. So if you had to choose one shop in London that you could live in, which one would it be?
I would say lock me anywhere in Bond Street and I'll be happy (laughs).
One of the film's most popular songs is 'Selfie Le Le Re'. If you could choose one person whom you have never met before to take a selfie with, who would it be?
Well I think it would be Meryl Streep. I'm a huge fan of hers and I hope to working and looking as gorgeous as she does even at 60.
Looking back at your career so far, which actor do you think you share the best on-screen chemistry with?
I think it would be all the Khans (Shah Rukh, Salman, Aamir) because I think I look fantastic with each of them. I've done such lovely films with Shah Rukh also like Ra.One or Asoka. 3 Idiots and Talaash with Aamir and with Salman, there's Bodyguard and now Bajrangi Bhaijaan. So you know it's difficult to say just one person.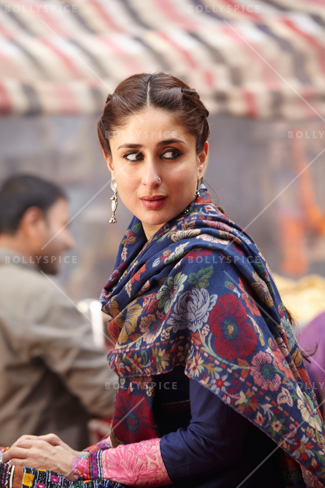 What do you love about Bajrangi Bhaijaan?
KK: I think the story is the hero of the film. When you walk in to the theatre and you're expecting something else, you will walk out saying 'oh my God, everybody was fantastic and my God what a story!'
Do you ever see yourself behind the camera or as a producer?
No I only see myself in front of the camera (laughs). Always and forever until I'm 80 (laughs).
What do you love about being an actress? What fuels you to do this job every day?
Well like I said I'm very passionate about what I do. And I won't do something that I don't believe in you know. If I don't want to do a film, it could be the wrong decision or the right decision, but I don't do it. And it could be anything and that's the way I am. And I keep thinking on my own that I'm so passionate about acting and every day this passion just grows more and more. It's like a rising volcano. I don't know how it happens but obviously I'm crazy about my work.
A lot of Bollywood actors are on social media, be it Twitter, Facebook or Instagram. What are your thoughts on social media and why haven't you joined yet?
I would love to connect with my fans but I think it's a full time job to be on Instagram and Twitter. Like I said, conversations are becoming much more about selfies and where you are is a lot more important. I am a little old school and I'm not the kind of person to be constantly uploading pictures. It's a commitment and I already have my hands full and I can't take on something else.
What do you think of Hindi films today? I know we've sort of touched on it already but what are your thoughts on the industry today and the kind of films that are releasing today?
Well I think there's some really nice films but I don't know if we have improved or not. There are more successful films coming out of Bollywood and everybody globally are watching Hindi movies now. And it's not just in India. Today all over the world if you go to Europe and even in Italy people are recognising Hindi movies and they love the songs and the dance. They love it! So trying to imitate the West and not use songs? I don't think that's going to work.
One thing I love about the industry now is the way it has changed for women. Films like Queen and Tanu Weds Manu Returns have become incredibly successful. So would you want to do more films like Heroine where you are at the centre of the film?
Yes of course! I would love to do more films like that. But only when the story demands that and not just because it's a trend (laughs). I won't do it just for that. Do it when you believe in the story and when you want to do it. Like Balki's film is a film where the girl's role is a very strong part because she is an independent and strong working woman who is kind of representing that generation of women. And when I heard the story I loved it and I could feel that.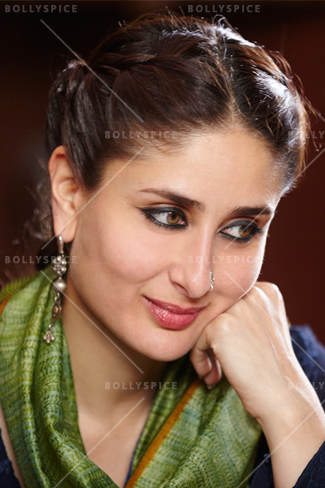 Why do you think some films work and some don't no matter how good or bad they are?
I think some people take Hindi movies too seriously. Our job is to entertain. Some films are not good but the entertainment factor will always work. Whether it's a heroine-oriented film or whether it's a Salman Khan film. Whether it's a Tanu Weds Manu or Bajrangi Bhaijaan, the fact is that they are entertaining films and the plot lines are great. So if a film is great then people will go again and again. So it has nothing to do with being a heroine or a hero. The story has to work and some stories don't work. It might have the biggest superstar in it, but if the story is not good then it's not going to work. And we've already seen those kind of films.
If there's one movie which you could make, which one would it be?
Well my all-time favourite film is The Bridges of Madison County. I think it's brilliant!
QUICK FIRE ROUND WITH KAREENA KAPOOR KHAN
Favourite Role?
I love films like Omkara and Dev. But of course everyone will love Jab We Met!
Favourite Song?
I love all the old songs of the 60's and 70's. I don't like the new generation songs, including my own (laughs). So I prefer to listen to the old 70s songs of Mr. Bachchan, R.D. Burman. I love all of that!
Favourite Moment on Screen?
Well of course it would be my first film, my landmark film Refugee.
Your Best Scene?
I think it should be people answering that and not me. But I think it would be any scene from Jab We Met!
BollySpice would like to thank Kareena Kapoor Khan for being such an amazing person to chat with! You can catch Bajrangi Bhaijaan in cinemas this Eid on Friday 17 July!