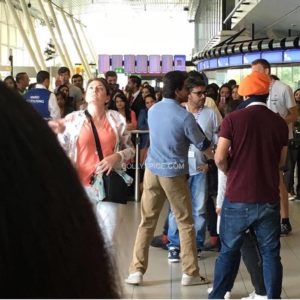 When Shah Rukh Khan is in town then madness will happen. That is exactly what happened when the cast and crew, Shah Rukh Khan, Anushka Sharma and Imtiaz Ali, of the Bollywood film The Ring (working title) landed in Amsterdam.
Holland has quite a large forth and fifth generation Indian population. Besides that, the large Moroccan and Turkish population are also huge fans of Bollywood movies. The films are played in theatres on regular basis and one of the biggest names with the largest number of fans anywhere is none other than Shah Rukh Khan.
The news that Khan would come to Holland was announced on National Television in the summer.  So when he was spotted at Schiphol Airport, Bollywood lovers were on high alert. Fans were desperate and wanted to know his whereabouts. Facebook was flooded with requests and pictures. The airport (which was the location of the shoot) was flooded with Indians who wanted to catch a glimpse of their favorite star.
Then there was a public announcement of the cast and crew shooting in Hoorn. This was a real chance to see King Khan up, close and personal. My friend and I wanted to go and see for ourselves.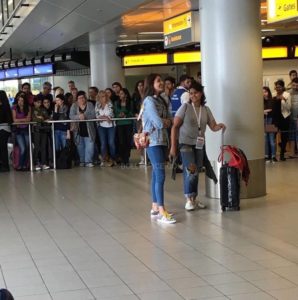 We drove up to Hoorn, which is just outside of Amsterdam, and started to walk around. Once we found the location, we noticed a small crowd. Where were all the people? Anushka Sharma was called to do a scene on a set, which was supposed to be a cheese market. Yep, Holland is a 'cheesy' country. People everywhere were whispering that Shah Rukh Khan was coming. After a few hours, he arrived and it seemed like all hell broke loose. He came in his car, which was chased by all these fans. (So, that's where all those people were!) When he he was done filming for the day, he was mobbed. It was a crazy sight! Dutch people in Hoorn, which has a population of mosly white people (no, I am not being racist here), couldn't believe what was happening. They had not seen anything like that happening in their town. They enjoyed it and were curious to know who that man was.
My friend and I missed our chance at that moment. Shah Rukh Khan waved at the other fans and went inside a museum to shoot his scene. His car was still there though, so I told her that I am going to take a chance. She didn't want to, but encouraged me to go. She said you shoot the scene from there and I'll do it from here. That was the deal.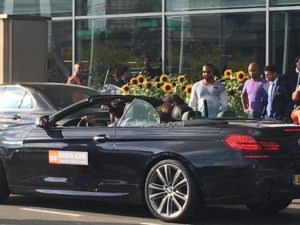 I went to the other side of the square and stood there for a while. After about half an hour, SRK came out and people went berserk. This is the effect SRK has on people. Everybody was pushing each other, just to catch a glimpse or shake his hand. And I was stuck in the crowd. SRK came towards the large group and tried to give everybody a hand. I reached out and started to shout his name. (What else can you do?) He looked at all the people and shook a lot of hands and then he gave me a hand. The moment happened so fast. He went to his car, stood there and waved at all the people who couldn't reach him…and he drove off. The crowd followed him. There was one woman behind me who looked at me and said, "I lost my shoe."
One of the things that shocked me happened during one of the night shoots. The craziness there was unbelievable. Not only were there almost 1000 people watching the shoot, but little kids in the age of 5-12 were taken in their pyjama's with their parents to watch the night shoot as well, which lasted till 2 AM. (The things people do to see SRK. ) If this doesn't prove he is the KING, then I don't know what will.

These past few days have been a lot of fun! It doesn't happen too often that a film is shot in Holland, the last one being Queen. So when it does, all Bollywood fans unite and enjoy the experience together. Thank you to the fans and thank you to the cast and crew of The Ring for choosing Amsterdam as your destination!
As we know, still not much is known about the film The Ring. We all know Shah Rukh Khan plays the part of a Punjabi tourguide who meets Anushka. The scenes shot in Holland included a seperation scene at the airport, Anushka looking for a ring at a cheesemarket, and last but not least a very intense fightscene between SRK and Anushka in the middle of the night. We all look forward to seeing these scenes in the movie.