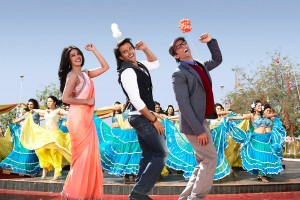 It was predicted in this column last week that Krrish 3 would take a very good opening at the box office with average occupancy in the range of 60%-70%. This was exactly the case as the Roshans affair took a flying start at the box office. It was also predicted that 25 crore on Day One would be comfortably surpassed by Krrish 3. That didn't quite turn out to be the case though as celebratory season meant that evening shows were affected.
This was the story right through Saturday and Sunday as well with further impact coming in due to cracker of a match between India and Australia falling in between which further kept people at home. Eventually, the film managed to collect around 65 crore over the weekend which is quite good but not record breaking. Nevertheless, the game is still on for the film since the reports are largely good with reviews as well as word of mouth ranging from average to good to very good. That by itself will ensure that the film would have a good run in theatres.
However, since the first three days haven't really collected 100 crores, as was the case with 'Chennai Express', the film's journey towards the 200 crore mark is highly doubtful since piracy would eat into the business as well. Also, for any film to do such humongous business, repeat audience is certainly necessary, something which worked in the favor of 3 Idiots, Chennai Express and Yeh Jawaani Hai Deewani.
While 100 crore is a given for Krrish 3, there are many more days for the film to make merry till the arrival of Ram Leela on 15th November. The film should also comfortably surpass the collections of Hrithik's Agneepath (120 cr). As for the moolah that would be collected post that, it is a wait and watch situation for now.