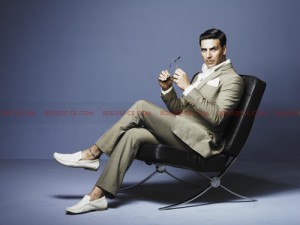 We all know Akshay Kumar as an acting superstar, global ambassador to Indian cinema and prolific on-screen action hero to audiences around the world. Off-screen, Akshay is equally as much of a hero to his beloved son, Aarav, in whom Akshay is said to be actively instilling his strong values of discipline, punctuality and respect.
Akshay has said that when he takes a second to reflect on the way in which he is bringing up his son, he becomes reminiscent of his upbringing with his own father. "When I see how I'm bringing him up, I can literally hear my father's voice in my own. Twice a week, I do the same thing that my father would do with me with Aarav. I wake him up before the sun comes up and we go for a run on the beach before he leaves for school".
It seems Aarav is following in his father's footsteps when it comes to sports and is already a brown belt in Karate. It is no secret that Akshay himself is a huge fan of the discipline of Martial Arts. The superstar has a 6th degree black belt in Karate and has the title of Shihan, which translates to teachers teacher. He is due for his 7th degree black belt imminently. Akshay also launched a Kudo Tournament five years ago, pioneering the biggest ever Martial Arts movement in Indian Karate, and just last week he launched a Martial Arts Institute for women in Mumbai, which will offer three-month long, free-of-charge, self-defense classes.
It seems there is no end to Akshay Kumar's talent, as just recently his new film: Holiday: A Soldier Is Never Off Duty released to impressive figures at the global box office.
Following its opening weekend, the film has amassed impressive Box Office takings of 41.32 Cr. in India alone, whilst in the UAE-GCC, the film got off to a superb start, taking 2.11 Cr. which is the highest ever single day gross for Akshay Kumar in this region. In the UK, the film is also performing very well, despite being 15 certificate release.
The plot of this gripping film is quite unprecedented in Indian cinema and the reality and rawness of the script is evident from the start of the film. Akshay Kumar essays the role of Virat Bakshi, a military officer who is on holiday with his battalion in his bustling home city of Mumbai. However, unbeknown to his fellow officers, Virat is also an undercover Secret Defence Intelligence Agent, masterly skilled and trained in covert anti-terror intelligence operations. Whilst on a family visit to Mumbai, Virat is caught up in a gruesome terror attack.
The film truly captures the reality of the issues the world is currently facing today and has most certainly caught the attention of the India, where people have been hanging garlands on the film posters in honour of the Akshay Kumar's engaging performance. The Bollywood icon has also spoken of how he fully submerged himself into this raw, gritty role from which he learned a huge amount around the notion of sleeper cells, the role they have played in terrorist attacks and the importance of cleaning them up to safeguard populations. Co-star Sonakshi Sinha, who plays love interest Nisha adds a glamourous female touch to the film and sets the screen alight with her feisty role as a boxer.
Holiday: A Soldier Is Never Off Duty is in cinemas nationwide. Released by Reliance Entertainment