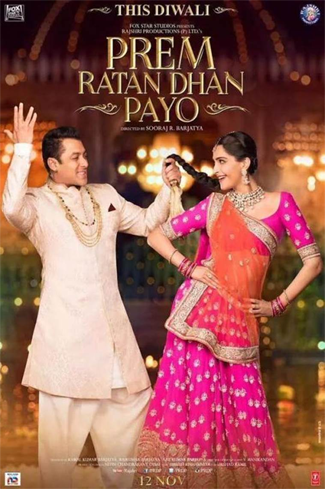 First and foremost Prem Ratan Dhan Payo, a feast for the senses. It is so well-mounted and shot with such a keen affection of aesthetic propriety that we are hooked from the word go.
Sooraj Bajartya's new collaboration with Salman Khan is a dazzling homage to Shining India. Age-old sanskriti and sanskaar meets new-age values and technology. The clash is not so profound as it is pulsating and provocative.
Significantly there are two Salman Khans, signifying the dual personality in conflict in modern India. Visually, the film scores a greater grandeur than any of Sooraj's earliers films. Full credit goes to cinmetographer V Manikandan and art director Nitin Chandrakant Desai for creating a world laden with opulence and yet connected to a culture that every Indian can identify with. In this way Barjatya offers us the best both the worlds.
Prem Ratan Dhan Payo is a fable on the aspirations of Modern India as well a fairytale where the 'Pauper' can change places with the 'Prince' to experience what it feels like on the other side of the line of affluence.
The dual-personality concept is inspired by Raja Aur Runk, Sawan Bhadow and Yakeen.
The hummable songs are shot like a dream with the actors waltzing in and out in a streamlined chorus that reminds one of the bustling bravado of Broadway musicals rather than Hum Aapke Hain Koun. Though colourful and eye-catching, the frames are not over-saturated or kitschy.
In fact the Sanjay Bhansali school of grand aesthetics is very much on display here. This is not to say that Barjatya has copied Bhansali, not at all. But the glorious swirl of colours music and drama is very much from the Mehboob Khan, V Shantaram, Bhansali school of filmmaking.
As for Salman, he is in top form. For those who wondered if he would be able to capture the innocence of Prem in Barjatya's Hum Aapke Hain Koun and Hum Saath Saath Hai the answer is….YES YES YES! Salman's eyes convey an endearing innocence. Gone is the cockiness of Bodyguard and Jai Ho. With Bajrangi Bhaijaan and Prem Ratan Dhan Payo, Salman has rediscovered the actor within himself. Hold on to that thought.
I wish the dialogues could have been more conversational even slightly edgy. Barjatya's thoughts have evolved. The spoken language has not. I wish the dialogues were less stilted, stagey and over-sweetened. We didn't NEED to be told repeatedly about sanskar, parivar and aadaarsh. It's all there in Salman's eyes.
And Sonam…she has never looked lovelier. Why does she spend all her time trying to look like a European model when her forte is obviously desi looks? The ghagra-choli and ethnic wear never looked more fetching on screen. This film could start off a new trend in ethnic dressing among women.
But Sonam's dancing? Well….she TRIES hard.
The rest of the cast, specially Swara Bhaskara and Deepak Dobriyal, are in full Barjatya form. Neil Nitin Mukesh's steely-eyed villainy is well-projected into the plot.
Salman's growth as an actor is evident in the way he has created two distinct personalities for his double role. Even the eye language for the two characters is different. The action scenes are well staged, though I could feel Barjatya's awkwardness in directing stunts as much as I could feel Sonam's hesitation in the dancing.
Incidentally for once Salman doesn't look bored romancing his heroine. I loved the way he talks to Sonam. So much tahzeeb.
Sooraj is in full command of his vast cast and the work's grand scale.There are no dheela-dhaala moments. But the film is….ummm….very saffron in mood colour and flavour. After Bajrangi Bhaijaan, this is another attempt by Salman to show how religion, mythology and culture can be implemented to positive use in cinema without propagating any ideology. The film swirls and dances in colours of tradition and gaiety. There is lots of vivacity in the songs and romantic scenes.
Salman and Sooraj seem to have discovered a fun element in their on-screen relationship.
Without squandering away the sincerity, the film tells us, 'Hey, this is all about taking the joint family system seriously. But we can still have loads of fun.'
The family football sequence…way too lengthy unless you are crazy about the game.
The opulence is constant…Yeh gharibon ka film nahin hai. This is Narendra Modiji's Shining India with some extra shine,though mercifully, no bling. What comes across very strongly is Sooraj Barjatya's faith in family values. Sorry, Karan. but this is the film that's all about loving one's family.
Barjatya displays incredible control over the highly melodramatic material. He moves out of inflated studio sets. The scales of grandeur here are far more proportionate and believable than in his earlier films where 12-14 characters sauntered in and out of gigantic sets depicting affluent living rooms. The characters here move in believable affluence.
Salman's fans would come away with a big smile from this one. And even if you don't think the sun rises and sets on Sooraj's sets only when Salman is around (Vivah worked without Salman) you'd still have to admit. There is an enduring and endearing magic about the Sooraj-Salman combo.
Prem Ratan Dhan Payo is solidly grounded in family values. At a time when the joint family is getting fragmented, here is a film from two people who would die for their family.
For Sooraj and Salman, it's all about loving the family. And we love it