Gaurav (Shah Rukh Khan) is a hard core, die hard, fully filmy fan of Aryan Khanna (SRK). Not only that, but Gaurav shares a strong facial resemblance to the star he adores. His obsession becomes creepy and dangerous when Aryan Khanna refuses to feed his devotion. This rejection breaks Gaurav's heart and he then becomes obsessed with making Aryan Khanna's life hell.
What the film highlights are differences between love and obsession.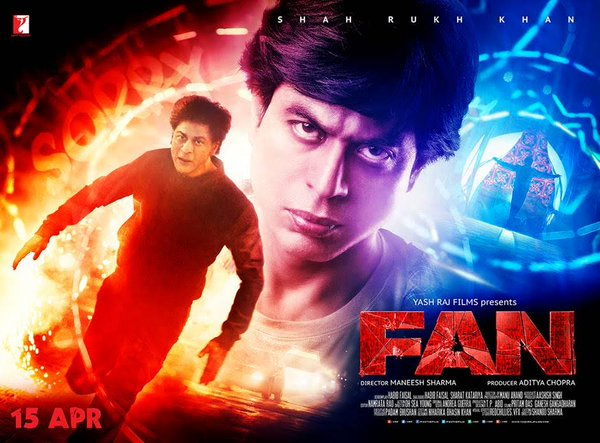 Fan is a love story of sorts.
SRK playing stalker and star is symbolic.
It reflects each one of us projecting onto to celebrities we see on the big screen and trying to find a little bit of our own lives in the films we see.
Does the world of films create a room full of mirrors for both celebrity and Fan in a world where finding ourselves is already a challenge?
How do boundaries get blurred?
Is Gaurav a Frankenstein?
Is he created by the film industry and is he necessary for the film industry?
What does it mean to be a Star?
These are some questions provoked.
Fan is big for Bollywood.
Instead of escaping into a fantasy and then sugar-coating it, the fantasy is thrown up in our faces and exposed with a big bright torch.
True, celebrity obsession is a cult worldwide and not just a Bollywood thing.
Nonetheless this film is particularly important for Bollywood because Bollywood is a religion in India.
Bollywood celebrities have semi-divine status.
Good on Shah Rukh Khan, the biggest star in India if not the world, to do a film provoking issues revolving around celebrity obsession. In fact, only SRK could have done this film. Because of his real life star power, the film delivers the seriousness of the issue.
The only complaint is that the film is too long.
The last 20 minutes drag on, making one feel: Okay, got the message – now don't spoil it by overdoing it please!
Director Maneesh Sharma hasn't given any filmi songs, just good performances and some questions for us to ponder.
Fan is a winner.
Highly recommended.