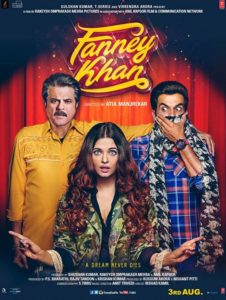 Who doesn't want to be a star? Someone for who the whole world stops to check out what they are doing even if only for a moment. Some will love you, some will hate you but they all will want to be in that spotlight. This is what is being portrayed in Fanney Khan, the new story by Rakeysh Omprakash Mehra Pictures. Starring Anil Kapoor, Aishwarya Rai Bachchan and Rajkumar Rao, it's a fabulous tale which based on a superstar pop singer, a father, a daughter and a kidnapping, will require great music. In some cases, they will be performance pieces, in some more played to an individual's heart. Amit Trivedi and Tanishk Bagchi team up again after successfully composing songs for Raid earlier in the year to bring this film its perfect soundtrack.
Just like with Raid there are relatively a few and short songs, which while adding to the story itself well are not likely to be pivotal to the story's progression. The album itself begins with Mohabbat, a classic style free love, dance and all around the Bollywood way of making music. A heavy club beat is employed to bring people to the dance floor but in employing such a heavy beat rather than having a decent rhythm over the top, the words do feel jammed in. Even with another excellent performance from Sunidhi Chauhan, its not easy to take a liking to a song in which the only positive point is its vigor.
Sunidhi is also in song two as part of a duet with Divya Kumar called Halka Halka. This is a bit stock standard with another repetitious club beat which does start and stop but in very predictable rhythms and starts to sound dull quickly as it doesn't actually seem to change at all. Divya Kumar is also stretched to his top limits trying to keep up with Sunidhi Chauhan and does seem to falter at times but this does have some redeeming features as it feels like a song for a long drive; a journey song which listeners can put on in the car on repeat and just go forever.
To bring the album to a bit of life we have Achche Din sung by Amit Trivedi himself. Amit is a very accomplished singer and his background music is usually excellent for songs he sings. This song is no different as it hits all the right marks as to being fit for purpose, making the point even when sad without shattering people's emotions. An ektara and an oboe provide sad sounds, but they are occasionally overwritten by flutes and violins providing aspirational noises. Thus, this is a sad song that never becomes sad. The lyrics like "Mein khali tha, mein khali hu", certainly make anyone think this is a song for tears but yet Amit manages to keep it light while the lyrics just seem to go through a list of all of life's losses we as humans all seem to experience.
Tere Jaisa Tu Hai is next on the album and it couldn't be more different then the songs that came before. An individualistic song sung by a different voice in Monali Thakhur, this song reaches new heights of self -motivation and power. This may be a performance piece for our heroine to let out in front of the game show audience in the trailer as its message is super positive but is so individual it might as well have pointed arrows in CGI at itself. There isn't much in terms of backing, with acoustic guitar and light strings as rhythm with a drum coming in when needed to provide some bass.
Finally, this album is rounded out by Fu Bai Fu. This is the classic fun song that all of Bollywood loves to listen to. Going back through the eras of film and its great stars, there are snapshots of songs from every age with a chorus that doesn't seem to mean anything and thus allows listeners to concentrate on the films as they are listed. Still the lyricist has not been afraid to have a quiet snigger at certain films, without having anything but reverence for their stars.
Fanney Khan is a filmi film. We are not sure how the songs of this film fit into the world of Fanney Khan, it seems that they have not been used to add to that story in any way and are likely to be only used as party pieces evenly sprinkled through the whole movie. Yet, many of them are interesting and deserve praise as good new songs, but it can be said that it wasn't the best that these directors could have achieved.