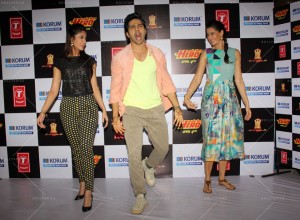 With the release of Main Tera Hero around the corner, the stars Varun Dhawan, Ileana DCruz and Nargis Fakhri are on a constant roll for promotions. The trio has been recieveing extremely overwhelming response at every visit they make.
At a recent mall visit to Korum Mall Thane, Varun Dhawan, Ileana DCruz and Nargis Fakhri for mobbed, and how. Varun Dhawan was welcomed with extremely insane hoot and cheer and the girls Ileana Dcruz and Nargis Fakhri were baffled by the fanatic fans.
The promotion of the film had to be cut short because of the growing frenzy and Varun Dhawan, Nargis Fakhri and Ileana Dcruz had to rush through the venue due to the growing crowd. To their amazement, there was a huge chunk of fans waiting outside too, for just one glimpse of these stars.
Infact, Varun Dhawan was even attacked by fans, a fan wanted an autograph, and in the hurry of calling out to him, she pulled his shirt and tore it. Varun Dhawan has taken aback by this incident.
"Yes, This is true. Varun's shirt tore. He was very taken aback by the response. We wanted to leave the venue too, but there were too many fans and it wasn't safe," said a source close to promotions team.
An approximate crowd of about 5000-7000 people was confirmed by the mall authority at the mall, just to see Varun Dhawan, Ileana Dcruz and Nargis Fakhri.
Well with such going budding actors already having such a strong fan base, we are sure they will go a long long way.
Directed by David Dhawan and produced by Balaji Motion Pictures, Main Tera Hero stars Varun Dhawan, Ileana Dcruz and Nargis Fakri in lead roles!
Main Tera Hero is all set to release on 4th April 2014!
This slideshow requires JavaScript.