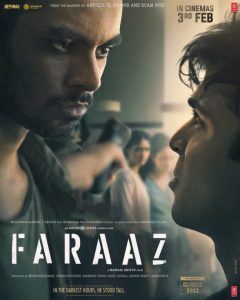 Faraaz
Directed by Hansal Mehta
Compared with Hansal Mehta's other two films on global terrorism, Shahid and Omerta, Faraaz is a mellower more lenient and forgiving work. It is predominantly a discourse on true Islam and its subversion by terrorists as embodied in the two main characters Faraaz(Zahan kapoor) and Nibras(Aditya Rawal).
The dialogues between the two are sharp and relevant. Most importantly these dialogues never overstay their welcome, hence the film, though largely confined to a café held hostage by a bunch of misguided youngsters, never gets verbose. Instead Hansal Mehta brings in a sense of reined-in anxiety.
The agony of those outside the sealed café, whether the government officials or parents of the hostages(Juhi Babbar Soni, Amir Ali are both superb , though the former has a far more dramatic scope than the latter) is given as much priority as the terrorized hostages inside the café.
Unlike the several 26/11 films, the latest being the Adivi Sesh starrer Major, Faraaz is not too keen on generating thrills out of a real-life tragedy. Hansal Mehta doesn't edit out the brutality and suddenness of the attack, but he does humanize the young terrorists , specially Nibras, played with compelling restraint by Aditya Rawal son of the extraordinary Paresh. In the years to come, young Rawal will be an actor to watch.
Faraaz has a lot of young talent to galvanize the story of one blood-bathed night in a café in Bangladesh . Many young people went for an evening of recreation and conversation. Several never came out. This is the story of one braveheart who said he won't run for his life without his friends.
It's a disturbing moving tale of true heroism told with feeling rather than flourish.