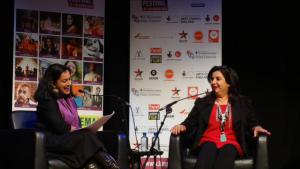 Not only has Farah Khan given us some of the best dance sequences in Bollywood but when she turned to directing with films like Main Hoon Na and Om Shanti Om we got even more Bollywood magic. In 2014, the dance caper Happy New Year, which starred Deepika Padukone, Shah Rukh Khan, Abhishek Bachchan, Sonu Sood, Boman Irani and Jackie Shroff was another box office success.
At the recent London Asian Film Festival, Farah Khan not only attended a screening of her fabulous Om Shanti Om but also gave a master class in film-making and choreography. While there the director/choreographer/actress spoke to Shai Hussain of the NRI and shaihussain.com, to talk all things film. Check out some highlights from the interview.
Here's something you may not know, Farah actually came to Bollywood to direct and make films, "I actually came into films to be a director, not a choreographer. I was an assistant director on the first film that I choreographed, but clearly my path went a little off. Eventually I had to bring it back to directing, which was what I wanted to do in the first place. It took a good ten years from the time I choreographed my first film to the time I directed my first film."
Shai asked about her views about the female roles available for actresses in Indian films today, "It's pretty good now," she replied, "There are a lot of female-oriented films being made, and even the ones with men leading have very good parts for the women in them. Clearly the new generation of women aren't just standing around being decorative pieces."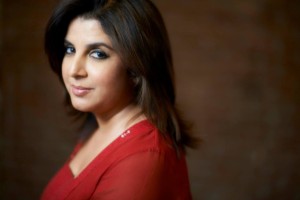 She also addressed something that she calls the 'art house mafia', "There's a critics-section, which is literally like a mafia. You make anything entertaining and they run it down. "This can't be good! We are so intelligent that we don't like to laugh and we don't like to have fun at the movies. We want to be angst-filled, and we want to think about the questions that life has thrown at us. My advice to them is this: Do that at home. If you're going to the movies, have a blast. Forget your worries. Movies are for entertainment. You want a message? I'll SMS something to you."
She has not only done choreography for films but also for stage shows and concerts most notably Andrew Lloyd Webber's Bombay Dreams which she received a Tony nomination for her choreography. So will we see more in that area from her as well? "Yeah, I've done so many co-production projects as a choreographer – Bombay Dreams in the UK, Monsoon Wedding and working with Shakira at the MTV Awards. It allows such a fresh energy to come in. Not only into your own work, but into their work too. So yes, I would love to do more collaborations."
One of the coolest things was that Farah gave her philosophy about making films and in that passed on her advice to filmmakers. "It's always easy to make films just to make someone else happy – to make a film to please critics, or to get awards. Basically, when you make a movie, it should have your voice, it should be your personality, it should be… you! Don't let people tell you 'you should make this' or 'you should make that' because at the end of the journey, nobody will be happy. If you follow your heart, at the end at least you'll be happy with what you've created."
Adding, "I only make the movies that I want to make. Good, bad, you don't like them, that's for you to decide. I've always enjoyed making them. My kids love my films, and all of their friends love watching those movies."
Ms. Khan we can't wait to see more!