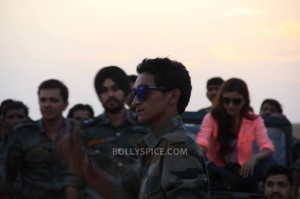 Faraz Haider's name is not unknown in Bollywood. We have sampled his work, whether it comes to acting or directing in previous movies. But this time, he's struck gold with his debut directorial in War Chhod Na Yaar.
Haider has chosen a slightly different take to the highly sensitive issue of war, taken the examples of any a great movie from Hollywood and brought about a niche genre in India. There is no scope of people not taking a liking to the genre because it hits a spot closer to home and at the same time it tones down the gravity of the matter. Also, Haider has chosen versatile and well established faces in the comedy genre like Sharman Joshi, Soha Ali Khan and Javed Akhtar to act in his movie.
In terms of research, Director Haider has left no stones unturned. From the plot story and R&D of the lifestyle of the army at the border, he has done in all. He wants this movie to have a special place in the heart of all the people in India that will be a huge accomplishment in his debut film. He is confident about the outcome of the movie based on his treatment of the movie and the fact that every little detail of the movie has been taken care of so that it doesn't come off as insensitive to anyone. The comedy genre he has chosen is basically slapstick or satirical. Produced by AOPL Pvt. Ltd, War Chhod Na Yaar is slated to release in August.
AOPL Entertainment Pvt Ltd is part of the well diversified ABC Group. The movie production part of the group has successfully completed 3 movies in South India, which is the leading movie market in India and currently into Hindi Cinema, which is the face of Indian Cinema, internationally. The company has 2 movies currently under different stages of making. The company is well known for its selection of content and commands a premium in the market whenever its movies get released. The other strength of AOPL in this business is its novel marketing methods adopted for each movie in a customized way. This helps the company to reach the targeted audience of the movie effortlessly.