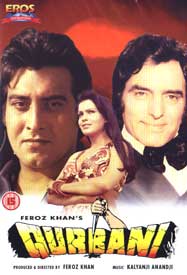 In one of Feroz Khan's last interviews, just before he passed away, he shared that one of his greatest pains was that he was never able to make a hit film for his son Fardeen. Neither was Feroz able to repeat the success of his earlier blockbusters such as 'Janbaaz', 'Dayavan' or indeed 1980 hit 'Qurbani', in the later part of his directorial career.
His last wish was remaking Qurbani as 'Kurbani' with son Fardeen playing his role he originally had and there were talks of Saif Ali Khan enacting Vinod Khanna's role. Feroz had even make a public announcement at the 2006 IIFA Awards in Dubai and a couple of songs were subsequently recorded as part of the pre-production. Qurbani was the biggest hit of 1980, its songs were popular and the movie sold the most number of records and tapes in that year.
Now son Fardeen is planning to re-launch the remake under his father's F K International film banner and has even confirmed Sanjay Dutt to play the role originally enacted by Amjad Khan. With Dutt on a high following his reprisal of Kancha Cheena's role in Agneepath, let's hope Fardeen can firstly revive his sagging career with Anees Bazmi's sequel to 2005 hit No Entry, where he has a double role.