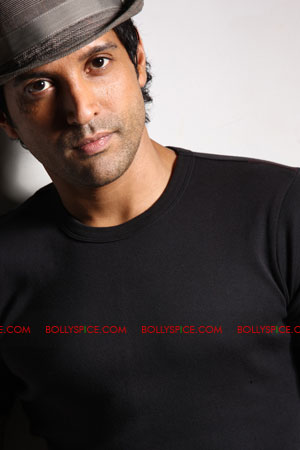 Undoubtedly Don 2 is one of the most awaited films of the year. Not only because Shah Rukh Khan will be back as 'The King' but even more so because this is a totally new story which revolves around Don. The audience knew what was going to happen in the Don remake, except for the ending. But this time around we are going to be exposed to another story, which according to the cast and crew is a complete original written by none other than our very own multi-talented Farhan Akhtar.
Farhan had said that he wouldn't make a sequel to Don, but with an ending like that he realized that this was an offer he couldn't refuse. "Well, making Don 2 was a challenging but extremely satisfying journey. I was guilty of declaring that I won't make a sequel for Don 2, but my obsession with the character got the better of me. And once I spoke to Ritesh Sidhwani and Shah Rukh Khan, I could not help but to make Don 2."
The 37-year-old director though doesn't want to reveal much about the film, because he is afraid he will be giving out the whole story. The first two promos created hysteria and social networking sites are flooding with comments about the promos and the music video's. And though Farhan has received many compliments for the promos, the best he got was 'Thank You for making Don 2'.
For the sequel Farhan has kept most of his cast intact; Priyanka Chopra, Boman Irani and of course Shah Rukh Khan. Farhan says: "The King of Don 2 is undoubtedly Shah Rukh Khan. When I started out to make the film, I wanted Shah Rukh to play the character and he loved the part. Beyond that, I stopped thinking about any other actor as I got the person I wanted for my film."
So for Don Shah Rukh Khan is the most apt person to enact the role. But ask him who his favorite actors are and he will tell you he likes many actors. "All actors have their own strengths. But I do enjoy watching Hrithik Roshan, Aamir Khan and Ajay Devgn purely for the fact that when you see their body of work and the body of work of most other actors, you notice that these guys bring something new to the table by way of a story or character."
Farhan loves the way Ajay keeps reinventing himself as an actor. "I would hate to watch the same kind of performance over and over again. An actor must keep challenging himself if he wishes to have a really long innings."
Even as a filmmaker, he believes in mixing genres. "A film must be entertaining. When I say entertaining, I don't mean that you should only make people laugh. You can enthrall them with drama or comedy. There should be a sense of variety in storytelling and performance."
Well if that is what he will offer us with Don 2, then we definitely can't wait to see this on the big screen in 2D and 3D. Though the film hasn't been shot in 3D, Don 2 has been converted and Farhan is happy with the end result.
The 23rd of December is the date to remember as we are taken into the world of Don!