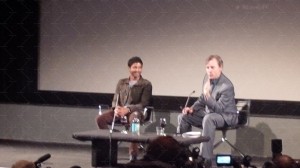 Bollywood star Farhan Akhtar has attended a special screen talk where he reflected on his career and more as part of the fifth annual London Indian Film Festival. The actor and director took part in an 'in-conversation' event at the British Film Institute (BFI) with Sight and Sound Editor Nick James. Tickets were sold out a day before the event and the crowds went wild for Farhan as he entered on to the stage. Bollywood mega-producer and director Vidhu Vinod Chopra and his wife and famous film critic Anupama Chopra were also part of the audience to see what Farhan had to say during the screen talk and Q&A. From singing, pulling jokes, hugging his die-hard fans, to even snake dancing on the floor; Farhan went all out to entertain his fans! BollySpice was at the event and loved every minute of it! Check out some of the things which Farhan discussed during the screen talk!
Pre-Adulthood
Farhan briefly shared with the audience his early life experiences; including this very intriguing anecdote regarding how he got his first ever job due to parental pressure.
"The first job I ever did was for not wanting to get thrown out of the house. My mum eventually had enough of me and told me that 'you're not going to college or studying. You're just sitting around and watching movies all day and there is only so much I can take of all this. So you better get back into college or if that's not what you want to do, then find yourself something to do but you cannot just sit at home and not be doing anything. And if nothing changes, then you're going to have to leave this house and go.' It's amazing that motivation will have on you of not wanting to be thrown out of the house (audience laughs). And within a week I had a job and was working as an assistant director."
Working on Dil Chahta Hai
Dil Chahta Hai (2001) was Farhan's directorial debut and thirteen years on; it is considered to be a cult-classic. Here, Farhan narrated how he managed to put this film about friendship together, which starred Aamir Khan, Saif Ali Khan and Akshaye Khanna in the lead roles.
"From then on (assistant directing), I worked in advertising for a while for a company called Script Shop. And that's where I learnt a lot of what I used on Dil Chatha Hai (2001)."
"In 1996, I took an extended trip to the US. I met up with friends as I went along and I was 22 at the time. We travelled around for 3 months and a lot of what I experienced in terms of freedom and bonding with my friends came in to this film. Every single character in the film (Akash, Sameer and Siddharth) is a blend of people I know. That time, as well as various trips to Goa helped the film come about."
How Don came about?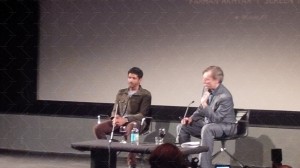 Don (2006) is a remake of the classic Amitabh Bachchan starrer which was co-written by Farhan's father Javed Akhtar. It sees acting protégé Shah Rukh Khan taking on a negative role as fictional goon Don. Here is what Farhan had to say with regards to why de decided to remake this cult-classic.
"My father (Javed Akhtar) and his writing partner Mr Salim Khan had written the film and character called Don (1978). I was fascinated by this character when I was a kid which was played by Mr Bachchan. For me, I'm a huge fan of Mr Bachchan and I grew up watching his movies and idolizing him. He played for just the first 15 minutes this really dark character called Don. And I remember being so scared of him when I saw that film and kept wondering how can someone who I love so much scare me.
"It just stayed with me forever and felt that the film would be great to translate and to bring it to a newer and younger audience who maybe hadn't seen the 1978 version and with Shah Rukh (Khan) who I think had the personality to pull this kind of role off."
Making his acting debut in Rock On
Rock On (2008) marked Farhan's acting debut and he won a lot of praise for playing rockstar Aditya Shroff. Farhan told his story of how he ended up signing for the film which would introduce him as an actor to the Indian and global audiences.
"Rock On is a film based on a band that breaks up and then comes back together ten years later. The film really is about how when people connect with something they love (in this case music). No matter where they go or what they do, they will eventually end up connecting with it again because their passion for something which they had created together is so strong."
"I heard the story and it was an amazing story and I immediately said that I want to be a part of this film. But he (Director Abhishek Kapoor) said 'can you sing?' And I said let's meet at the studio tomorrow and do a test. He had no idea that I play guitar or that I sang. So I landed up with my guitar and he thought that I was maybe taking this role too seriously (audience laughs). So we jammed for a bit in the studio and that was that. And I said that if I don't sing the songs then I don't think that I want to do this part, because singing is very essential to the performance in this movie. And that's how it really came together and it was just a wonderful experience working on that film as a first."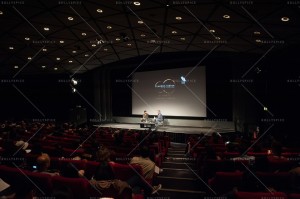 Acting breakthrough with Zindagi Na Milegi Dobara
Zindagi Na Milegi Dobara was Farhan's first taste of acting success and he received huge critical acclaim for his performance as the quirky poet Imraan. Check what he had to say about his experience of making this film about friendship, Spain and love!
"When we finished with Luck By Chance, which was Zoya's (Akhtar) first film, it was with a huge ensemble of actors. And when she was done with it, I think she was very tired of working with so many actors and was like 'the next film I do will just be with three boys and a car.' And then she went on to write it and that's how it really came about.
"It's probably the most fun shoot that I've ever done in my working career so far. And as far as the Tomatina is concerned, it was great for fifteen minutes. And then after that, you just really want to just go home and have a bath. We shot the song ('Ek Junoon') for three days and were covered in tomato puree for like eight hours every single day."
"I've known Abhay (Deol) and Hritihik (Roshan) for quite a while and I think that translated quite well in the film. So there's no actor ego involved whatsoever and there was no one competing with another or one wanting to be better than the other. Everyone is wanting the other person to look good in the film. And I think that's also the nature of the film."
Success with Bhaag Milkha Bhaag
Farhan Akhtar cemented his status as an actor in Bollywood with the widely-acclaimed hit Bhaag Milkha Bhaag (2013). He went on to win his first ever Filmfare Best Actor Award for his convincing and dramatic performance in the film. Here is what he had to say about preparing to play the sports legend Milkha Singh during the Q&A session with the audience.
"When I met Rakeysh (Omprakash Mehra), he was so motivated by Milkha's story and is a huge hero for him. I could see that he is in love with this film and with the story. And he really wants to share this love with people. That really did motivate me. And when I met Milkhaji of course, he told me everything that went on in his life. It felt like you have to do everything that it takes so that when they watch the movie and when Rakeysh is on set, they don't feel like they have made a bad decision by casting me in the film. And that really kept me going and I don't regret one single day of anything that I did on that film."
"There was something that just carried us through and I think that stemmed from Milkhaji's amazing life and from Rakeysh's amazing commitment to the film. That gave me a lot of strength."
Audiences witnessed a humble and witty Farhan on stage and the talk ended with a huge round of applause for the star who took time out from his busy schedule to share his journey with everyone.
The London Indian Film Festival has had a successful fifth year and closes on Thursday with the screening of Hemalkasa!
Stay tuned as we have more things on Farhan and the London Indian Film Festival to bring to you!