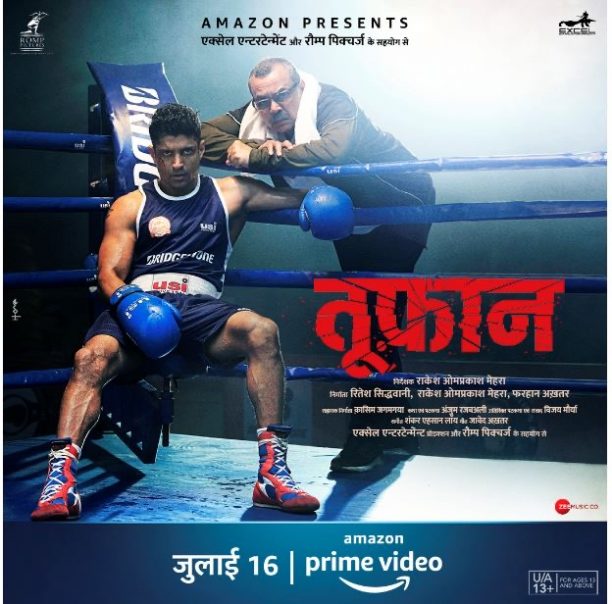 Farhan Akhtar and Rakeysh OmPrakash Mehra have had lightning strike twice in the magic of brilliant movies if the trailer of Toofaan is anything to go by! The film features an all-star cast, led by Farhan Akhtar in the lead role along with Mrunal Thakur (amazing), and the always incredible Paresh Rawal. They are joined by Paresh Rawal, Supriya Pathak Kapur, Hussain Dalal, Dr. Mohan Agashe, Darshan Kumaar and Vijay Raaz.
The power-packed Toofaan trailer, that hits hard was unveiled today! Toofaan will premiere simultaneously in Hindi and English starting July 16, 2021, across 240 countries and territories on Amazon Prime Video.
Toofaan is an inspiring sports drama and the film takes us through the journey of a local goon, Ajju Bhai becoming a professional boxer, Aziz Ali. Under forced circumstances, an orphan boy born from the streets of Dongri, grows up to be a local goon. His life changes when he meets a bright and compassionate young woman named Ananya who guides him to take the right path. With love and guidance, he finds his calling in sports and takes up the journey into becoming a world-class Boxer. This is an inspiring story. Even the poor and marginalized, beaten by life circumstances, can become the heroes of the nation by giving up the other part of life and adopting the right path. Toofaan is set in Bombay. The city of Bombay is like the third character of the film. Bombay is Megapolis and one of the greater cities in India. It is a true cosmopolitan city and a melting pot for various cultures and religions. Mumbai runs on the spirit of Mumbaikars. This "spirit" is indeed Mumbai's proudest possession which we also see in our film through our characters.
Toofaan is a tale of hope, faith and inner strength fuelled by passion and perseverance.
The trailer was released at a special press conference and we were there virtually. We will have a video plus some incredible quotes coming up soon so watch this space!
Mark your calendars, Toofaan coming to Amazon Prime Video on July 16th and we can't wait!