Award-winning filmmaker Rakeysh Omprakash Mehra (writer/director Rang De Basanti) returns with his newest film BHAAG MILKHA BHAAG telling the true story of the "Flying Sikh" – world champion runner and Olympian Milkha Singh. Played by acclaimed actor/director/producer Farhan Akhtar, Singh overcame the bloody massacre of his family, civil war during the India-Pakistan partition, and homelessness to become one of India's most iconic athletes. BHAAG MILKHA BHAAG, which also stars Sonam Kapoor and Art Malik, opens worldwide on July 12.
Farhan told PTI, "I think here in India we constantly search for heroes. We have made a film on one such hero who made everyone proud."
Adding, "When Rakeysh narrated me the script in 25 minutes, I was blown away with this man's life story. I wanted to re-tell his story to the audience. The national pride should be brought back in youth by making this film and that was my idea."
About playing Milkha, Farhan said, "To do a role like this you have to interpret the character, as you don't want to go into an impersonation of somebody or do a mimicry act. You have to make the character your own; for that you have to start becoming that person. I did focus on this aspect."
"To do this character was a serious responsibility. To say whether it was difficult or easy is subjective because when you are excited about something, no matter how hard it is, it becomes fun and easy. There was a huge responsibility to play Milkhaji," he added.
Synopsis: 'Milkha Singh'- for some the name evokes a faint memory from the pages of history. All that is most remembered is that Milkha Singh, hailed as the Flying Sikh, was a famous athlete who infamously lost the penultimate race of his life. "The one who lost the 400 meters finals at the Rome Olympics" is an involuntary response when the name Milkha Singh is mentioned. The film attempts to understand a catastrophic loss that was deemed a sure victory and explores through the darkness of disgrace; Milkha's redemption, the redemption and catharsis that come when he confronts his past.
Milkha ironically finds himself in a place wherein he had lost his all – Pakistan – a place where he witnessed the bloody massacre of his entire family. The demons hidden in some dark corner of his consciousness come alive. This iridescent tale winds through the plagues of a bloody civil war, a lost childhood, homelessness and petty crime to victories hard won and easily lost. It draws an intricate image of human trials, setbacks and fate leveraged against the sheer power of will. He evocatively illustrates that true victory lies in racing with one's troubles and not in running away from them. Milkha flies, falls and rises, bruising his soul but not his will to survive. Milkha Singh the world champion in 400 meters lost the most important race of his life – the 1960 Rome Olympics – but won in LIFE. Bhaag Milkha Bhaag will see Milkha fly, fall and rise, bruise his soul but not his will to survive!
Check out the cool new poster and see Farhan's transformation into Milka Singh!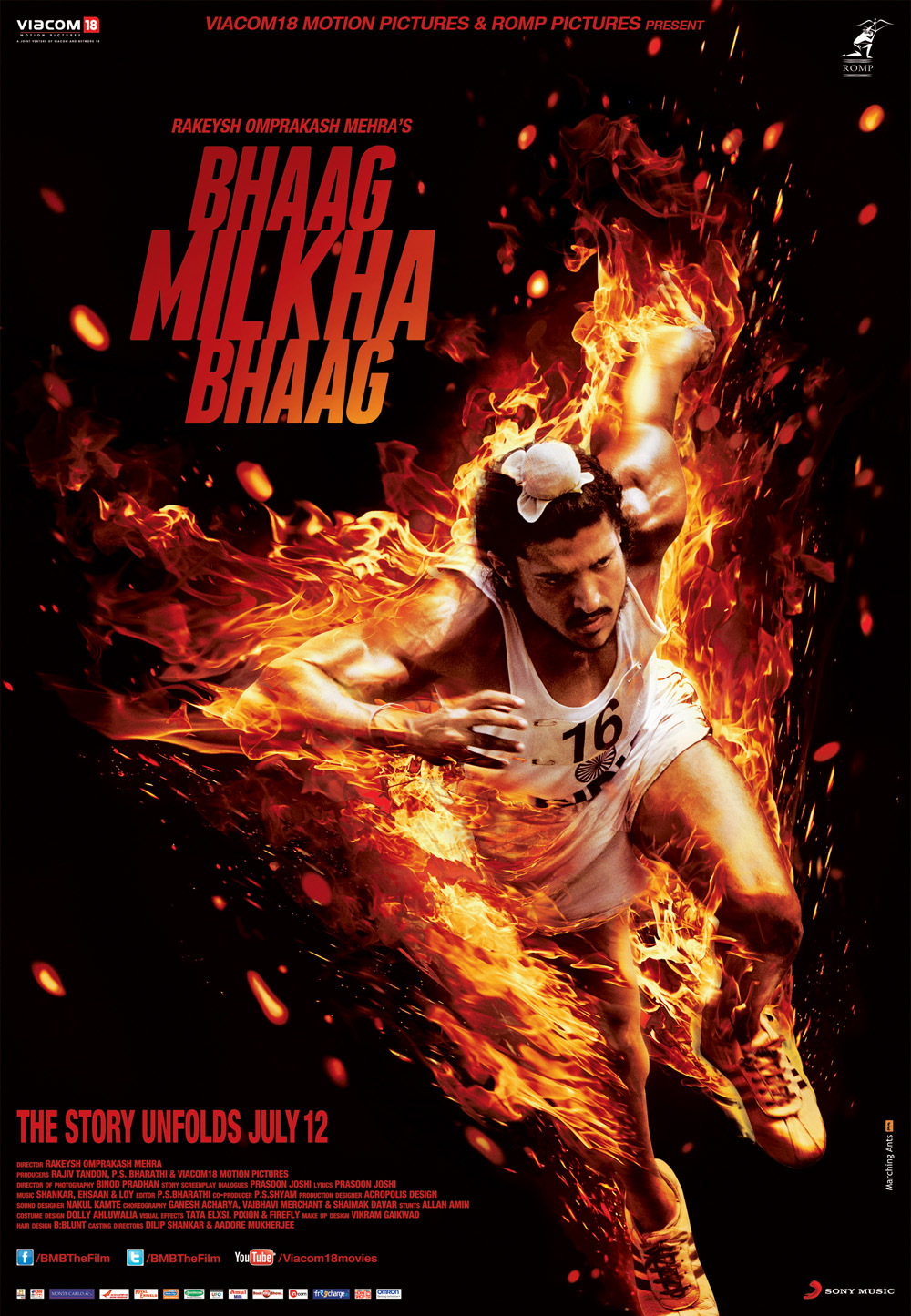 Stay tuned we will have interview with the cast and the director coming up soon!