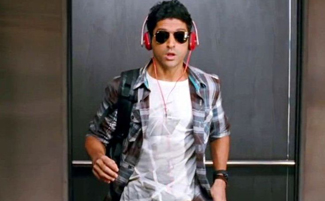 In theaters now is the Farhan Akhtar-Vidya Balan starrer Shaadi Ke Side Effects! A sequel to 2006's hit Pyaar Ke Side Effects, this film revisits the great characters of Sid and Trisha after they are married. A quirky and humorous story, SKSE deals with the serious issue of decision making and sharing in married life! We heard from Vidya Balan yesterday, now check out what the fab Farhan Akhtar had to say about the film and more when he spoke to Cineworld cinemas Bollywood editor Ashanti Omkar. Some highlights…
The actor revealed what it was about Shaadi Ke Side Effects that made him want to say yes, "I base all my choices on the same sorts of parameters that I choose everything in life. It just felt real, the story, it touched me, made me laugh. It's very relatable. It's nice as Saket Chaudhary, the director and the writers Zeenat Lakhani, Arshad Sayed, I feel, have taken very everyday situations that occur in most homes, and have given it a nice spin. Where instead of increased drama and conflict, they've treated it with a lot of humour."
"It is a nice and interesting way to approach a relationship tale and something that reminded of the kind of movies that Hrishi Da (Hrishikesh Mukherjee) used to make, if you know his work. It's very life-like but at the same time, like how Hrishi Da used to do, to take very simple problems between people, who would then tend to over-complicate it themselves, which would lead to mis-understanding which was rooted in humour in a certain kind of way. There is a heart in this movie which I appreciate as well," he added.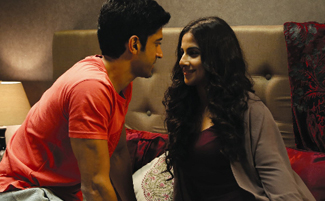 One of the things that everyone noticed right from the first look and trailer was the incredible chemistry and realness of the pairing between Vidya and Farhan. About working with Vidya and establishing that connection Farhan said, "I don't know exactly how to put it into words as to how that happened. Vidya and I didn't really know each other too well before this film and maybe on some level, because we weren't very comfortable with each other to start with, probably that helped. There is a certain respect you have for someone and their work and when you are not very familiar with them, you tend to behave with a certain amount of respect and you tend to listen to the other person, more importantly. Not being over-familiar with them. That has added to what the audience is sensing – that there is a genuine interest in the other person, as the journey of the couple builds."
Apparently it only took them two rehearsals to get comfortable to play Sid and Trisha, "Yes, we had 2 readings where we very matter-of-factly discussed what we'd like to do with each scene. We really started hanging out more on set and I felt that it would be important to build up a relationship that would figure on screen and I'd make her laugh a lot. Vidya is very simple to be around – she's uncomplicated in her demeanour and how she is with people. She created a comfort zone for those around her. I appreciate that very much and I'm sure everyone in the film would agree."
Talking about the film, Vidya revealed in her interview that the characters were so relatable that two of them did some improvisation. "It is the kind of film that allows for that to happen. It is inherently about these two characters, Sid and Trisha, and our understanding of them. Our on-set relationship and chemistry needed to go beyond what was just put down on the page. For that, there was a certain freedom that was needed when we were filming. Saket understood that as well and we were communicating what the writers needed to say  of course, but he would allow us a lot of freedom when we felt in the moment, that it was what would probably suit what's been demanded of a scene," Farhan explained.
Adding, "There are certain films that allow for that to happen a lot more easily than others. This films fits this bill, as does a film like Zindagi Na Milegi Dobara but a film like Bhaag Milkha Bhaag was a lot more studied as a role, because of the kind of character that I was playing. That did not allow me as much liberty as I may have liked, but this is that kind of film. This has everyday lingo, it's just the kind of film where you want to believe that these two people are a couple, and little nuances and little scenes of habits that we brought in were beyond what was on the page and it was nice to explore that aspect."
Since it was such a relatable story, did Farhan inject any of his personal experiences into the film? "Yes and no," he replied. "You know what it feels like to be in a relationship like this, at least, I know what it feels like to be a parent. The film is very far removed in the way that the character behaves, from my reality. But I can understand why every single relationship, mine, friends and family, they all have their own fair share of friction once in a while and that's a part of living together with someone. Things are helped to tide over, when the people in question want something to work when there are lows. As long as the intention is to make things to work, you will always find ways to move forward together. The character wants this – he wants things to work but he has a different approach from how I'd personally do it."
How did he go from being so immersed in the brilliant Bhaag Milkha Bhaag to a rom-com like this? "You know, I started filming Shaadi Ke Side Effects about 3 weeks after finishing shooting for Bhaag Milkha Bhaag. And I think that doing it almost immediately, probably helped me get out of 18/19 months of my life, living a certain way, to portray that character. It was more than playing a part in that instance. It was a nice change and it was probably better that it happened the way it did. I don't know if it would have been easier for me to move on if I'd given it more time, but then once you start working on something and interacting with a whole different crew, a new enthusiasm for something that is beginning, you get carried forward with all that."
So after SKSE, what can we look forward to seeing him in next? "The next film I'm working on is with Zoya, that I produce and that I act in. I am also working on a film that is being produced by Vidhu Vinod Chopra and directed by Bejoy Nambiar who did Shaitan. That will be alongside Mr Amitabh Bachchan. Both films are untitled at this moment."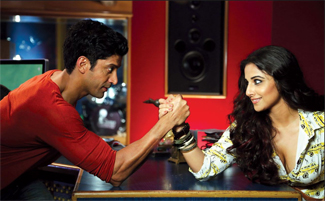 To his fans he sent this message, "I would just like to say thank you very much truly, for your amazing support through all these years, since the time of Dil Chahta Hai, the Don franchise, Rock On!!, Talaash, all the way till now. You really have been very good to me and so supportive for me. You have given me a tremendous amount of confidence and encouragement, to keep doing the kind of work I do. Lots of love and thank you very very much."
Getting back to SKSE, why does he say we should go and see this film in the cinemas? "This is a question that I find difficult to answer with any film that I've done. Eventually, what you see in the trailer, the music, what you've read up on the film, is possibly make a lot more sense on what the audience bases opinion or their decision on, to go and see the film. As an actor, I obviously want every single person who watches Hindi movies to watch my film. And (laughs), I also want people who watch Chinese films to go and see a film I'm in. In a nutshell, it's a fun film, it's has it's heart in the right place, it's clean, it's a family film with something in it for all ages. It may also diffuse a tension at home, as you may then laugh about it after watching this, as opposed to taking them as seriously as you may do."