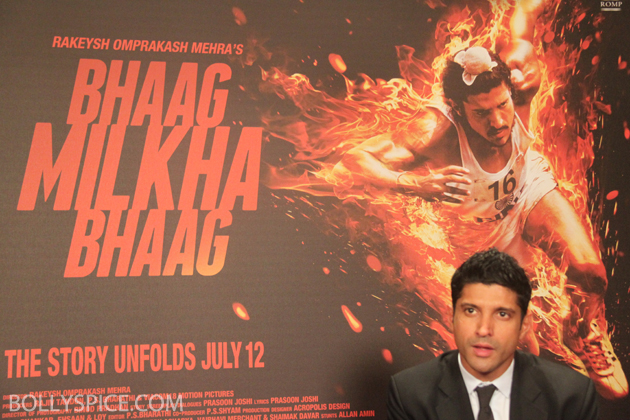 With the release of Bhaag Milkha Bhaag just days away, anticipation is running high. Bhaag Milkha Bhaag is based on Milkha Singh, the legendary Indian athlete who is known as 'The Flying Sikh'. Singh had lost his family to the Partition riots in India, 1947. The film is described as being about both the struggle and perseverance of Milkha Singh. Produced and directed by Rakeysh Omprakash Mehra, the cast includes Sonam Kapoor as Singh's wife, Nirmal Kaur; Art Malik as Singh's father and Yograj Singh as his coach. The title of the film translates as 'Run Milkha Run' which were the actual words spoken to Milkha Singh by his father during the Partition riots. These were the last words spoken to Singh by his father and the words that had saved his life from the carnage of Partition. Bhaag Milkha Bhaag will be releasing on the 12th of July 2013.
London's Sterling Media invited BollySpice's Aashi Gahlot and Anjum Shabbir to interview Bhaag Milkha Bhaag's lead actor, Farhan Akhtar. Farhan plays the role of Milkha Singh in the film. Farhan spoke about what it was like to play the role of a real life character, his favourite aspects of London, sports films and future plans.
Farhan on playing Milkha Singh's character
What is the biggest difference in playing the role of a real life character rather than playing a fictional character?
I think the biggest difference is that you have a very strong, flesh and blood reference point to draw from for creating what it is you want to. When you read a script that's based on fictional characters you imagine your own kind of personality and the way this person would dress, what he'd do or how he would speak, how he'd dance or whatever it may be. But here it was very definite in terms of who we are talking about. So it was trying to understand him more on an emotional level of what he was feeling at those various moments in his life – especially in the ones that are re-enacted in the film, recreated in the film to get an understanding of that.
How did you step into the skin of your character?
At no point was the approach to try and mimic or try and impersonate him. I think it's just important to understand the essence of him, the spirit of him and then channel it through your own imagination and draw from your own life's experiences of when things like that resonated with you- so to make it more believable for a person who is looking in. Listening to him talk about his life was very important to me and just trying to understand nuances more than words- when he smiled the widest when he was narrating things from his life. When did his eyes go moist? When was he uncomfortable speaking about something. So maybe clearing his throat a little bit more often, or crossing his arms or folding his legs over. At which point was he finding it difficult to speak, so the pitch in his voice was changing. So there are many things that the human body does without you even realising. So it was trying to understand that and latch onto that and create an emotional blue print that you can start filling in and let your creativity and imagination take over.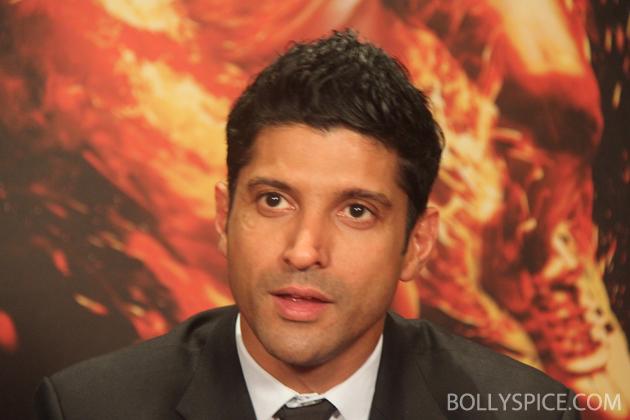 What are you taking away from playing Milkha Singh's character on a personal level?
I do feel extremely inspired by his story and because of what he managed to achieve in his life. Especially starting from a childhood that had started from being in extremely secure, warm, loving family environment- overnight things changed for him. He was deprived of everything- of a home, his family, he had no emotional support, no food to eat. So how does this child who has no identity of his own and no support structure, no one to call his own- how does this boy find the courage, find the strength, find the ability to forgive and to move on and make an entire country proud of him and get everyone to know who he is and know his name. Where does he find the strength from? How does he inspire, who inspired him? How does he motivate himself? It's just an amazing story. It's very inspiring to me. That really helped me to do the best I could possibly do with this film. Of course all roles are special and all films are special but I think there is something rare about this movie because he is a rare individual, and it reflects in the film. So it really made you want to do a lot more.
Farhan on Bhaag Milkha Bhaag
What was important to you when making this film?
It was important to me that he'd feel really proud of the work that is done and that was the only thing that he ever asked of me was that whatever may happen with the film, who knows whether people will like it or they won't like it. He said that just as long as you work really hard in creating this character that's what will make me happy. For me, it gave me wings on my shoes that made me do things that I don't know if I'd do otherwise. I'm very inspired by his life.
Will this film inspire parents to allow their children to pursue sport as a career?
That is one of Milkha ji's bigger reasons to share his story. He does feel very saddened by the fact that after him there have been only four other athletes who have made it into an Olympic final in track and field. I think he is bewildered and puzzled as any of us has been as to why aren't there more? It can't be that we don't have fast runners or long distance runners – they are obviously around, but they either haven't been motivated to get into sport because maybe parents want them to be secure in a certain job so they can make money and get a pension. Maybe it's that. I think also on some level the sporting ministry needs to get into action.
As Farhan Akhtar the film maker, is there anything that you would have done differently?
No not really. My mind hasn't really gone there to be honest. There is no hypothesis in my head of what if it was my film. That doesn't exist. I feel that the person who has directed and conceived of this idea and has put this film together is really the right person to have done it. So I just feel really fortunate to have collaborated with him on this film.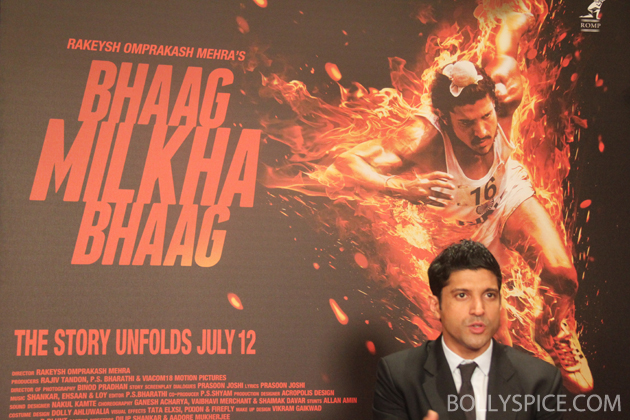 Farhan on Sport inspired films
Did you ever think I'd like to play an athlete of some sort? As far as sporting films go, do you have a favourite sports film?
I think everyone has, when you act, certain fantasies when you watch movies and think 'wow that's a great part'. And if you can get a reason like this to get into shape then why not? These are fantasies. But when it comes along with something so meaningful it always doubles your excitement. As far as sporting films go there are many- Chariots of Fire, Raging Bull, Rocky One. There's Cinderella Man.
Farhan on London
What are your favourite aspects of being in London?
Well ,firstly is the freedom to walk around which I think is a really important thing- which we don't get in Mumbai at all. Being here, it's nice to walk around and experience a bit of life which is always nice. The theatre scene here is always impressive and to come in and see new plays that are happening. So those are the two highlights for me really.
How often do you come to London?
I haven't come here and spent time in a very long time because I have been so busy working. But I really do want to and I've given myself September, October, November of this year to not think about work and just take a break from it.
Farhan on the future
What are your plans for the future?
In all honesty I started shooting for Rock On in 2008 January and there has been no break really since then. So it's finally now that all my commitments end with the release of this film. So there is a bit of a break due.
Bhaag Milkha Bhaag will be releasing worldwide on the 12th of July 2013.
Stay tuned for our review of the film and an interview with Rakeysh Omprakash Mehra!
With Contributions by Anjum Shabbir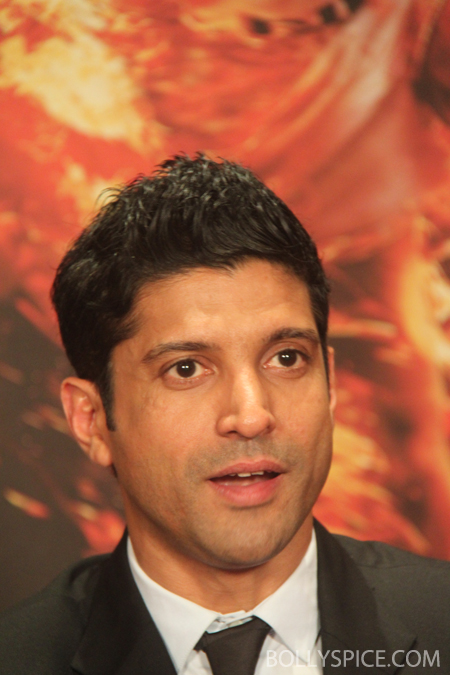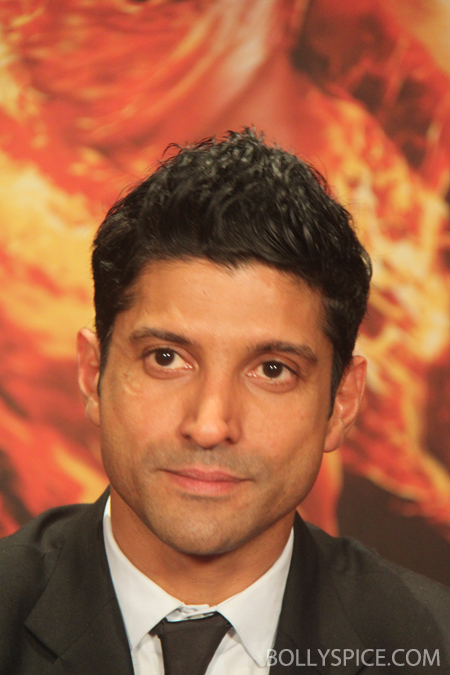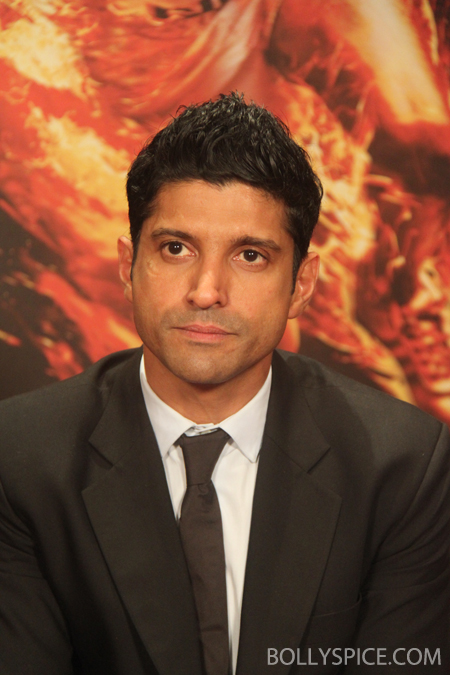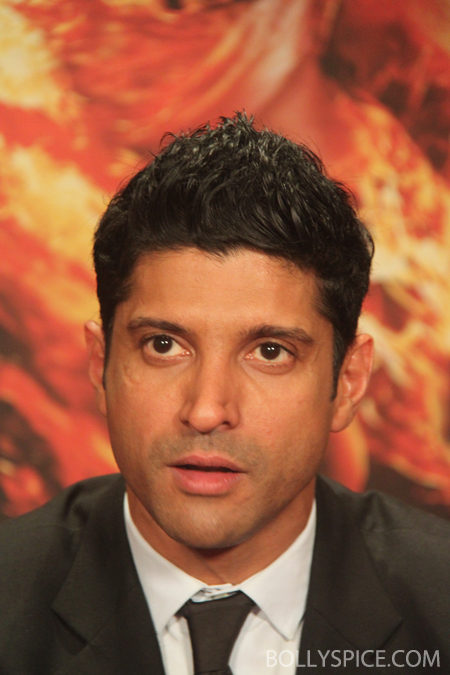 Photo credit: Anjum Shabbir